Over 10,000 Are Infected As Dengue Fever Spreads in Southern China
September 28, 2014 1:38 pm Last Updated: September 28, 2014 1:38 pm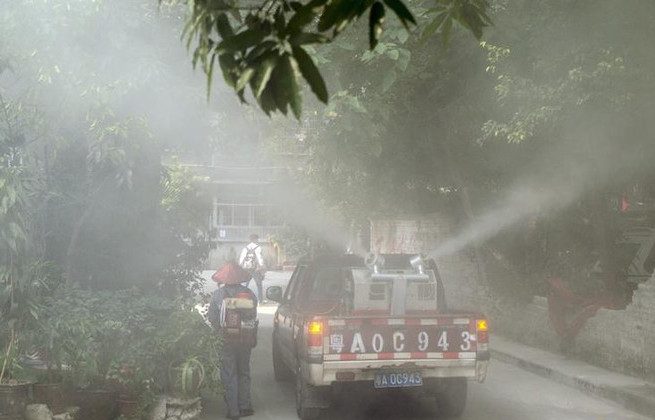 A continued outbreak of dengue fever has infected more than 10,743 people in southern China's Guangdong Province as of Sept. 28, when 777 more cases were added, according to the Guangdong Provincial Center for Disease Control and Prevention.
This is an increase of nearly 16 times over the same period last year. Between 600 and 900 new cases were reported each day over the last week, with 20 cities in Guangdong suffering dengue fever outbreak.
Three deaths have been reported, two in Guangzhou, the capital of Guangdong, and one in Foshan City. Only about 10 percent of the cases are classed as severe, half of those victims elderly, according to the Guangzhou Center for Disease Control and Prevention.
Dengue fever, a tropical mosquito-borne disease whose symptoms include high fevers, muscle and joint pains, skin rashes, headaches, and hemorrhaging, can lead to death in the most severe cases due to blood loss and the drop in blood pressure.
Guangzhou is seeing the worst of the epidemic, with 9,055 cases in the city by Sept. 28. To control the contagion, city authorities have been dispatching teams of workers door to door, spraying disinfectant meant to get rid of mosquitos.
The fumigating has irritated some locals, who say it's inconvenient. Some of the official vehicles carrying disinfectants have been hit with hurled bricks, Chinese reports say. 
Heavy incidents of dengue fever have typically occurred in October or November in years past, but it came much earlier this year, said He Jianfeng, director of the Institute of Epidemic Prevention in the Guangdong Provincial Center for Disease Control and Prevention, according to China Central Television.
Given that there are no specific medications or vaccines for the disease, residents are expected to simply eliminate stagnant water wherever they see it. Mr. He said he hopes to see a turning point and slowdown in the disease in October.