Over 1,000 Chinese Police Crush Guangdong Village Protest
September 18, 2013 6:17 pm Last Updated: September 18, 2013 6:37 pm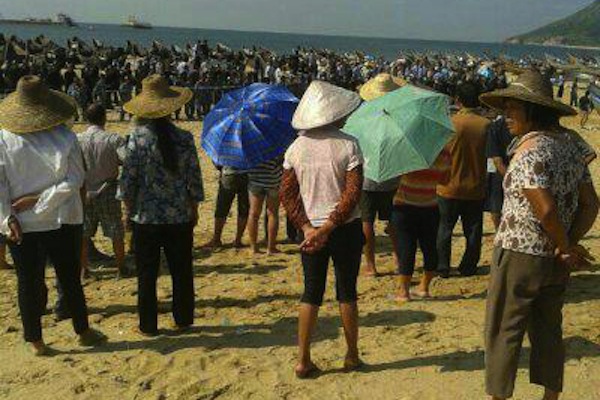 Villagers demonstrating against forced land acquisitions in southern China were met with the full force of the Chinese Communist Party's security apparatus on Sept. 16, with more than 1,000 riot police dispatched to suppress the protest, according to Radio Free Asia (RFA). Over 70 villagers were reported to be injured by police, who also saw fit to destroy the villagers' fishing boats.
The forces sent to shut down the protesters included special police and riot police with police with fearsome dogs, witnesses said. They intercepted hundreds of angry villagers from Lingjiao District of Baidian County, who were marching to a local government building to petition. 
The police surrounded the village, smashed fishing boats, and blocked the harbor. Villagers who tried to stop the police were beaten. Of those injured, 20 were hurt severely, among them elderly and children. Over 30 were arrested.
The dispute arose after local Party officials began blocking off areas in Lingjiao District, which abuts a harbor, beginning in July 2012. They had plans to develop the area and its wharf, calling it the Guangdong Maoming Ocean New Area. 
The locals, however, who rely on fishing to make a living, were losing their primary source of income and sustenance.
According to the complaint letter by protesters, local authorities promised to give 300,000 yuan ($49,010) to each family in compensation. As often happens in China, however, the families were severely shortchanged when pay day rolled around: each got only 600 yuan ($98), according to RFA. The rest was siphoned off by corrupt officials, villagers say. Much of their petitioning activity has been about the stolen funds. 
The destruction of the boats during the recent conflict only exacerbated the situation. "A small boat is worth tens of thousands of yuan, and a big boat is worth several million," a villager, giving his surname as Chen, told RFA on the telephone on Tuesday. 
Local police from Baidian County refused to give any information when an RFA reporter called. "How do I know if you are a journalist? I have nothing to tell you," one official was reported to have barked. RFA said that the Baidian County police station hung up the phone after hearing who had called.