Over 100 Injured by Fireworks in Beijing
February 25, 2007 12:00 am Last Updated: February 25, 2007 12:00 am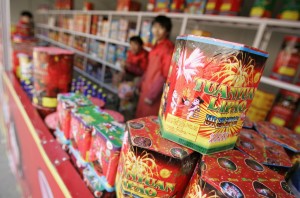 On the eve of the Chinese New Year, 125 people in Beijing were injured by fireworks. One individual's damaged eye had to be removed by surgery. At least one death was reported.
The Beijing News reported that fireworks had completely filled the sky over Beijing on February 17, the eve of the Chinese New Year. By the time the fireworks ended, over 125 people were injured. Among those injured, three were listed as serious injuries including at least one death. The fireworks were also the cause of at least 114 fires in Beijing. Although the number of fireworks related incidents were less than in 2006, the numbers were still significantly high.
According to the Xinhua website, a 25 year-old man was hospitalized at the Daxing District People's Hospital in Beijing after suffering serious injuries resulting from fireworks. The man suffered head injuries including a cracked skull and damage to his right eye. After several hours of emergency surgery the man died. Another 21 year-old man was sent to the Number 3 Hospital of Beijing University. His left eye was seriously injured by fireworks. The eye was lost after several hours of surgery.
The Xinhua website reported that during the evening of February 17, sixteen emergency surgeries were performed at Tongren Hospital. All patients suffered injuries on their faces and/or eyes due to fireworks. A total of fifty-four individuals visited the hospital emergency room including one from Hebei Province. Among those fifty-four, six were seriously injured including several with serious damage to their eyes. All injuries were caused by fireworks.
When the ban on the sale of fireworks in Beijing was lifted last year there was a dramatic increase in the sale of fireworks. More than 380,000 boxes of fireworks were sold in 2007 compared with 240,000 boxes in 2006. The people of Beijing have become very enthusiastic about setting off fireworks. This enthusiasm was reflected in the increased amount of time during the Chinese New Years celebration during which fireworks were fired. For example, the peak time for fireworks in Beijing last year lasted for 2-1/2 hours. During this year's celebration, fireworks were at their peak for almost 5 hours. In some regions, fireworks continued at peak for more than 5 hours.
According to the Beijing Civil Management Commission, more than 900 tons of fireworks debris was collected in Beijing following the Chinese New Year celebrations.