More than 100 House Republican members declared that they won't raise the debt ceiling, in a letter written to the American people, adding that it's Democrats who should take responsibility for making the change to the debt limit because of their continued "spending spree."
"Democrats have embarked on a massive and unprecedented deficit spending spree. Without a single Republican vote, they passed a $1.9 trillion 'Covid relief' bill in March," the letter, signed by 103 House Republicans, reads. "Now they have passed a $3.5 trillion Budget Resolution, again without a single Republican vote.
"The non-partisan Committee for a Responsible Federal Budget has calculated that a more honest score of this budget resolution will likely exceed $5 trillion."
The Republicans are telling their Democrat colleagues that they need to rein in the spending, since they have control of the White House, the Senate, and the House of Representatives.
"In order for this spending to occur, our nation's debt limit will have to be increased significantly. Because Democrats are responsible for the spending, they need to take responsibility for increasing the debt ceiling. They have total control of the government, and the unilateral ability to raise the debt ceiling to accommodate their unilateral spending plans," the GOP stated.
Speaker Nancy Pelosi (D-Calif.) and Senate Majority Leader Chuck Schumer's (D-N.Y.) offices didn't immediately return requests for comment on the letter.
The debt limit suspension expired at the end of July, and failure to increase or suspend the statutory limit—now at $28.5 trillion—could trigger another federal government shutdown or a debt default.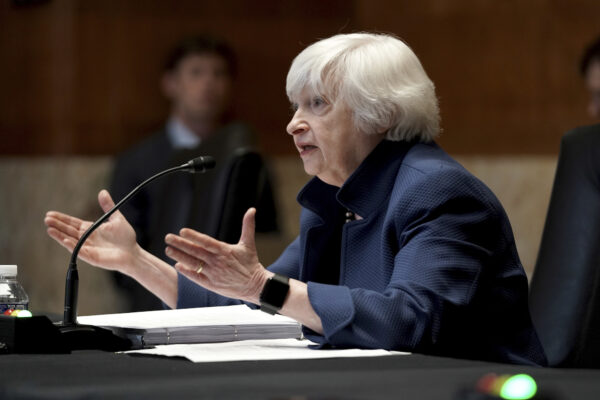 In order to prevent a default, Treasury Secretary Janet Yellen on Aug. 2 announced a series of so-called extraordinary measures the department is taking to give the federal government more room to spend under a reimposed debt cap.
Yellen detailed the emergency maneuvers—chiefly pausing investments in certain government employee pension funds—in an Aug. 2 letter to congressional leaders that came as a two-year suspension of the federal debt ceiling expired.
The reimposed borrowing limit caps the federal debt at the current level of around $28.5 trillion, restricting the government's ability to raise additional funds by selling government securities. The reinstated ceiling has forced Yellen, like her predecessors in prior administrations, to resort to emergency measures to allow the Treasury to keep meeting federal debt obligations.
The Republican members said that Congress shouldn't default on its loans or claim it needs GOP support to make an increase, writing, "Democrats, at any time, have the power through reconciliation to unilaterally raise the debt ceiling, and they should not be allowed to pretend otherwise."
Earlier this month, a group of Republican senators also made it clear they won't vote to increase the national debt limit.
Republicans led by Sen. Ron Johnson (R-Wis.) prepared a new strategy that would force congressional Democrats to take the brunt of the blame for increasing the limit. Almost every Republican senator in the body signed a petition created by Johnson vowing to not vote for a debt ceiling increase.
"We, the undersigned Republican Senators, are letting Senate Democrats and the American public know that we will not vote to increase the debt ceiling, whether that increase comes through a stand-alone bill, a continuing resolution, or any other vehicle," the letter reads.
Tom Ozimek and Joseph Lord contributed to this report.