Microsoft has been horizontally integrating features at a much faster pace over the last few monthsand it looks like we are starting to see another feature jumping the product gap. If you have an Outlook.com email account, Microsoft is rolling out, or possibly testing, a new way to save attachments.
As you can see in the images in this post, by clicking on an attachment, you now have three options: View Online, Save to OneDrive, or Download. If you click the OneDrive option, it will save the document to your cloud storage which is quite handy as then you can access that document anywhere you have a OneDrive app installed.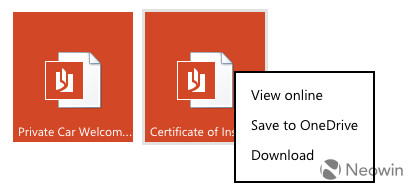 We aren't quite sure if this feature is rolling out to everyone or is simply being tested across various accounts. We see it in some of our personal accounts while others are reporting that they still have the old method when viewing attachments.
If you can't remember what the old way looked liked, we posted the image to the right as that's how Outlook.com handled attachments before this new feature started showing up.
It makes a lot of sense for Microsoft to build this into Outlook.com as it not only promotes their OneDrive service, but adds another layer of flexibility to the platform.
Republished with permission from Neowin. Read full article.