Local officials in a district in coronavirus epicenter Wuhan City have revealed the outbreak is not under control, despite the drastic steps authorities have taken to limit its spread in the city.
Since Jan. 23, the central Chinese city of Wuhan has halted virtually all ground transportation, postponed school openings, sealed off residential compounds, and built more than a dozen makeshift hospitals out of gyms and schools—at a rate of about one every two days—to accommodate the influx of COVID-19 patients.
Currently, one resident from every household is allowed to leave their residential compound once every three days to buy groceries and other necessary supplies.
"The control is even stricter than before," a government officer working in Jiujie, a sub-district under the district of Xinzhou, told The Epoch Times during an undercover phone call. "It's self-explanatory that the outbreak is not slowing down and not under control."
As of Feb. 25, Wuhan has recorded over 47,000 cases—more than half of China's total case count—although international experts suspect the actual number of infections to be much higher.
Another government officer in Zhucheng, a sub-district of Xinzhou, said higher authorities consider the outbreak in that area to be "very serious." The district of Xinzhou has reported the lowest number of infections among Wuhan's 13 districts.
"The situation is so intense here that we have stopped working on everything else to concentrate on controlling the outbreak," he told The Epoch Times in another undercover phone call.
On Feb. 24, Wuhan relaxed transport lockdown measures through a notice, only to retract the statement a few hours later. The city government explained that the "transport control working group" within its outbreak control agency had made the announcement without obtaining prior clearance from their superiors.
"The rule of thumb that central authorities have given is: Wuhan and Hubei [the province housing Wuhan] need to have zero new cases for 14 days straight before we can loosen the rules," the Zhucheng official said.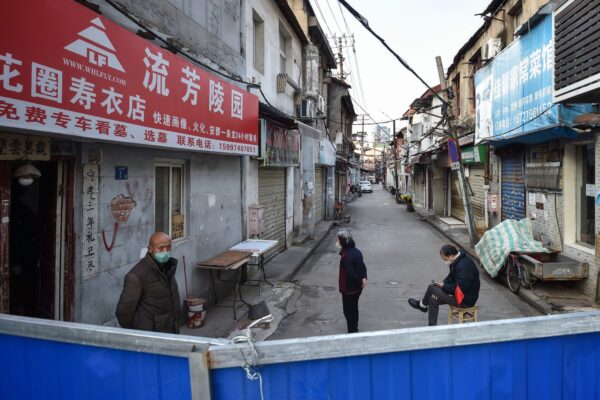 At a local school in Zhucheng, a security guard cuts a lonely figure as class has been suspended over the outbreak. He has been living on ramen noodles since the shutdown of local vegetable markets.
"You can't walk casually on the road, or you will get arrested and put in jail," he told The Epoch Times.
In Xinzhou's Yangluo sub-district, an officer said during an undercover call that supermarkets have closed amid the virus fears, while new cases keep piling up every day.
"There's no relief from the outbreak," he said.
More than 32,000 health workers nationwide have come to assist overwhelmed frontline staff in Wuhan as of Feb. 20, according to the city's vice mayor.
Chen, one of the doctors at the coronavirus frontlines in Ezhou, some 50 miles away from Wuhan, said the medical staff face a multitude of challenges in addition to heavy workload. About 70 staff members at his hospital have already contracted the virus through contact with patients.
"The protective suits are airtight, and we're sweating inside while wearing them," Chen told The Epoch Times. His full name has been withheld to protect his identity.
"Also, we can't eat, drink, or go to the bathroom during our work shift.
"Basically, even a strong person will be exhausted after a six-hour shift."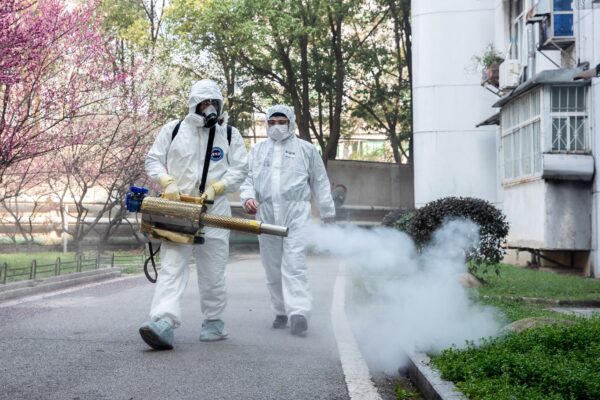 Besides the pressure on health and government workers on the frontline, there is a growing sense of mistrust over the official data.
Xinzhou has only reported one new case on Feb. 26, bringing a total of just over 1,000 for the district.
Local resident Wang said that figure is only "what the government confirmed," as a lot of coronavirus patients have not been diagnosed meaning they don't form part of the official tally.
A recent pre-print study by U.S. researchers concluded that the outbreak in Wuhan could be five to 10 times more severe than what has been officially stated. A recent study by China's Center for Disease Control and Prevention also found the virus to be more contagious than SARS and MERS.
Wang has been stuck at home most of the past month. He puts on a goggle and a mask before he steps out of his apartment.
"If one person gets infected, the family is doomed. People are dying by the households," he said.
This article has been edited to remove comments from an open letter retracted by The Lancet.