Our World in 7 Headlines: Sept. 27
September 27, 2013 7:38 am Last Updated: September 28, 2013 9:08 am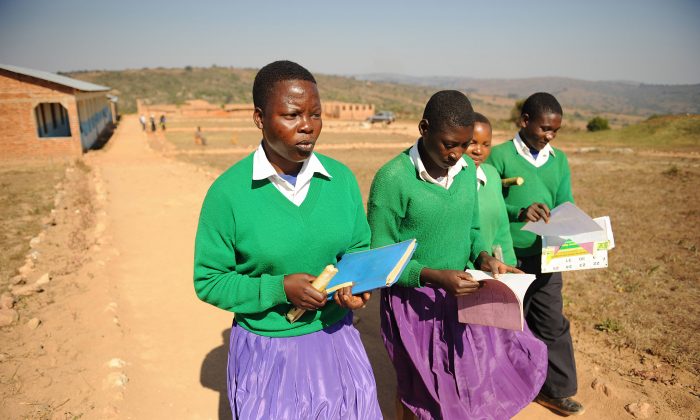 More than 55,000 Tanzanian schoolgirls have been expelled from school over the last decade for being pregnant, perpetuating their vulnerability and poverty, the Center for Reproductive Rights (CRR) said on Thursday.
From the age of 11, schoolgirls are forced to undergo humiliating and painful pregnancy tests as often as once a month, the U.S.-based advocacy organisation said in its report, "Forced out: Mandatory pregnancy testing and the expulsion of pregnant students in Tanzanian schools". If pregnant, they are expelled immediately. …
All Africa
A robot that picks ripe strawberries while farmers sleep has been unveiled with claims it could cut workloads by two-thirds.
The device, unveiled Wednesday, can pick a piece of fruit every eight seconds by using three cameras to determine which strawberries are ready to pick. A mechanized arm then darts out to snip each one free and place it into its basket. …
The Japan Times
NEW DELHI—In a landmark judgement on Friday, the Supreme Court for the first time allowed voters to cast negative vote by pressing a button saying none of the candidates is worthy of his vote. (Highlights)
The SC asked the Election Commission to provide None Of The Above (NOTA) button on EVMs and ballot papers.
The apex court said the right to vote and the right to say NOTA are both part of basic right of voters. …
The Times of India
BERLIN—"Forest Boy Ray" intrigued Europe when he turned up in Berlin pretending to have lived in the woods for years. When it all turned out to be lies, he was charged with fraud. But a court has now decided to drop the charges if he completes community service. …
Der Spiegel
Fixed cameras and what critics call spy cars used to catch people parking illegally could be banned in England.
Communities Secretary Eric Pickles said he wanted to "rein in over-zealous and unfair rules", and that traffic wardens with cameras could do the job instead. …
BBC
The 17-year-old cancer victim, known only as X, appealed against a NSW Supreme Court order that staff at the Sydney Children's Hospital should be allowed to give him the treatment.
He told his doctors he would rip the IV out of his arm if forced to have the transfusion, which he believes is akin to being raped.
X is suffering from Hodgkin's disease and his doctors believe he has an 80 per cent chance of dying from anaemia if he does not receive the treatment. …
Australian Broadcasting Corporation
For weeks, experts have been trying to determine whether a mysterious mummy found by a German boy in his grandmother's attic is authentic. The answer appears to be: yes and no. It has a real human skull, but a plastic skeleton, the news agency DPA reported Wednesday. …
Der Spiegel