Our World in 7 Headlines: Sept. 8
September 8, 2013 9:25 am Last Updated: September 8, 2013 9:40 am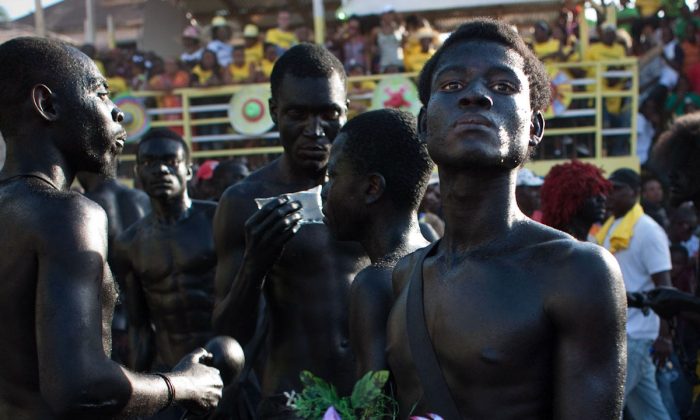 Haven't you heard? Wales is a city now.
Or at least according to some respondents to a recent survey, which asked 1,000 Americans to name a British city other than London.
Blogger Stacey Cavanagh wanted to find out if her home town of Manchester was well-known across the Atlantic.
Topping the list was Liverpool, followed closely by Manchester.
But at number six, embarrassingly, was good old Wales.
Which, as we all know, is definitely not a city. …
Wales Online
*Wales is a country that is part of the UK
NAIROBI, Kenya—Aliko Dangote is a man of his word. He lives in a world where 10 minutes is 10 minutes and a promise is a debt.
It's no wonder then that Forbes magazine has ranked him as the richest man in Africa, not for one but for three years running, at an estimated Sh1.7 trillion.
But despite his being the first African to amass a USD20 billion fortune, far be it for him to value your time any less than he values his …
Capital FM

Aliko Dangote (Pius Utomi Ekpei/AFP/Getty Images)
Efforts are being made to tell the story of two Suzuki T500 motorcycles which were once the workhorse of our traffic police.
VERY few, including even our traffic cops, would remember the Suzuki T500 motorcycle now. Once the workhorse of our traffic police, it has faded so far from memory that it is quite difficult to get good information about them from local sources now.
However, two 20-somethings who had purchased the vintage motorcycle were determined to get as much information as they could. And they managed to track down the first civilian owner, Chan Fok Kai, who had bought two of the bikes from the police in the 1980s.
He has passed away but his widow, Chong Siew Kee, 68, was very eager to talk about it. "I remember everything," she says. …
The Star
Since the recent publication of the book "Britain's Black Debt" by Professor Sir Hilary Beckles, principal of the Cave Hill Campus of the University of the West Indies, a debate has emerged in the media over the issue of reparations.
At the core of this debate, is the issue that after the abolition of slavery, the slave owners received compensation for the loss of their slave labour, but that the ex-slaves received nothing for their many years of unpaid labour. The demand is then, that reparations be paid to the descendants of slavery today. …
Caribbean News Now
Children from needy families in Spain are attending summer schools in order to get lunch each day. Any food that is leftover is given to the parents with the schools providing a lifeline for families affected by the Spanish economic crisis. 
While other children are at the beach or campsite for their summer holidays, eight-year-old Jose Alberto is back in the classroom in the August heat.
He comes to learn and play, but above all for the free lunch, a lifeline for many poor families hit by Spain's recession.
"Things are going very badly and we need this help," says his mother, Margarita Barco, 45, arriving to pick him up from this school in the southern city of Seville.
"I am happy with a chunk of bread, but children need to eat meat and fish. They need nutrition." …
The Local
Canada, the CPP's investment arm is spending your retirement dollars "Gangnam Style." …
The Canada Pension Plan Investment Board announced Wednesday it has invested just under $120 million for a 50 per cent interest in a South Korean investment trust that owns a single asset — an office building in a neighbourhood on the border of Seoul's Gangnam district.
Yes, that Gangnam district — the one made famous by rapper Psy, whose infectious tune horsey danced its way into your brain when it took over North American airwaves last year. …
Toronto Star
When Australia changes horses, New Zealand needs to take stock. What do Tony Abbott and his likely ministers know of this country? Where do New Zealand and the near Pacific rank in their outlook on the world? What is their view of closer economic relations and, more urgently, the rights of New Zealanders in Australia who have taken advantage of it?
Naturally, none of those questions figured in the campaign across the Tasman, not even the last. When Abbott was asked at a press conference about the plight of New Zealand migrants denied benefits that their taxes help pay for, he ducked the question, praising the character of Kiwis and reminding us he is married to a New Zealander. …
New Zealand Herald