Our World in 7 Headlines: Sept. 7
September 7, 2013 9:25 am Last Updated: September 7, 2013 9:26 am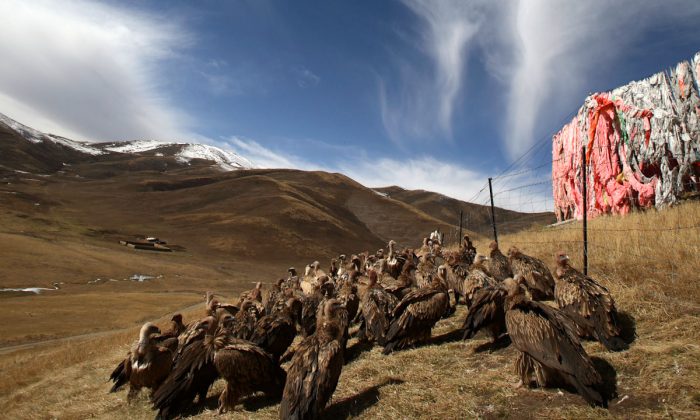 Some 5,000, mostly aboriginal reservists keep watch over Canada's Arctic
Imagine maintaining a military presence over roughly four million square kilometres of exceedingly harsh terrain using the residents of just one small town — a place like Smithers, B.C., for instance, which boasts a little more than 5,000 people.
That's the tricky thing about keeping "boots on the ground" in Canada's Arctic, where the Canadian Rangers have, since 1947, been patrolling the front lines. …
CBC
British scientists have developed a computer program they say can map the mood of the nation using Twitter.
Named Emotive, it works by accessing the emotional content of postings on the social networking site.
The team, from Loughborough University, say it can scan up to 2,000 tweets a second and rate them for expressions of one of eight human emotions. …
BBC
Did you read how scientists have determined that a 13-year-old girl selected for Inca ritual sacrifice 500 years ago was plied with massive amounts of alcohol and cocaine for up to a year before her death? 
At least a dozen news outlets ran the story …
The pharmacologically active ingredient of coca is the alkaloid "cocaine" — not to be confused with the highly processed white powder.  …
Children may have been buried alive, given that their internal organs and brains were preserved intact. They verified that the children had been "fattened up" with high protein diets of "elite" foods such as maize and llama meat for months before they were left to freeze to death.
They also confirmed that the Maiden was fed fermented maize beer and chewed coca leaves before her death. A wad of the leaves was still in her mouth. …
Peruvian Times (feature published July 31)
An Australian pilot has broken the record for the youngest person to fly a single-engine aircraft solo around the world.
Ryan Campbell, 19, started his flight 10 weeks ago from Wollongong, in southern New South Wales, and has spent 200 hours flying through 14 different countries. …
ABC
About thirty runaway police horses stampeded down one of Mexico City's busiest roads on Monday, injuring one person and damaging 11 cars.
The equines, many of which were saddled up, galloped down the tree-lined Circuito Bicentenario – located near the lower house of Congress – in Mexico City after being scared by the sound of car engines.
The mounted officers had been deployed around Congress as part of the security measures implemented to deal with protesters, according to Federal District Public Safety officials.
Cars were forced to slow up as the animals went on the rampage in the Mexican capital and video footage of the stampede shows at least two cars with smashed windows. …
Agencia EFE
Criminals have continued tree looting from forests in all eight upazilas under the district allegedly with the connivance of a section of forest staff while the authorities are struggling to protect the natural resources with inadequate manpower and logistic support.
A gang looted over 200 trees from over three kilometre stretch of area (km) from Bhuria launch ghat to Dakkhin Char Moishadi under Patuakhali Sadar upazila early July this year, said locals and sources of Patuakhali divisional forest office.
"Informed by locals, I requested the forest officials to take step against the tree looters but in vain," said Abdus Salam Mridha, chairman of Kamlapur union parishad (UP). …
The Daily Star
LAHORE—The University of Veterinary and Animal Sciences (UVAS) and WWF-Pakistan on Friday held a seminar on the International Vulture Awareness Day, to raise awareness about the importance of vultures to our ecosystem.
The main feature of the day was a documentary titled "Missing Vultures". 
According to experts, from the year 2000 to 2004, Pakistan saw a rapid decline in the population of the white-backed vulture. They said that this was primarily due to the use of diclofenac sodium, a drug administered to livestock. When vultures fed upon the carcass of such livestock, it caused immediate renal failure in the form of visceral gout, the experts added. …
Daily Times