Our World in 7 Headlines: Sept. 15
September 15, 2013 9:30 am Last Updated: September 15, 2013 9:31 am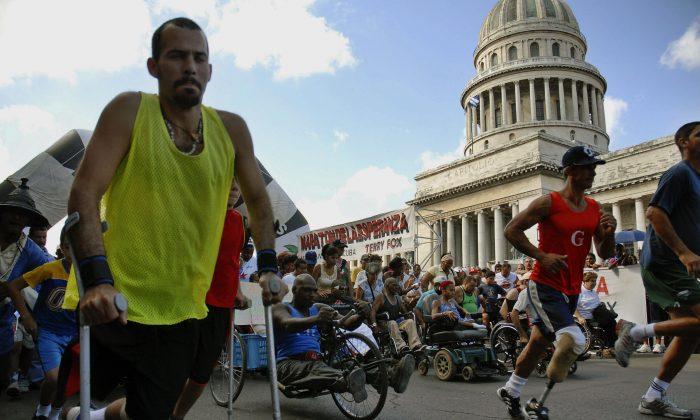 Farhat Abbas, a lawyer who is known for controversial comments on his Twitter account, has continued to show his support for the victims of a fatal traffic accident that involved 13-year-old Abdul Qodir Jaelani, alias Dul, the youngest son of musician Ahmad Dhani.
In his latest Twitter comments, Farhat said it would be fair for the victims and family members only if Dhani married the widows of the victims that died in the accident.
"I'm concerned about Dhani's intentions and promises to help finance the education of the victims' children. I will only trust him if he marries their mothers," he said on his Twitter account, @farhatabbaslaw, posted at 6:27 p.m. on Monday.
"The fairest sentence for Dhani is to marry all of the widows of the deceased victims. This is about people's lives and the future of their children," he said in another Twitter comment posted at 6:29 p.m. …
Jakarta Post
The agreement reached between Malta and China last Wednesday will make Malta lose its independence in the generation of energy, PN leader Simon Busuttil said this morning….
Why was the agreement reached behind the people's backs, he asked noting that while the EU was informed, the Maltese Parliament was not. …
This agreement, Dr Busuttil said, would enable China to enter the European market with its solar panels, which was a hot issue in the EU. …
Times of Malta
Hollywood presents a distorted image of Mexico, according to Mexico's Ambassador to the US Eduardo Medina Mora. Stereotypes of "gardeners and drug traffickers" fail to mention contributions Mexicans have made to the US, he added. "Mexicans on the silver screen are usually portrayed as poor and uneducated at best, corrupt and violent at worst," Mora said at a press conference at the National Press Club in Washington Friday. "I'm still eagerly waiting for the movie where Salma Hayek plays a Nobel Prize-winning chemist that teaches young Americans to create new forms of alternative energy," he said. …
Mexico Star/IANS
For 97 years, the Zoológico Simón Bolívar in San José has housed and protected wild animals and educated visitors about the natural world. Many Ticos grew up visiting the zoo, where they encountered live lions and panthers for the first time.When the government recently announced that Costa Rica would become a "cage-free" nation, the zoo faced imminent closure. …
Tico Times
The Oxford-educated former head of a top private school has told of his "humiliation" at being forced to retrain as a bus driver after he was wrongly sacked.
Bernie Routledge, former head of Denbigh girls' school Howell's, said he had no choice but to do a PCV (passenger carrying vehicle) course because he would struggle to find work as a teacher.
Mr Routledge, who was on £60,000 a year at Howell's, was wrongly sacked after exchanging messages with pupils on Facebook, while his former partner Helen Price, 45, who was head of PE at the school, also found herself unfairly dismissed.
Oxford graduate Mr Routledge, 50, was this week awarded £217,000 over the dismissal while Price got £83,537 – but there are grave doubts either will ever see any of the cash after Howell's went into liquidation in August.
"You could say an Oxford degree in English and this is what I'm left with (a career as a bus driver). It's humiliation and my whole world has been turned upside down. …
Wales Online
On the weekend of the Terry Fox Run, a look at advances in artificial legs.
The artificial leg Karen Bourns showed to students at Wellesworth Public School in Etobicoke this week is rough and clumsy. It has a bucket, in which the limb sits, a metal alloy shaft and a series of straps that wrap around the waist and down the leg.
If it broke, a prosthetist could fix it with a wrench.
It was a walking leg, never mean for running, she says.
But Terry Fox ran 5,373 kilometres, nearly a marathon a day for 143 days, on a similar leg in the summer of 1980.
The annual Terry Fox Run for cancer research is Sunday in 34 sites across the Toronto area.
They don't actually make clunky legs like that any more. Today, more than three decades later, new prostheses for amputees are dazzling pieces of advanced technology, using titanium, microprocessors and hydraulic systems that can cost more than $45,000. Amputee athletes sprint and run marathons on springy carbon-fibre blades.
How Terry would have done on one of the sleek new models is a popular conversation topic among his friends and his family — could the idealistic runner, who died in 1981, have run farther if he had the benefits of today's prosthetic technology? …
Toronto Star
Dung beetles sporting custom made caps and boots entered the annals of the Ig Nobel Prize when South Africa's second ever winner was announced during the 23rd First Annual Ig Nobel Prize ceremony at Harvard University on Thursday, 12 September 2013.
Professor Marcus Byrne from Wits University and his colleagues from Lund University in Sweden were awarded Ig Nobel Prizes in Astronomy and Biology for conducting research that first makes you laugh, and then makes you think.
Byrne and the team designed caps and boots for dung beetles and dressed the beetles in their new apparel to prove firstly that dung beetles use the Milky Way to orientate (read more), and secondly that dung beetles climb on top of their dung balls to cool their bodies as they roll the ball away from competitors at the dung pile (read more).
According to Byrne and team members Marie Dacke, Eric Warrant, Emily Baird and Clarke Scholtz: "We are very chuffed to win the Ig Nobel! Believe it or not, it is a significant recognition of one's work, especially in reaching the wider general public. The IgNobel motto is that the prize is won for science that 'first makes you laugh' (i.e. dung beetles wearing hats and watching stars) 'and then makes you think'. So the poking fun at science is good. The whole enterprise is one of questioning something – even the results – and enjoying it. …
All Africa/Wits University (Johannesburg)