Our World in 7 Headlines: Sept. 12
September 12, 2013 7:48 am Last Updated: September 12, 2013 7:50 am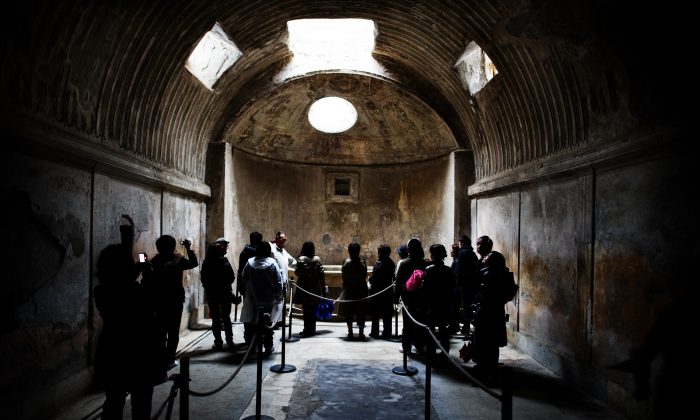 COLOMBO, Sri Lanka—The Sri Lankan prison authorities today have released over 2,000 prisoners a serving time for minor offences to mark the National Prisoners' Day which falls on Thursday (September 12).
A Prisons Department spokesman told media that over 2,000 prisoners who were serving sentences for minor crimes and prisoners above the age of 70 years had been granted a President's pardon. …
Colombo Page
NAPLES, Italy—A spot check by anti-mafia investigators for infiltration by organized crime gangs of restoration works at the Pompeii archaeological site came up clean, authorities said Thursday.
The investigators inspected construction companies as well as 20 individuals involved in the Great Pompeii Project, which has drawn 105 million euros in support from the European Union.
That kind of money makes the project a potential magnet for organized crime.
The Great Pompeii Project has become something of a symbol for Italian authorities, who want to demonstrate the country can preserve and protect a world famous archaeological site – both from physical decay as well as corruption by the local mafia, the Camorra. …
ANSA
One of the most opulent bachelor pads in Sydney is currently under construction in Sydney's Surry Hills. Located in a cavernous free-standing warehouse space of about 500 square metres, it belongs to appliance king John Winning, the CEO of the Winning Group.
The project has taken almost seven years and $5 million, but Winning is getting a lot for his dollar. Some of the features will include a home cinema, indoor swimming pool, indoor garden complete with five-metre palm trees, antiques sourced from around the world and an assortment of bespoke furniture, including a brown leather sofa used on the set of The Great Gatsby.
The most unusual feature is the bedroom, or rather a freeform fibreglass sculpture, where Winning will tuck himself in at night. Designed by Peter Ireland of Allen Jack + Cottier, the sound-proofed cone of silence will set Winning back hundreds of thousands of dollars. …
Sydney Morning Herald
Clärchens Ballhaus has seen illegal dueling, Nazi dancing bans, wartime destruction and communist black-marketeering. Fans celebrating its 100th anniversary this week say it retains a timeless charm that makes it an enduring icon of Berlin nightlife.
There's always a bit of a traffic jam at the entrance of Clärchens Ballhaus. That's because once people enter Berlin's most beloved dance hall, they're often astonished by what they see.
Past the coat check, manned by the same mustachioed gentleman for 45 years, they find a living time capsule. …
Der Spiegel
The world-famous Palace of Versailles has unveiled a new line of gourmet produce, sweets and other French food meant to rival luxury food brands Fauchon and Hédiard.
The Palace of Versailles – the former court of French kings and one of the most visited monuments on the planet – has launched its own brand of gourmet food, which it hopes to sell in high-end shops across the world. …
France 24
Japan is to formally complain about a cartoon that appeared in a French weekly newspaper showing sumo wrestlers with extra limbs in front of the Fukushima nuclear plant and linking this to the Olympics, the top government spokesman said on Sept. 12.
Tokyo won the right to host the 2020 summer Olympic Games after overcoming concerns about leaking radioactive water at the stricken Fukushima plant north of Tokyo, with Japanese Prime Minister Shinzo Abe assuring the International Olympic Committee that the situation was "under control."
The cartoon, carried in the satirical Le Canard Enchaine, shows two sumo wrestlers, each with an extra leg or arm, facing off with the Fukushima plant in the background as an announcer says, "Thanks to Fukushima, sumo is now an Olympic sport."
Another cartoon shows people in protective gear by the side of a pool, Japanese media reported.
"This cartoon hurts the feelings of those who suffered through the Great East Japan Earthquake," said Chief Cabinet Secretary Yoshihide Suga, referring to the March 2011 earthquake and tsunami that wrecked the Fukushima nuclear plant, triggering the world's worst nuclear disaster since Chernobyl. …
ASAHI
… Results of a groundwater study show that Northern-Central Turkana is home to a reserve of 250 billion cubic metres of water.
The water is naturally refilled at the rate of about 3.4 billion cubic metres per year.
This finding, according to the government study, can heighten the country's share of accessible water by 8.5 per cent. …
It is also likely to double the amount of water that is available for consumption today – ultimately improving the lives of Kenyans living in water scarce areas. …
Daily Nation