Our World in 7 Headlines: Sept. 10
September 10, 2013 7:35 am Last Updated: September 10, 2013 7:35 am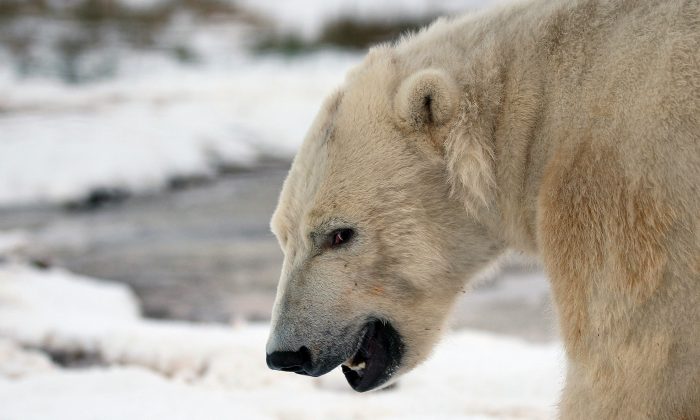 Cornered by a polar bear that had already swatted and bitten him, a desperate Garett Kolsun turned to the only device he could think of and thrust his cellphone into the raging bear's face, distracting it long enough for him to escape.
Kolsun is grateful to be alive today after his encounter with a polar bear in Churchill, Man., on Saturday. The Winnipeg man went to Churchill two weeks ago for a job, his first time in the northern town.
While walking to where he was staying around 1:30 Saturday morning, Kolsun noticed something out of the corner of his eye.
"As I looked over, I could see a polar bear charging me. It was running full tilt towards me," …
CBC
MILAN—An Italian scuba diver set a new world record for remaining underwater, staying at a depth of 10 meters for 50 hours over the weekend.
Danilo Bernasconi, 33, broke the previous record of 48 hours and 13 minutes set by Allen Sherrod in Florida two years ago. …
"I'm a bit 'dazed, it was really hard," he said. …
ANSA
MEXICO CITY—Small-scale logging is worse than previously thought and may be contributing to threats facing the Monarch butterfly's singular migration pattern, according to a new study of winter nesting grounds in central Mexico.The reserve's 13,550-hectare core zone lost 16.6 hectares of pine and fir trees so far in 2013, about half of that because of illegal logging, according to the study by Omar Vidal, head of Mexico's chapter of the World Wildlife Fund, the WWF, and other authors. The rest of the loss was due to drought or disease-control removal of trees.Mexico's government has taken a… 
Mexico Star
When Miami-based author Joseph Brady, 38, wrote his first novel, The Zurich Decision, he set it in Switzerland — even though he'd never set foot in the country. Then his wife was offered a job there, and fiction turned into reality . . .
Why did you decide to base your book in Switzerland?
It was really quite ironic because before I started writing The Zurich Decision, I'd never been to Switzerland. The reason I chose it as the prime location for the novel was because of its links to the pharmaceutical industry.
…
The Local (feature published in June)
South Dublin Council to be 'vigilant' after previous experience of attacks on gardai
A campaign to reduce the availability of old pallets, furniture and tyres in advance of Halloween is to get underway in south Dublin.
The campaign follows previous years' experience of large bonfires and vandalism which included attacks on gardaí and fire officers.
The campaign, by South Dublin County Council, will also involve a "bulbs instead of bonfires" initiative to encourage schools and communities to plant green areas during October, for spring flowers. …
Irish Times
France has a reputation for giving visitors a brusque and even sullen reception. But a group of volunteers called "Greeters" are out to prove the French are a friendly people who want to share all the delights their country has to offer. …
France 24
The 124 richest people in Brazil hold assets totalling 544 billion Reais equivalent to 238.6bn dollars or 12.3% of the country's GDP, which is considered one of the most unequal in the world. The 124 are included in Forbes magazine latest publication that brings together all those Brazilians with fortunes over a billion Reais (approx 438 million dollars).
Top of the list is Jorge Paulo Lemann chief investor in the 3G Capital fund which has recently purchased US ketchup manufacturer Heinz and is an important shareholder at brewers AB-InBev and Burger King. …
Merco Press