The new measures announced by the chief of Ottawa police against truck convoy protesters are those used by oppressive regimes around the world, says a lawyer representing organizers of the Freedom Convoy protesting COVID-19 mandates in Ottawa.
"He effectively announced that he is going to be taking away Canadians' charter right of peaceful assembly and freedom of expression," Keith Wilson, a lawyer with the Justice Centre for Constitutional Freedoms (JCCF), said in a video on Feb. 4.
Peter Sloly, chief of the Ottawa Police Service (OPS), said in a Feb. 4 press conference that police will be implementing a "surge and contain strategy" to deal with the protesters camped in Ottawa.
Urgent from Ottawa pic.twitter.com/O7sa2tlteI

— Keith Wilson, Q.C. (@ikwilson) February 4, 2022
The strategy includes sending 150 more police officers to the protest area in the downtown core of Ottawa, barricading the protest area with concrete and heavy-equipment barriers, as well as "increased efforts" by national, provincial, and local intelligence agencies to target those "who are funding/supporting/enabling unlawful and harmful activity" by protesters.
"Our residents are frustrated and they are angry. They have every right to be. Their lives continue to be severely impacted by unlawful and unsafe events," Sloly said.
"Officers and our partners will be focused on illegal activity associated with the demonstrators. Surge will deliver a clear message to the demonstrators: Lawlessness must end."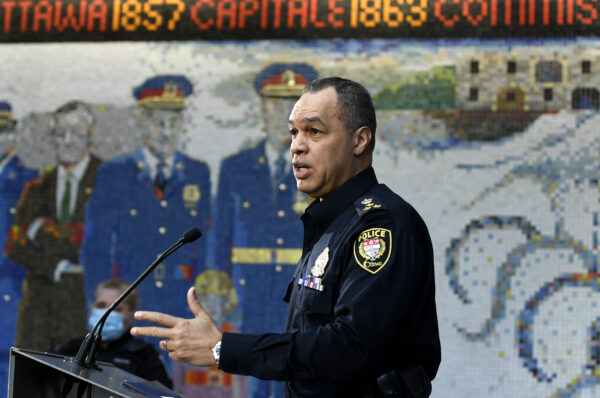 Sloly added that the demonstrators in the core area "remain highly organized, well funded, extremely committed to resisting all attempts to end the demonstration safely."
Wilson called Sloly's announcements "disturbing" and said they should "trouble Canadians and those around the world who support this trucker protest for freedom."
"The police chief essentially announced an assault on the protesters. He announced that very specific measures that we normally only see instituted by oppressive regimes around the world, would be initiated," he said.
The Epoch Times reached out to the Ottawa Police Service for comment but didn't immediately hear back.
— Ottawa Police (@OttawaPolice) February 4, 2022
Preliminary data shows there has been a decline in police-reported street crime since the protest began in downtown Ottawa, according to Blacklock's Reporter.
In the week prior to the protest, there were 31 police calls for crimes such as robbery, assault, drug trafficking, public drunkenness, and other crimes in the Ottawa district the protest is set up, but there were only three reports of street crime since the protests began, Blacklock's Reporter said.
Tom Marazzo, who is helping the organizers as a police liaison, said in a press conference on Feb. 4 that "statements and actions" by Sloly have "deliberately set the conditions for potential violence against the peaceful protesters of Freedom 2022 Convoy."
"The OPS is fully aware many of their ongoing investigations are initiated as a result of the truckers reporting incidents that they have witnessed. This protest has been peaceful. We have been cooperating and will continue to cooperate with the OPS and PPS [Parliamentary Protective Service]," Marazzo said.
Marazzo said the Freedom Convoy doesn't condone aggressive behaviour or violence, and that anyone exhibiting such behaviour should be individually held accountable.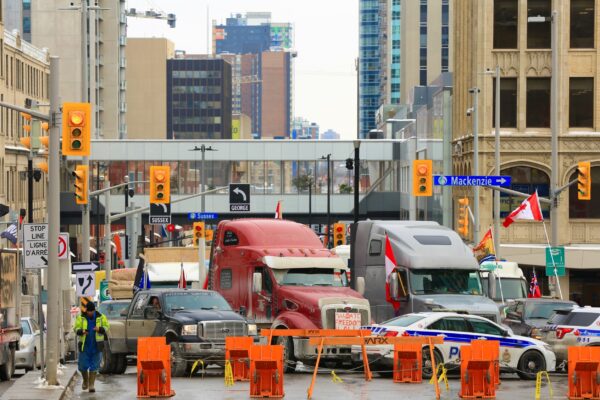 He added that Ottawa taxpayers call the city their home, but all tax-paying Canadians call Ottawa their nation's capital. He noted that many Ottawa residents have invited the protesters to their homes for meals or to rest.
The JCCF said in a statement on Feb. 4 that it has learned that closed-circuit television cameras (CCTV) in downtown Ottawa where the protest is taking place have been off for the duration of the demonstrations, and asked city officials to make the cameras active.
"These cameras do not actually show what is happening on the ground in downtown Ottawa. For safety reasons we strongly urge you to remedy this situation and restore live feed from those CCTV cameras. It is imperative that law enforcement and the public have access to video footage, in order to know what is actually occurring in and around the protest," Eva Chipiuk, staff lawyer at the JCCF, said in a statement.
"Canadians have the legal right to protest peacefully in their capital city. The freedom of peaceful assembly is expressly protected by the Canadian Charter of Rights and Freedoms. The Freedom Convoy has always been clear that it supports only peaceful assembly."
The Freedom Convoy movement initially began as a protest by truck drivers opposing the federal government's COVID-19 mandates for cross-border travel. But it has since attracted many followers from around Canada who want an end to all COVID-19 mandates and restrictions.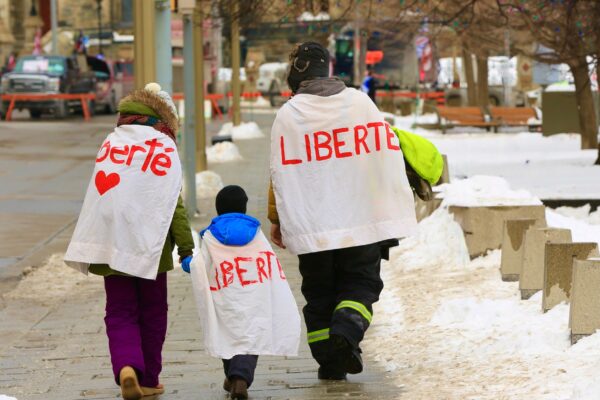 The protesters converged in Ottawa on Jan. 29, and many say they intend to stay until COVID-19 mandates are lifted. Trucks and other vehicles are parked in the downtown core by Parliament, and sounds of horn honking by protesters can be heard throughout the day.
Marazzo said he has built a strong working relationship with local law enforcement and members of the OPS and the PPS, but not with the police service leadership.
"In my negotiations with them, they have chosen to take the posture of a hostage negotiation rather than working toward a safe, peaceful, and responsible relationship that may exist for months to come," he said.
Daniel Bulford, a former RCMP officer who quit the force because of its vaccine mandate and is now helping the protest organizers, said many media reports have been falsely associating crimes committed by others with the protesters.
He added that the protesting truckers in Ottawa have been victims of vandalism.
"Many trucks have been vandalized and spray-painted throughout the night," Bulford said at the Feb. 4 press conference.