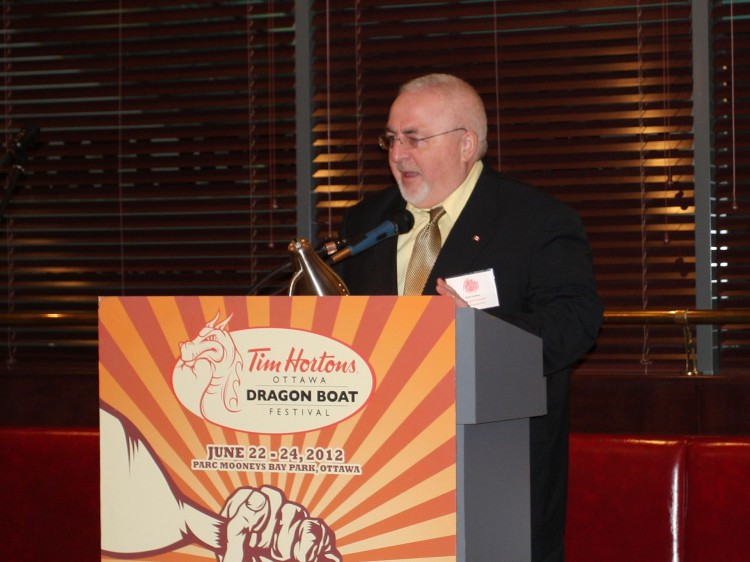 OTTAWA—The Tim Hortons Ottawa Dragon Boat Festival launched its 2012 fundraising season on March 6.
Among the speakers at the launch event was Kanata South Councillor Allan Hubley, Honorary Chair of the Ottawa Dragon Boat Foundation.
"This is the largest dragon boat festival in North America and to date it has raised over $2.4 million which is invested right back here within our community," said Councillor Hubley.
Noting the festival's support of seven local charities, Councillor Hubley highlighted the Youth Services Bureau of Ottawa and its mental health walk-in clinic as he spoke of the tragic loss of his 15-year-old son, Jamie, who suffered from depression and committed suicide last October.
"To help us heal with our personal tragedy, we decided to do our part to make certain that no more families have to suffer the same pain that we and other families must bear when a child gives up hope," he said.
"I am committed to doing everything I can to ensure that when a young person reaches out, the best possible help is there for them."
The foundation has established a goal of $500,000 this year to be distributed to the Youth Services Bureau as well as the CHEO Foundation, Bruyère Foundation, ArtsSmarts, Ottawa Humane Society, Debra Dynes Family House, and University of Ottawa Institute of Mental Health Research.
"I am asking each of you for your help to build a better city by doing your part," said Councillor Hubley.
The non-profit festival, in its 19th year, expects to attract 70,000 attendees with the help of 400-plus volunteers.
This year it will be welcoming 190 teams with 4,500 paddlers participating in the two-and-a-half-day event at Mooney's Bay Park on June 22-24.
The festival offers free admission and many multicultural performances and other entertainment and activities.