Evidence shows that China's financial system seems to be "on shaky ground," according to a March 6 report by CNN.
Banks in China's eastern Zhejiang Province and southern Shenzhen city will carry out a program to keep large financial transactions in check, starting in early October.
The move comes after Hebei banks rolled out on July 1 new rules requiring documentation about the source of deposits or the purpose of withdrawals for transactions over 100,000 yuan ($14,706) for individual customers and 500,000 yuan ($73,532) for corporations, according to the state-backed China Securities Journal.
According to China Securities Journal, the Hangzhou central branch of the People's Bank of China (PBOC) declared on Sept. 24 that it will officially enforce Zhejiang's pilot program on large cash management starting on Oct. 10. For business and individual transactions of 500,000 yuan ($73,532) and 300,000 yuan ($44,119) respectively, they are required to notify banks at least one day in advance.
The Shenzhen central branch of the PBOC will roll out similar curbs on large transactions for businesses and individuals, according to the China Securities Journal. However, the only difference is that the threshold for individuals in Shenzhen is 200,000 yuan ($29,413), a little lower than that in Hangzhou.
The new bank rules come as a response to a notice released on June 9 from the PBOC regarding a two-year pilot program of managing (keeping track) of large cash transactions. The program was scheduled to operate first in northern Hebei Province, and then extend to Zhejiang, Shenzhen city, and Guangdong Province.
According to the PBOC, the new guidelines for large withdrawals are to "reduce the total cost of cash circulation and to prevent risks."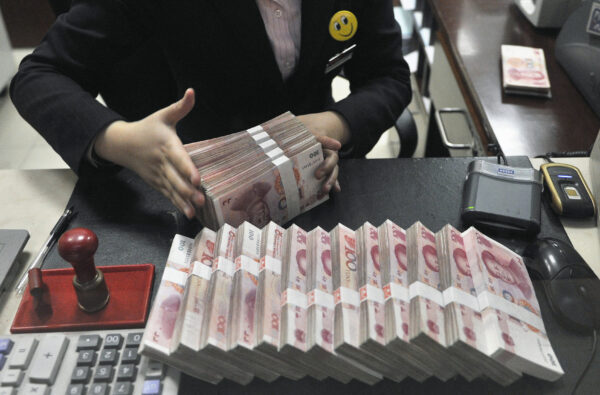 However, many netizens expressed their disapproval of the new banking restrictions. Some say China's lenders are fearing potential bank runs.
In 2019, bank runs took place in Yichuan Rural Commercial Bank in Luoyang city, Henan province on Oct. 29; then in Yingkou Coastal Bank in Yingkou city, Liaoning Province on Nov. 6.
This year, bank runs took place in Bank of Gansu in April; the Wangdu branch of Bank of Baoding in Hebei Province on June 20; Yangquan City Commercial Bank in Shanxi Province on June 16; Bank of Hengshui on July 11; and Bank of Huludao in Liaoning Province on Aug. 1.
Commentator Wen Xiaogang noted that with the mainland economy wobbling, the new banking restrictions are meant to stem capital outflows for the security of China's financial system.
On June 27, Japan Economics Newspaper estimated that China's capital outflows through bank transfers and legitimate channels totaled $30.7 billion in the first quarter of this year, and the figure was expected to be larger when accounting for cash smuggled out of the country.