LOS ANGELES—The 89th Academy Awards got off on the right foot, with a song and dance, but ended with the most stunning mistake ever to befall the esteemed awards show when the best picture Oscar was presented to the wrong movie. Faye Dunaway and Warren Beatty, holding an incorrect envelope, wrongly presented the top prize to "La La Land," instead of "Moonlight."
The moment at the conclusion of the Sunday night show was so jaw-dropping, it eclipsed everything else in a ceremony that was packed with political jabs, fun stunts, heartfelt positivity, and a stunning upset by "Moonlight" over what had been a "La La" juggernaut throughout award season. Yet somehow, even the embarrassing moment pivoted into grace.
As confusion and bafflement overwhelmed those in the Dolby Theatre and at home on their couches, "Moonlight" director Barry Jenkins and "La La Land" director Damien Chazelle shared a hug on the back of the stage, out of sight from the television cameras.
"The folks of 'La La Land' were so gracious. I can't imagine being in their position and having to do that," Jenkins told reporters backstage. "It was unfortunate that things happened as they did but, goddamn, we won best picture."
Oscar tabulators PwC, in their 83rd year providing the service to the academy, later apologized to all in a statement and are investigating why it happened.
There's no denying, though, that "Moonlight's" win over "La La Land" was a massive upset, made only more pointed by the envelope gaffe. Chazelle's candy-colored musical was widely presumed to be a shoo-in for the top prize after its record-tying 14 nominations and a relative sweep of award season. The film still won six Oscars, including best director for Chazelle, who at 32 became the youngest ever to take the prize, and for score, song ("City of Stars") and actress to Emma Stone.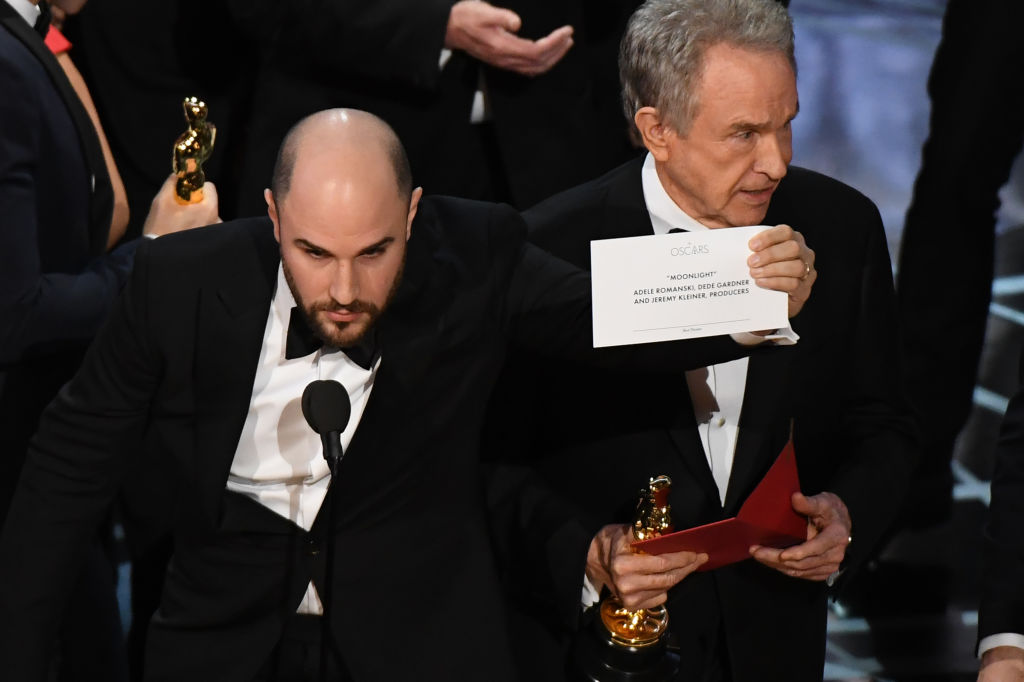 The actress, who pledged her deep love of "Moonlight," said later, "Is that the craziest Oscar moment of all time? Cool!"
The academy usually throws awards at films that gaze lovingly at Hollywood, but Barry Jenkins' coming-of-age drama seduced academy voters in the end—a subtle tide change perhaps informed by both a prickly political climate and an urgent imperative to honor more diverse films after two consecutive years of OscarsSoWhite.