Eyewear retailer Oscar Wylee has been hit with a $3.5 million fine after its "Buy a pair, give a pair" promotion, was proven false.
Between 2014 and 2018, the company, which has over 60 retail outlets in Australia, ran advertisements through social media, email, and promotional merchandise that for each pair of glasses purchased, it would donate a pair of glasses to someone in need.
The false marketing claims made by Oscar Wylee include: "One for one. All the time. Forever. We donate a pair of glasses to those in need for every pair purchased" and "Buy a pair, give a pair."


In almost five years, Oscar Wylee sold 328,010 pairs of glasses but donated only 3,181 frames to charity, without lenses. Nearly one set of frames for each 100 pairs of glasses sold.
The Australian Consumer and Competition Commission (ACCC) began investigating the eyewear retailer in 2019 and brought the case against it in the Federal Court of Australia.
The court found the company liable for misleading or deceptive conduct and making false or misleading representations about its charitable donations and affiliations.


"Oscar Wylee promoted its charitable activities as a core reason why consumers should buy Oscar Wylee glasses, but its claims were false and were made in circumstances where consumers could not easily verify these claims for themselves," according to ACCC Deputy Chair Delia Rickard.
"The misleading conduct also portrayed Oscar Wylee as a socially-conscious company that made significant donations of glasses to people in need, which, because this was not true, unfairly differentiated it from other brands in the market," Rickard added.
She went on to say Oscar Wylee deprived disadvantaged individuals of the benefits promised in the advertising.
The company also admitted to making false or misleading representations to consumers between 2014 and 2018 that it was closely affiliated with the Rose Charities.
These claims included statements like: "We have partnered with Rose Charities which helps build sustainable eye care programs in Cambodia," and "We're funding Lim studying to be an eye surgeon so he can keep taking solutions into his own hands."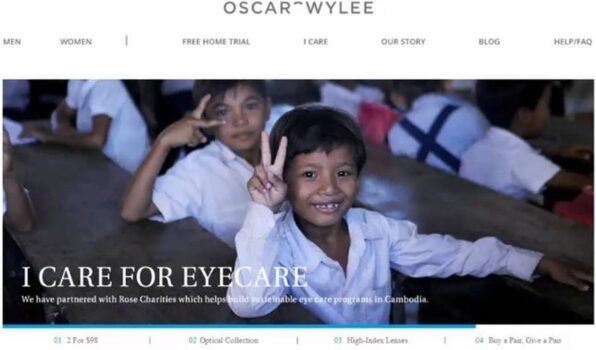 Oscar Wylee's association with Rose Charities consisted of a single donation of $2,000 and 100 frames in 2014.
No further donations or support were provided to Rose Charities after this time, despite Oscar Wylee continuing to claim an affiliation until late 2018.
In her judgment, Justice Katzmann said: "It built its reputation by engaging in the contravening conduct, appealing to socially conscious consumers who wanted to support charitable causes through their purchasing behaviour."
"Its conduct was a betrayal of that promise," she added.
Dr Rob Nicholls, associate professor of competition law at the University of New South Wales said Oscar Wylee's promotion capitalised on the generosity of Australians and the country's high charity donation rates.
"Consumers bought their glasses from Oscar Wylee because doing so would provide glasses to someone who could not afford them. For this to be a marketing gimmick with no substance is a heinous form of misrepresentation," he told The Epoch Times on Sept. 21.
Nicholls also noted the court found Oscar Wylee did not understand its responsibilities under Australian Consumer Law and ordered a compliance program.
"More unusually, this will be externally audited for the next three years. That is, Justice Katzmann required compliance be much more than a 'tick the box' exercise," he added.
Oscar Wylee will need to undertake an annual review of its compliance for the next three years, carried out by an independent compliance professional.
The court did take note of the company's willingness to cooperate with ACCC's investigation and noted its history of charitable activities. In 2019, it donated $80,000 to charitable causes and over 330,000 frames to charities, foundations, hospitals, and prisons.
The penalty was reduced by 30 percent accordingly.