Democratic presidential candidate Beto O'Rourke said on Wednesday that police officers would go to the homes of people who refuse to comply with his proposed law banning AR-15s and AK-47s, if it was put into place, and seize the banned guns.
O'Rourke said during the Tuesday debate that people who don't comply with the law, which is thought by some to be an infringement of the Second Amendment, would have their weapons taken away from them, but stopped short of saying law enforcement officers would visit houses to seize the firearms.
"If someone does not turn in an AR-15 or an AK-47, one of these weapons of war, or brings it out in public and brandishes it in an attempt to intimidate, as we saw when we were at Kent State recently, then that weapon will be taken from them. If they persist, they will be other consequences from law enforcement," O'Rourke said.
He said: "We don't go door to door to do anything in this country to enforce the law."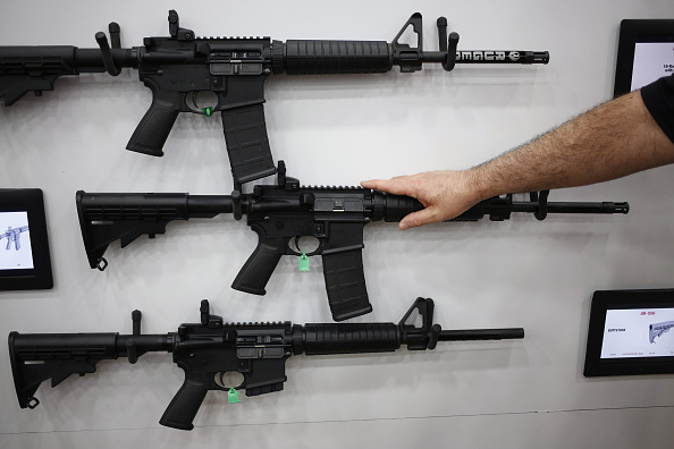 Appearing on MSNBC on Wednesday, O'Rourke was pressed about how enforcement of his proposal would unfold.
"OK, but let's just assume there's a rancher in Texas that doesn't, that says, 'I'm not going to do this because this is an unjust law and it's unconstitutional.' What's the next step? I think that's what we need to concede because there will be people that don't turn the guns back in. What's the next step for the federal government there?," Joe Scarborough, host of "Morning Joe," asked.
"Yeah, I think just as in any law that is not followed or flagrantly abused, there have to be consequences or else there is no respect for the law," O'Rourke replied. "So you know, in that case I think there would be a visit by law enforcement to recover that firearm and to make sure that it is purchased, bought back so that it cannot be potentially used against somebody else."
It appeared to be the first time O'Rourke suggested visits to houses would be involved. There are estimated to be over 16 million AR-15s and AK-47s in America.
Beto would not send officers door to door to collect weapons – just as we do not send the IRS door to door to collect taxes.

— Lauren Hitt (@LaurenHitt) October 16, 2019
Lauren Hitt, who works in rapid response for O'Rourke's campaign, quickly tried clarifying the candidate's response.
"If someone is publicly, flagrantly stating that they refuse to comply with the law, as in Joe's scenario, of course there will be legal consequences. This is how it works with any law. Republicans are usually pretty in favor of that concept," she wrote in a statement.
"Beto couldn't have been more clear last night, but for my Republican friends, this is how a buyback works: After the law is passed, people would be expected to turn in their assault weapons in exchange for payment. If they did not, and they bring those weapons into public space or if a police officer discovers them in the course of their regular duties, the officer would take that assault weapon into custody."
"Beto would not send officers door to door to collect weapons—just as we do not send the IRS door to door to collect taxes," she added.