Organizations Encourage Voter Registration
National Voter Registration Day
September 24, 2013 6:14 pm Last Updated: September 24, 2013 8:06 pm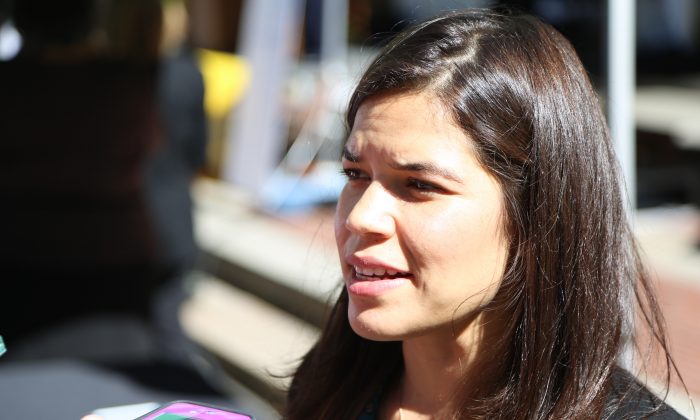 NEW YORK—Voter registration has been at a historic low, with only 22 percent of registered Democrats and 12 percent Republicans having voted in the primaries. Some organizations and officials were determined to change that low turnout by registering voters at Bryant Park on National Voter Registration Day, Tuesday.
"It's one way that we're able to voice what matters to us," said Clayton Rosa, the campaigns and strategy program manager at the Naleo Educational Fund. The nationwide organization encourages Latino-American voters to participate in elections every year.
Some of their strategies include Get Out to Vote (GOTV) campaigns, phone-canvassing, organizing forums to educate Latino voters about their representatives and the voting process, as well as establishing a call center in Spanish that operates during the election to address issues voters encounter when casting their ballots.
America Ferrera, co-chairs the "I'm Ready" campaign with Wilmer Valderrama.
"Being an American is a privilege and it's one that carries tremendous responsibility," Ferrera said. She noted that over 65,000 Latino teens turn 18, the legal voting age, every month but only 48 percent of Latinos voted during the record-high voter turnout in 2002.
Volunteers from the NYC League of Women Voters were also encouraging people to vote. They organize voter registration drives with other organizations. They reach out using social media, and have a website with various resources like a personalized voting guide.
"People don't appreciate their vote," said former president of the organization, Miriam Adelman. Another volunteer at the organization, Adrienne Kivelson said, "People don't understand how much it impacts their lives." Everything from how much tax you pay at the grocery store to how many schools are open in your community are decided by officials that citizens have the power to choose.
Some passers-by in Bryant Park agreed that voting is important.
Ana Carril-Grumberg who was sitting in the park said that voting is the only way to ensure a democratic, safe, and peaceful transition of power.
"We want to have a democratic system. Look at Syria, we don't want to be like Syria," she said.
According to Carril-Grumberg, people were offended by the change in the law that allowed Bloomberg to run for a third term as mayor. "Even when they vote for something, people don't respect their votes," she said.
Matthew Troupe who helps set up events in Bryant Park said, "It's important to know who you're voting for and what they're doing for you."
Troupe said he's registered to vote in the November general election, but it won't be until January when he will see if his elected official will keep the promise of raising the minimum wage.