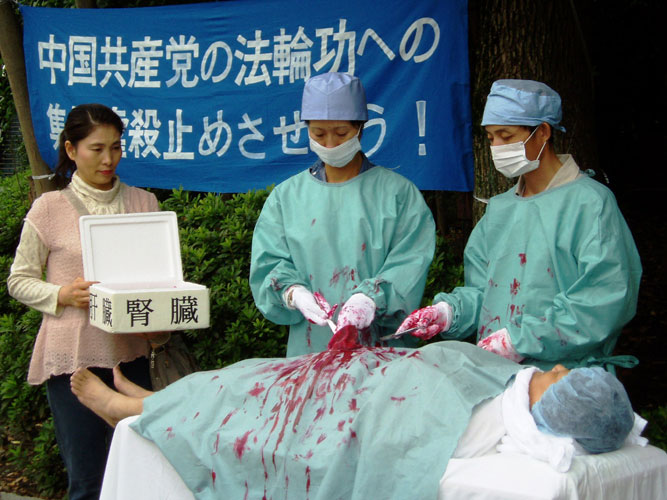 The U.S. State Department's 2011 Human Rights Report, published on May 24, 2012, addressed the issue of illicit organ harvesting in China, mentioning Falun Gong practitioners and Uighurs. 
The report says: "In response to allegations that the organs of executed prisoners were harvested for transplant purposes, Vice Minister of Health Huang Jiefu in 2009 stated that inmates are not a proper source for human organs and prisoners must give written consent for their organs to be removed. Overseas and domestic media and advocacy groups continued to report instances of organ harvesting, particularly from Falun Gong practitioners and Uighurs." 
Another action taken by the U.S. government to prevent people involved in the crime of forced organ harvesting from entering the country is a new question added last June to the USCIS non-immigrant visa application form DS-160. It asks whether the applicant "has participated in forced human organ transplantation."
According to a State Department spokesperson, this question is based on Section 232 of the Foreign Relations Authorization Act published on Sept. 30, 2002 (approved by Congress and signed by then president George W. Bush), denying entry to the United States to Chinese and other nationals engaged in coercive organ or bodily tissue transplantation. The same section is included in United States Code 8 USC1182f. 
The recent report is the first time the U.S. government's human rights report has mentioned live organ harvesting from Falun Gong practitioners and Uighurs.
Editor's Note: When Chongqing's former top cop, Wang Lijun, fled for his life to the U.S. Consulate in Chengdu on Feb. 6, he set in motion a political storm that has not subsided. The battle behind the scenes turns on what stance officials take toward the persecution of Falun Gong. The faction with bloody hands—the officials former CCP head Jiang Zemin promoted in order to carry out the persecution—is seeking to avoid accountability for their crimes and to continue the campaign. Other officials are refusing any longer to participate in the persecution. Events present a clear choice to the officials and citizens of China, as well as people around the world: either support or oppose the persecution of Falun Gong. History will record the choice each person makes.
Read the original Chinese article.
chinareports@epochtimes.com
The Epoch Times publishes in 35 countries and in 19 languages. Subscribe to our e-newsletter.