Oreca's Albasini Wins Two Tour de Romandie Stages, Takes Yellow
May 1, 2014 5:22 pm Last Updated: May 1, 2014 6:47 pm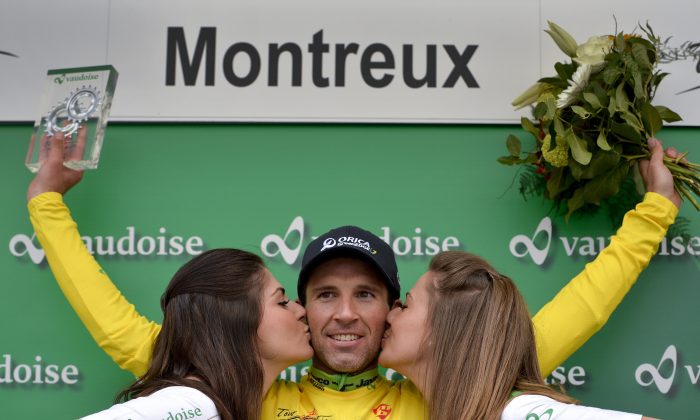 Oreca GreenEdge rider Michael Albasini proved he could climb as well as sprint, thrilling Swiss fans with the prospect of a Swiss rider taking two stages in the 68th Tour de Romandie.
Omega Pharma-Quickstep's phenomenal young rider Michal Kwiatkowski won the prologue and the yellow jersey. Albasini finished 28th, 15 seconds off the pace—not bad considering Astana's multiple Grand Tour winner Vincenzo Nibali was 13 seconds back, and world champion Rui Costa of Lampre-Merida was 35th at 16 seconds.
Albasini's name hadn't appeared in any of the pre-race predictions, and he is unlikely to be a General Classification contender—with a day of serious climbing and a time trial to come, the Oreca rider will likely be outclassed. Still, what a bonus for the hometown fans.

Michael Albasini (C) of Orica GreenEdge raises his arm in triumph after crossing the finish line ahead of second-placed Jesus Herrada (R) and third-placed Ramunas Navardauskas (L) to win Stage One of the 68th Tour de Romandie cycling race, April 30, 2014. (Fabrice Coffrini/AFP/Getty Images)
Oreca's Albisini Triumphs in Shortened Tour de Romandie Stage One
Stage One was planned as a serious climbing stage, 200 km long with a Cat One and Cat Two climb. Snow fell on the Cat One Simplon pass however, forcing organizers to scramble to find an alternate route. What they came up with was an 88-kilometer dash with a single Cat Two climb halfway through.  
This shortened route worked out perfectly; riders had the energy to race all day long, without having to save anything for the later stages, and lots of riders had the energy to attack throughout the stage.
Three riders got away early—Lotto Belisol's Boris Vallée and the IAM Cycling's Reto Hollenstein and BMC's Silvan Dillier—but the peloton didn't let them get a gap of even three minutes. They were caught halfway up the single climb, 27  km from the end of the stage.
A small group got a way briefly, but was caught by 22 km left, with Sky leading ghe peloton. IAM's Johan Tschopp attacked near the peak, followed by FDJ's Thibault Pinot, but this pair were just fighting for King of the Mountain points, and were soon reabsorbed.
Astana's Vincenzo Nibali launched a big dig with 15 km to go; he used his superb descending skills to get a gap and kept pushing. Garmin Sharp's Andrew Talansky led the pursuit, but for quite a while it looked like Nibali might pull off his first win of the season in spectacular solo fashion.
Europecar's Thomas Voeckler, ever aggressive, took off alone after Nibali at the eight-km mark; Omega hartma-Quickstep's Rigoberto Uran chased him down, while ahead Nibali's energy waned.
Finally Omeag's Tony martin started a serious attack, with Garmin's Rohan Dennis in tow. This pair caught Nibali 1600 meters from the line, dragging along some small remnant of the peloton.
Voeckler went again just inside the final kilometer; Rohan Dennis pursued and caught him about 400 meters out, with everyone else close behind.
With 120 meters to go Michael Albisini turned on the gas. He blew by the few riders ahead of him with 70 meters to go and beat everybody to the finish, winning the stage and the time bonus.
The win moved the Swiss rider to second in GC, just five seconds behind Omega Pharma-Quickstep's Michal Kwiatkowski.
"I saw when he [Voeckler] attacked that it was a really early attack," Albasini told BEin TV. "It was a long, long way to the finish and I saw that I had two, three guys in front of me. I knew that one of them would get nervous and chase him. When I launched my sprint I immediately knew I was going to pass him."
When asked how he felt about being the first Swiss rider in many years to capture a stage in the Tour de Romandie, Albasini replied, "I was not thinking about being the first Swiss, I just wanted to win the stage."
The Oreca-GreenEdge rider was pleased with the high pace which weeded out most fo the serious sprinters; in fact, he wished it had been higher.
"I felt really good on the climb—it was nearly too slow," he explained. "We hoped that it would be faster so there would be a smaller group. Still, there was not too many fast people left so I was confidant to make a good result—but you never can be sure to win, so I am really happy with the win."

Orica GreenEdge rider Michael Albasini (L) celebrates after winning the second stage of the Tour de Romandie cycling race, May 1, 2014 in Montreux. (Fabrice Coffrini/AFP/Getty Images)
Albasini Takes Yellow With his Second Stage Win
Stage Two was 167 km long, with a pair of Cat Three climbs near the end. On paper it looked like a day for the sprinters—so on this day, Michael Albasini decided he was a sprinter.
This time two riders escaped almost fromt eh starting line: Martin Kohler (BMC) and Pirmin Lang (IAM) opened a gap of almost 13 minutes and at one point it seemed the peloton might have left the chase too late.
The pair's lead was under two minutes with 20 km left, but 34 seconds at 7.5, and the peloton didn't seem to be sufficiently organized.
Tinkoff came to the fore about 7.5 from the line, with Lampre helping, riding for either Rui Costa or sprinter Roberto Ferrari. This cut the lead to 15 seconds by four km and with three kilometers left in the stage, it was grupo compatto.
This left the teams 3000 meters to set up their leadout trains, but the speed of the chase left some of the key riders a little winded, particularly the Lampre squad..
Europcar and Garmin sent a rider each to the front to keep the pace high. Tony Martin came forward with about 2200 meters out, leading Michal Kwiatkowski. The pace kept any teams from setting up their trains. This was a good but not a great idea—Omega made the move to soon, and with too little firepower.
Kwiatkowski was the first to go, but he didn't have the speed to shut down the competition. Michael Albasini waited until the first few had launched, then streaked down the left side and across towards the center, passing Europcar's Tony Hurel and Trek's Giacomo Nizzolo to take the win. Kwiatkowski finished fifth.
Though there was no time gap, Albasini picked up a ten-second bonus for the stage win, putting him into the lead by five seconds over Kwiatkowski, the Garmin's Ramunas Navardauskas a further five seconds back.
Sky's Chris Froome also contested the sprint, and finished tenth, which left him ninth overall, 19 seconds behind Albasini.
Michael Albasini was the first Swiss rider ever to win a stage in Montreux.
Albasini told Bein TV he hadn't favored his chances in this stage. "Yesterday I knew I was in a bit of form finally, but I thought that it would be a proper sprint today so I did not think I had a good chance to take the jersey—but here I am and I am really, really happy.
"It's always special to wear a yellow jersey and winning two stages in a row, that's fantastic. I am really happy I could pay off the work of my teammates–they really worked hard. It's been a really good day for us."
Next Stage Could Be the Decider
Stage Three is the Queen Stage of the 68th Tour de Romandie, 181 kms with four Cat One climbs.
This could be the decisive stage—if any of the GC contenders are in really good form, they could open a gap sufficient to last through the closing time trial.
If not, the time trial will decide things—which might ordinarily favor Tony Martin or Chris Froome, but Froome's fitness is questionable, and Michal Kwiatkowski beat both in the Prologue.