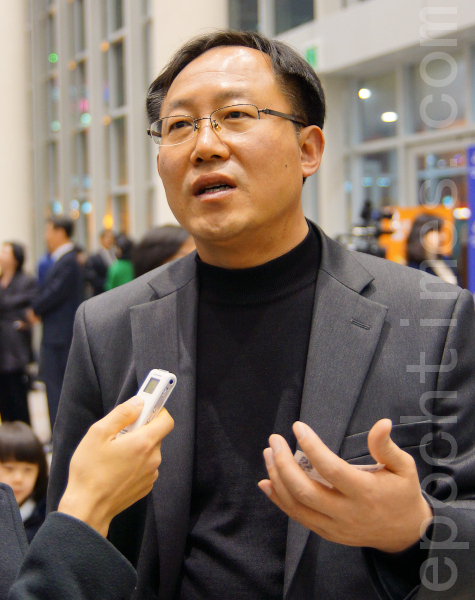 DAEJEON, South Korea—After seeing Shen Yun Performing Arts New York Company on March 1, Mr. Jeong Gyu-hyeon, Director of Cheongju City Korean Orchestra, said, "I am still very emotional even after the show." "The values promoted in Shen Yun allow us re-examine ourselves."
The performance at the Jeongsimhwa International Cultural Center attracted many from around South Korea. Mr. Jeong was impressed with the grand scale of the show. "It is even larger than our state performances," he said.
He enjoyed the live music from the Shen Yun Orchestra. "The live music is excellent. It's very lively and outstanding! The digital backdrop blends in flawlessly with the artists and the music. The fusion of different kinds of art is well presented and very exciting!"
Mr. Jeong was particularly impressed by the program Lotus Leaves. "It was as if I had become a lotus leaf and blended into nature," he said.
"Shen Yun allows the audience to understand Chinese traditional culture," said Mr. Jeong. He believes that the traditional virtues in Chinese culture should be promoted. "In our daily lives, it's very easy to forget traditional values such as benevolence, justice, courtesy, wisdom, honesty, and loyalty. In stories such as Mu Guiying Commands the Troops in which Mu becomes a general and safeguards the Song Dynasty for her deceased husband, Qing Imperial Guards and Martial Arts Training Ground, the images of the guards are the manifestation of the traditional virtues."
"The values in the performance allow us to re-examine where we are today. The show is based on traditional culture and it connects the audience to the traditions very well," he added.
"The digital images on the backdrop are astonishing. This is my first time seeing a performance that utilizes the projection on the backdrop. Very original!"
Mr. Jeong said that he will "definitely watch it again" next year when Shen Yun returns to Korea. He hopes Shen Yun will soon be able to be performed in China. "In the programs, it tells us the violation of human rights in China. I hope to see Shen Yun perform in China soon."
Reporting by Li Ji-Seong and Lin Hsin-Yi.
Shen Yun Performing Arts, based in New York, tours the world on a mission to revive traditional Chinese culture. Shen Yun Performing Arts New York Company will perform in various cities in Korea until March 4 and then continue to top venues in Taiwan, Australia and New Zealand.
For more information visit ShenYunPerformingArts.org
Read original Chinese article