An orangutan found with 74 air rifle bullets in her body is on the slow road to recovery thanks to a Swiss bone surgeon and her rescuers—but she will never see again.
Villagers spotted the 30-year-old severely injured ape under a jackfruit tree on a farm in Sumatra, Indonesia, according to local reports, together with her month-old baby.
The infant had not suffered any injury but had been unable to breastfeed from his mother, and later died from malnutrition as his mother underwent a series of operations.
But his mother, named Hope, is now slowly on the mend.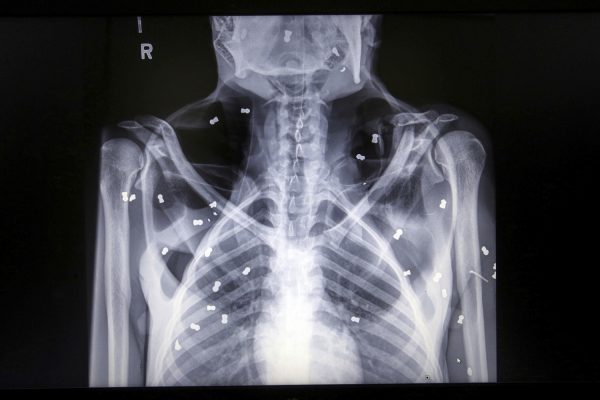 Orangutans are a protected endangered species. But as their jungle habitat shrinks across Indonesia, the great apes are increasingly pushed into contact with humans, and sometimes killed by farmers or landowners who said that they ruin their crops.
The story of Hope and her recovery has been tracked closely in the local media.
In addition to the bullet wounds, Hope had serious bone fractures on her hands and legs, according to the Sumatran Orangutan Conservation Programme (SOCP), the organization that rescued her. To help mend the fractures, they enlisted the help of an orthopedist from Switzerland.
X-ray pictures show Hope's body riddled with the air rifle bullets. Only seven bullets have been removed so far as Hope's vets slowly work their way through her injuries, prioritizing the fractured limbs and collarbone to avoid a risk of infection.
View this post on Instagram
The other 67 bullets will be removed in later operations.
But the six bullets that hit her eyes have left her totally blind, and she will never be able to return to the wild.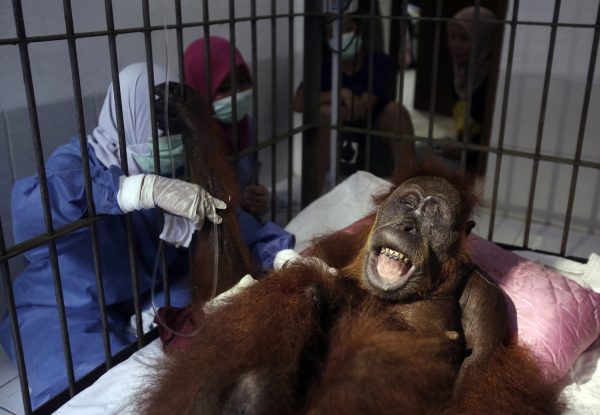 "According to our vet, Hope will need a long time care and recovery treatment," said a statement from SOCP on March 17 after a four-hour operation.
"Especially for her mental rehabilitation since we know this adult female orangutan just lost her little baby when still do breastfeeding. Unfortunately, the baby took his last breath on the way to the quarantine center yesterday, due to a serious traumatic and malnourished condition."
The conservation center also shared images of a 3-month-old orangutan, which had been found with a fractured arm.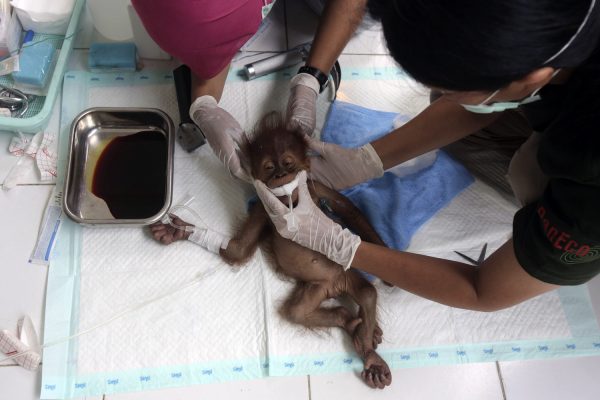 The conservation center said it has treated more than 15 orangutans with a total of nearly 500 air gun pellets in their bodies over the last 10 years.
It is unclear exactly the reasons that Hope was shot. Last year four men were arrested over the killing of an orangutan shot some 130 times with an air rifle. They said it ruined their crops at a pineapple and palm oil plantation.
Orangutans are also at risk from poachers, with locals taking babies as pets, or selling or eating the older animals.