As you pick up a bottle of orange juice at a grocery store, you might notice something different—the size of the bottle.
Tropicana, America's largest domestic orange juice producer and retailer, has changed its package from 59 fluid ounces to 52 fluid ounces while leaving the price unchanged. The downsizing has caused a stir.
We're sorry you're upset by this decision. After recent natural events – including Hurricane Irma last fall – orange crop yields have declined, which has led to increased commodity prices. To offset this, we decreased our package size.

— Tropicana (@Tropicana) October 22, 2018
"We're sorry you're disappointed in the recent downsizing," the company replied to an upset customer on Twitter. "After recent natural events—including Hurricane Irma last fall—orange crop yields have declined, which has led to increased commodity prices. To offset this, we decreased our package size."
Tropicana is not the only company facing the seasonal shortages of oranges and grapefruit. The second largest U.S. orange juice maker, Minute Maid, also downsized their bottles. Some consumers have voiced that they are not very happy with the company's decision, especially as they were not clearly notified of the change in size.
Remember when cartoons were 64oz, then 59oz (like @MinuteMaid here) and now they getting ready to shrink them to 52oz like @FloridasNatural here, and charge the same price. Hey @Tropicana don't do it!🙅🏽‍♂️ pic.twitter.com/2rwhK3bReg

— Mr.Lydé (@creolecanadian) November 4, 2018
Tropicana had already downsized their half gallon package (64 ounces) to 59 ounces in 2010. The company said the recent downsizing was caused by increased commodity prices due to less orange crop yield in Florida where Hurrican Irma swept through last year.
In September 2017, Hurricane Irma moved through the center of Florida, hitting its major citrus producing regions with up to 120 miles per hour winds, according to the Florida Citrus Mutual (FCM). "The hurricane blew fruit off the tree and caused widespread tree damage. An FCM survey of growers conducted post Irma pegged total fruit loss at more than 65 percent, with some reports of 100 percent fruit loss in the Southwest part of the state", said the organization in a statement.
According to a report from U.S. Department of Agriculture (USDA), U.S. orange production in 2017/18 is estimated to fall 24 percent to 3.5 million tons compared to last year due to unfavorable weather and citrus greening disease in Florida.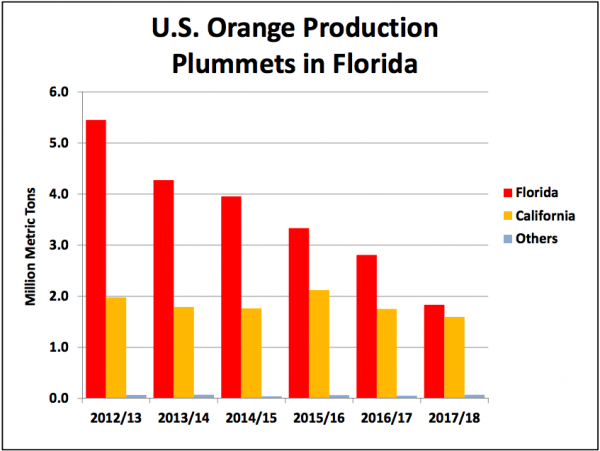 Actually, orange production in Florida has been on the decline in recent years. Data from USDA shows that Florida collected only about 45 million boxes of oranges this season, recording the lowest haul in decades.
Meanwhile, California's orange production this season surpassed that of Florida for the first time.
Due to relatively mild and dry weather in California, oranges usually have a thick peel and a sweet flavor—they are more preferable to eat directly. In comparison, the typically hot and wet weather in Florida yields oranges with thinner peels and more juice, but a flavor more tart. According to Visit Florida, "in most seasons, more than 90 percent of America's orange juice is made from Florida-grown oranges."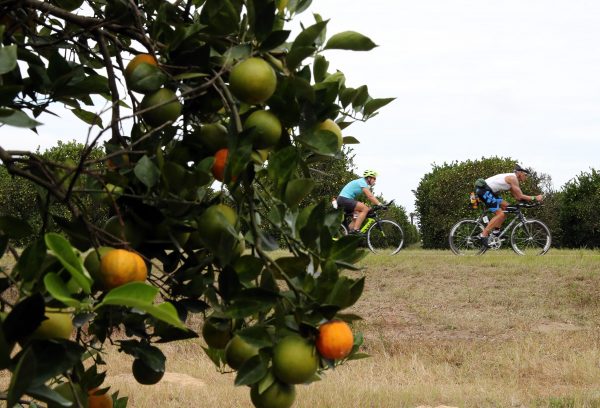 The reduced yield of Florida oranges led U.S. orange-juice makers to downsize their bottles. At the same time, companies are worried the bottle downsizing could further hurt consumers' desire to drink orange juice. According to a report from Citrus Industry, orange juice consumption in the United States has declined 43 percent between 2003 to 2017, from 1 million tons to 570,000 tons. More recently, the amount of orange juice sold in the United States in September 2018 fell by 6.4 percent compared with the same period last year, reported WSJ.
In October, USDA estimated that after years of reduction in orange production, Florida is expected to have about 79 million boxes of orange in the 2018/19 period, which will be almost double that of the previous year.