Footage of the fatal police shooting of a hooded, gun-wielding woman was released by the Orange County Sheriff's Department (OCSD) Feb. 12 in a move it hoped would bolster public trust.
The video, taken about 1 a.m. last June 24, begins with a sheriff's deputy scouring a darkened Lake Forest street following reports of a neighborhood robbery. A flashlight illuminates the street until a spotlight settles on a woman who appears to be holding a gun.
The officer calls for backup and commands the woman eight times to drop the gun. When more deputies arrive, she is ordered seven more times to drop the weapon.
When she appeared to point the gun toward an officer, police responded with about 10 shots, mortally wounding the woman.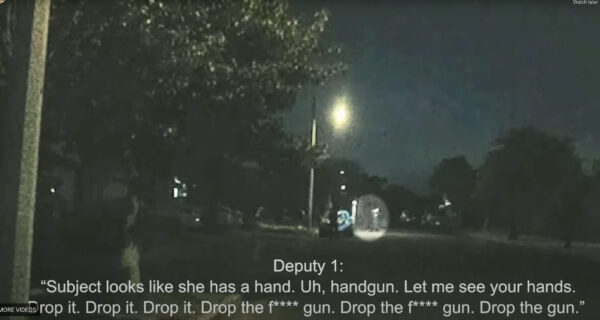 The OCSD released the footage—its first critical incident video—and accompanying audio to provide the public with a clearer perspective of the events, it said in a release.
"Critical incidents involving law enforcement demand the highest level of scrutiny and rightfully are a matter of public concern," Orange County Sheriff Don Barnes said in a statement. "The vast majority of the men and women in this department exceed the expectations of our community every day. Critical incident videos will provide an opportunity to see the actions of our deputies during the most difficult circumstances law enforcement officers encounter."
Police said they plan to release more critical incident videos involving cases where an officer's actions are likely to have a significant impact on the OCSD or public.
The Lake Forest shooting featured in its first shared video is under investigation.
OCSD spokesperson Sgt. Dennis Breckner said no conclusions will be drawn about the incident until the investigations are complete.
The Lake Forest shooting was preceded by a 911 call made by a woman who claimed an intruder had broken into her Loumont Drive house. Speaking in a shaky whisper, she told the operator she was hiding in a bathroom.
When officers arrived, they found no evidence of a break-in, and instead found the woman lurking outside.
Police later said the 911 call was made from the gun-wielding woman's phone. No burglary had actually occurred, they said.
The Orange County District Attorney's office is investigating.