An unmistakable laugh bellows from the receiving end of a phone, signaling a call from jolly old St. Nick himself. When he speaks, the slightest hint of exhaustion is detected.
"I apologize about my voice," said Jim Walker, who portrays Santa both virtually and in person throughout Orange County, California. "I'm trying to hold onto it; it's just been a lot of a lot of work so far."
It's no wonder Walker sounded a bit raspy: He'd just wrapped up an eight-hour shift when he spoke to The Epoch Times on Dec. 21. During that time, he made 62 Zoom calls to children throughout the nation, slightly fewer than the 67 calls he made a day prior.
"It's like boom, boom, boom, boom," he said. "I think I've had three seven-minute breaks and one 12-minute break in eight hours."
Walker is among several Orange County actors who say they've been overwhelmed by online and in-person requests for Santa interactions. The onslaught of bookings came after malls restricted traditional Santa interactions due to COVID-19 restrictions. Other popular events—such as breakfasts with Santa and school meet-and-greets—were canceled, leaving families yearning for a visit with the man in red.
Santa to the Stars
Walker—who lives primarily at his Yosemite cattle ranch—began moonlighting as Santa about 10 years ago. He spent several years bringing children joy at South Coast Plaza, and returns to his Newport Beach home each December to reprise his role through private bookings and corporate events.
This year, he was hired by SantaTheExperience.com, which provides virtual North Pole tours and visits with the holiday legend. Walker is featured in the company's advertisements, and his notable position has led him to hobnob with celebrity clients.
He's hosted virtual visits for the families of reality TV star Kim Kardashian and husband Kanye West, late night talk show host Jimmy Kimmel, and dozens more. He's been featured by broadcast media throughout the country, making appearances on "The Today Show" and Ryan Seacrest's radio show.
Technological Challenges
Embracing new technology to play the role of Santa didn't come easy for Walker. The 58-year-old spends most of his time on his farm and was unaccustomed to newer platforms.
"I'm an outdoorsman," he said. "I don't spend that much time on a computer. I'm computer literate, but after being on the computer too long, you feel like your brain is mush."
He initially found it challenging to transition from one family to another online. There are times when he has a single minute between clients, and in those 60 seconds he must learn children's names, wish lists, and more. He said it became easier after finding the information can be displayed on his end during Zoom calls.
"You've got a clock you're watching all the time," he said. "On a busy day, you're doing nine calls in one hour. That's the hardest part for me, is keeping that energy up for eight hours."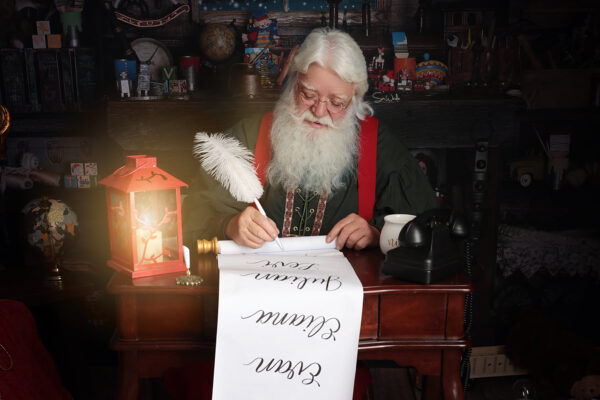 Although the job has its challenges, Walker said he wouldn't do it if he didn't enjoy the work.
"I love it," he said. "I don't need the money, I'm a self-made man. I just thoroughly enjoy doing it. For me, it's just about seeing the kids light up."
Mr. and Mrs. Claus
Mission Viejo is harboring another version of famed Christmas characters. Actors and roommates Bear Sanchez and Barb Turino play the role of Mr. and Mrs. Claus for customers throughout Orange County.
The pair initially expected this year's bookings to dry up, as their theater gigs and teaching workshops had. But Sanchez said the opposite happened.
"I thought this season was going to be Santa-less," he told The Epoch Times. "This has been my busiest Santa season ever. [Parents have told me] they wanted to provide a sense of normalcy for their children. They wanted to provide their children with the hope and joy that Santa brings."
Turino added: "People are hungry for the Santa experience and the Santa magic. They thank us profusely for keeping this tradition alive."
Pandemic Precautions
The ongoing pandemic has forced the couple to change its approach to some visits. Since young cancer patients are particularly vulnerable to suffering severe virus-related complications, Sanchez and Turino provided them with free virtual visits through the nonprofit Create A Smile. They've also done charity visits for Irvine's Sweet Shade Park Ability Center.
As well, the pair has participated in drive-thru Santa events, and booked private parties where social distancing is respected.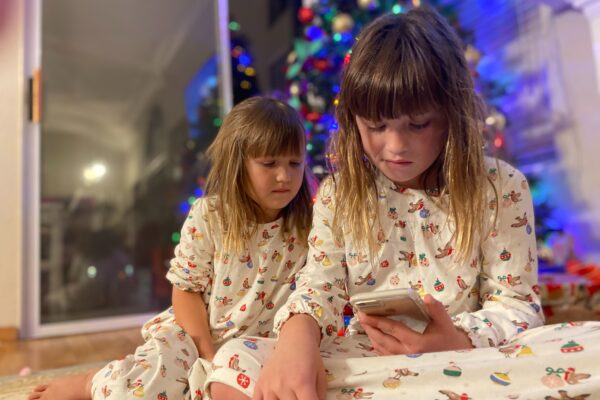 At age 73, Mrs. Claus is classified as a person at high risk of suffering from severe COVID-19-related complications. She said she's taking every possible precaution to stay safe, but is not letting the pandemic spoil her fun.
"It's a challenge," Turino said. "I had to really ask myself, 'Am I willing to take the risk?' It's a risk; every time you're with someone, especially strangers, you're taking a risk. And I know it, but I can't stop living my life.
"I'm a very active senior, and [my usual] activities have been curtailed because things are closed and I can't do any of my acting. So this has provided for me a real outlet to do what I love, and I just made the decision that I won't be reckless, I won't take chances, and I will take precautions."
A Hero's Welcome
When Mr. and Mrs. Claus are spotted in public, they say they're often greeted with great joy. During one occasion, a gas station attendant was happy to unlock a shuttered bathroom when Turino needed a potty break on the way to an event.
"We are not treated like two actors who wear costumes," Sanchez said. "When adults see us on the freeway, they will be alone in their car and they will wave and smile and want to take pictures of us on the street.
"I play a lot of characters throughout the year, but Santa is my absolute favorite of all. It's the one character I play—whether it's a superhero or a 'Star Wars' character or Jack Sparrow—that people honestly believe in.
"When I'm out in public as Santa, I am Santa. People treat me that way, and it brings that sense of childlike joy and fulfillment. Adults tap into that sense of imagination that I think, for the most parts, adults lose."