SANTA ANA, Calif.—Parked within a row of restored cars from the 1920s and 1930s, Angel Salinas and his two daughters and nephew sat in the family's 1948 GMC pick-up truck formerly owned by Angel's father, Joe.
"The Salinases have a long tradition of military history," Salinas told The Epoch Times. "Today we are here to visit the grave of my father who fought in World War II, and celebrate his life."
Surrounding the Salinas family were about 3,000 small American flags scattered throughout Fairhaven Memorial Park in Santa Ana, California—honoring veterans of the U.S. military forces.
Greeted by the flags on the grassy surface, multi-generations of family members wearing red, white, and blue clothing strolled through the gravesites and walked toward a large gathering of people sitting between the park's large concrete mausoleum and a stage adorned with Memorial Day décor.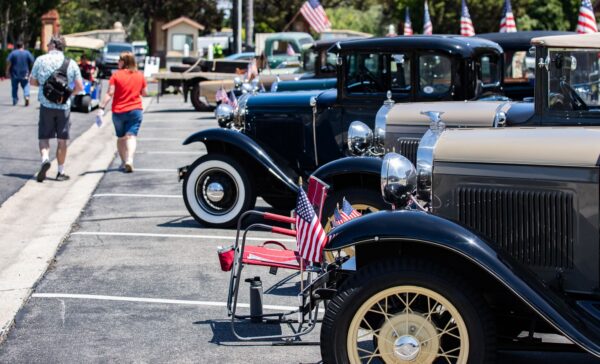 As Santa Ana Mayor Vicente Sarmiento introduced the festivities and the day's master of ceremony, the sound of a cannon fired across the park shook the audience as its shockwave made people jump from their seats.
"I would now like to introduce Reverend Lou Carlson, a Chairman emeritus of Santa Ana Chamber of Commerce, and the master of today's ceremonies," Sarmiento said. "We honor Reverend Carlson and make a swan song for decades of distinguished service and accomplishments within the Santa Ana community."
After taking the stage, Carlson looked at the sky above to point the audience to an upcoming highlight.
"Part of our Memorial Day program is a flyover of vintage World War II Texan Trainers, and if my memory serves me correctly, that should be coming from over there," he said, pointing to the sky.
"And I can hear the motors now!"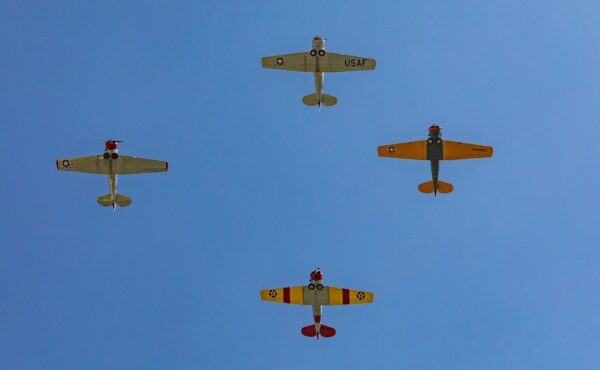 Members of the crowd began to cheer and reached for their cameras and phones as the vintage fighter aircraft flew right above, with their engines rumbling.
The planes perfectly set the stage for the next speaker, Chief Warrant Officer Tom Murphy from the U.S. Army.
"Memorial Day is for those that went, and never came back," Murphy said. "And for those that went but have since passed.
"You are the people here today to keep the spirit of Memorial Day alive."
Murphy joined the Army in 1967 and was later qualified to be trained as a helicopter pilot during the Vietnam War. Having participated in several American overseas interventions during his military career, he is currently a part of the California National Guard, which supports statewide missions ranging from battling wildfires to responding to civil unrest.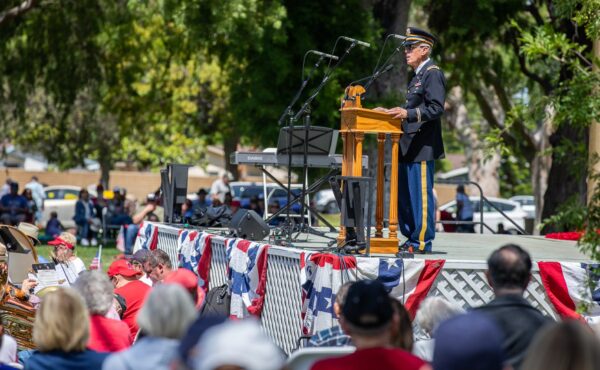 Recalling his days during the Vietnam War, Murphy shared a memory he said he would never forget.
"When I was at Fort Ord, I met a fellow by the name of Jim Cavender, and he had a quirky sense of humor like me, so we hit it off.
"We both applied for flight school because the Army said they needed helicopter pilots, and we were dumb enough to say 'Yeah!'"
After forming a friendship with each other, becoming roommates during flight school, and completing the program, the soldiers accepted their flight wings and eventually separated to take on their orders.
"Everybody that had 'wings' on their chest eventually went to Vietnam, so at that point we kind of parted ways," Murphy said. "So I put in my 15 months, had a bunch of fun, and probably should've never come home as I should have been dead many times … but I didn't."
After completing his tour of duty, Murphy returned home to complete college, get married, and build a career, while also continuing to fly while serving with the California National Guard.
After years passed, he eventually joined the Vietnam Helicopter Pilots Association (VHPA), which maintained a database on war causalities.
One day, he decided to check on his old friend.
"I was looking through the lists of names, and, sure enough, there was Jim Cavender. So what does that say? Jim did not come back," he said.
Below the date of death, Cavender's listing also includes the probable cause of death, with the transcript of his last radio transmission—"My God, we are upside-down."
"They never found him, or the wreckage. That cloud simply just swallowed up Jim Cavender …" Murphy said, breaking down with a slight sob and tears.
"And he never came out."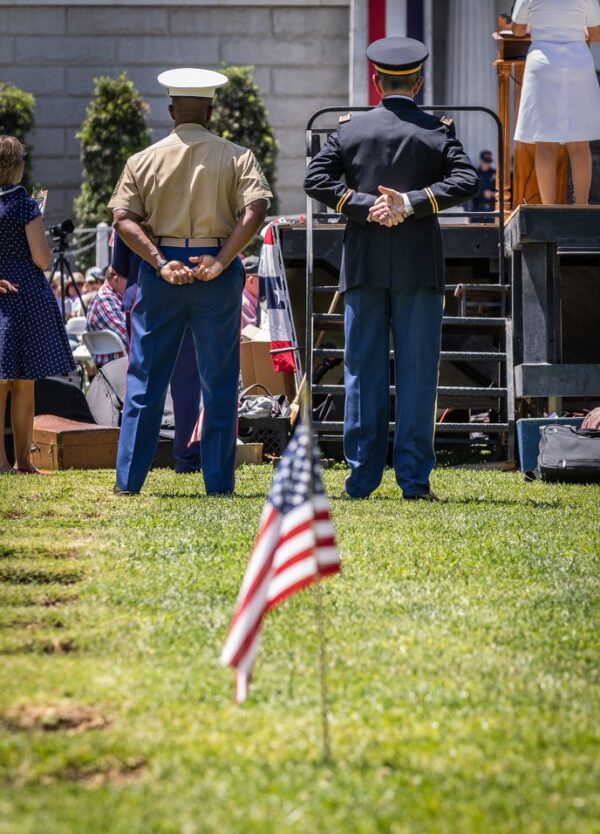 Referencing the ancient Egyptian tradition of remembering one's name to preserve their memory, Murphy said that he did the same thing with his old friend he lost in the Vietnam War.
"I say Jim Cavender's name because he is not dead for me," Murphy said. "He lives in my heart, and he lives in my mind."
The Memorial Day Service at Fairhaven Memorial Park not only included an impressive display of cannon fire and flyover, but also a dove release, honor guard details, a classic car display, and complimentary hotdogs for community members of all ages—making it clear that Memorial Day is for celebrating our country's servicemen and women by having and cherishing good times with loved ones.