STANTON, Calif.—Orange County is winding down its participation in Project Roomkey this month, moving the homeless who have been housed in local motels and hotels amid the pandemic to other locations. But at least two hotels in the county are being turned into permanent housing for the homeless with state Project Homekey funds.
Jason Austin, director of care and coordination for the Orange County Health Care Agency, met with The Epoch Times in front of the 72-room Stanton Inn on Oct. 8 to discuss the projects.
The Stanton Inn is one of the locations to be made into permanent housing under Homekey. The county has leased the hotel at a cost of about $150,000 per month since April, during the Roomkey phase. Now, $23.1 million in Homekey funding will be used to develop this and another motel in Stanton, the Tahiti Motel. The 20-room Rivieria Motel in Stanton is also seeking approval for $2 million in funding.

Austin explained that 75 percent of the cost for Roomkey was covered by the Federal Emergency Management Agency (FEMA), and the remaining 25 percent was covered by the Coronavirus Aid, Relief, and Economic Security (CARES) Act.
The Roomkey money must be spent by December, he said, and the idea is to use the remaining few months to transition the homeless into other care and also assess and repair any damages to hotels.
In addition to making permanent housing through Homekey, the county is moving forward with Project Toolbelt, Austin's brainchild.
"I woke up one morning weeks ago and started thinking we need to look at every tool in the toolbelt for the homeless, and that's where this kind of came from," he told The Epoch Times.
Those tools include shelters, recuperative care programs, and other housing options and programs.
"The goal is we're going to use our existing CARES Act dollars that we have through the end of the year to both bring in these housing experts and to pay for the next steps for people that need assistance and that support. That in itself is how we're going to really impact people's homelessness."
The non-profit Illumination Foundation helped run Project Roomkey. Founder Paul Leon also met with The Epoch Times at the Stanton Inn to discuss his experience and how his foundation is continuing to support the homeless during the transition.
"Seven days a week we're working with people, trying to get them connected to a permanent and more stable place to stay and connect them to more services for mental health, substance abuse, and medical health," he told The Epoch Times.
He said there was some strong opposition to Roomkey at first, but the communities came around. "The fear of the unknown and people's imagination of who's going in there is not good, but once it's open [opposition] is limited," he said. "I don't think we had one complaint from any of the [surrounding] residents."
Laguna Hills Mayor Janine Heft had spoken out against the use of the Laguna Hills Inn for Roomkey, because it was set aside as a place specifically for homeless individuals who tested positive for COVID-19.
"It's not a secure facility. If you look at it, they have a lot of places where they could walk out, and that's one of our concerns," she told reporters in April. The city sued the county over the project, but dropped the lawsuit when assured of security and medical measures in place at the hotel.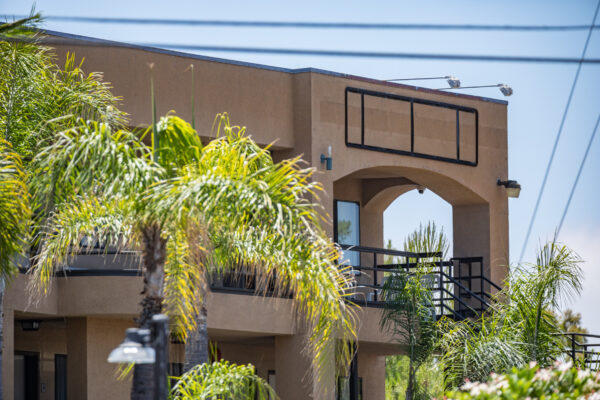 As of Oct. 3, Orange County had 581 health-at-risk individuals active in Roomkey, 18 of which were in temporary isolation due to COVID-19. The several participating hotels will be vacated gradually, with the last to be vacated by Oct. 23.
Housing developer Jamboree Housing Corp. will be working on turning the two Stanton hotels into permanent housing.
Orange County Supervisor Lisa Bartlett told the Epoch Times, "The intent of Project Roomkey was to provide short-term shelter for those experiencing homelessness during the COVID crisis. The project was never intended to serve as a long-term solution. … The ultimate goal is to provide our homeless population with cost-effective, long-term housing options that include essential wrap-around services."

A homeless woman named Travanda Barns sleeping at a bus stop in Anaheim, told The Epoch Times she couldn't get into Roomkey when she tried because she doesn't have a health condition that makes her at greater risk for COVID-19.
"It's scary on these streets. I used to be middle class and own a home with two cars," she told The Epoch Times while tightly holding a long list of phone numbers she said she called for help.
"I don't know where all of [Gov.] Gavin Newsom's money went for this [program]. After I have my baby, I can get right back to work, but I need some help right now."