ANAHEIM, Calif.—The mayors of Anaheim, Buena Park, and Garden Grove held a press conference on Sept. 16 urging California Gov. Gavin Newsom to allow the safe reopening of theme parks within Orange County.
Anaheim Mayor Harry Sidhu, Buena Park Mayor Fred Smith, and Garden Grove Mayor Steve Jones said the closure of the theme parks has caused economic destruction to their cities and the county as a whole. The parks have been closed since March 17 due to the COVID-19 pandemic.
"What we thought would be a brief pause in our economy is now going on for half a year," Sidhu told reporters.
"Our work against coronavirus is not done. We will keep fighting. But there is another crisis that demands our attention. It is the economic crisis facing Anaheim and all of Orange County."
Sidhu said the city of Anaheim currently has a 15 percent unemployment rate.
"That is higher than the Great Recession," Sidhu said. "That is 26,000 Anaheim residents [who] are out of work. Many are struggling to pay the rent and feed their families."
Sidhu personally invited Newsom to visit Anaheim to see the economic impact that the closure of theme parks and other businesses has taken on the city.
"In Anaheim, we face a $100 million deficit felt across our city," he said.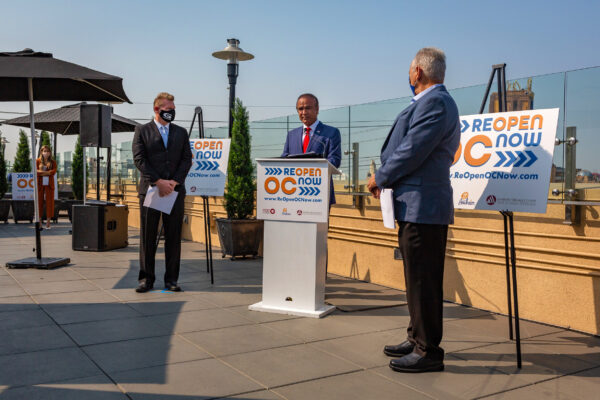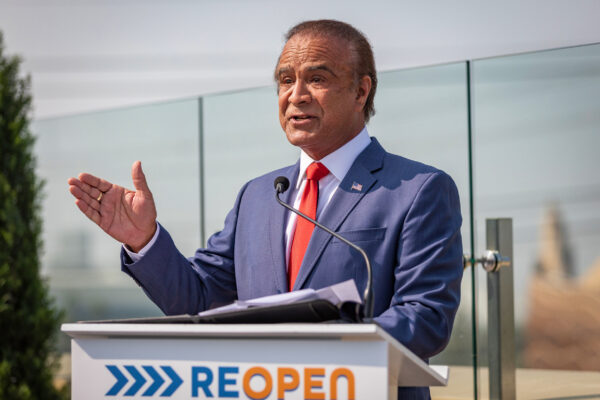 Buena Park Mayor Fred Smith discussed the crucial importance of the Knott's Berry Farm theme park to his city's economy.
"Tourism is a big part of Buena Park's economy. Knott's Berry Farm is the largest employer in our city," Smith said.
The mayor said the theme park is "the largest source of tax revenue" for the city, drawing visitors from across the nation and around the world.
"Sales tax and hotel tax revenue generated by visitors to Knott's Berry Farm are absolutely vital to the financial health of our city," Smith said.
"You know, theme parks all over the country are opening, and opening safely and responsibly. I'm confident that Knott's Berry Farm and Disneyland and other California theme parks can also do the same."
Smith emphasized that while places like Disneyland are hurt by the loss of revenue, keeping the parks closed hurts the employees much more, many of whom have been furloughed or laid off.
"Keeping the theme parks closed hurts families who cannot go back to work. It hurts small businesses that depend on tourism and conventions. It hurts cities like Buena Park that depend on hotel and sales revenues to care for our residents," he said.
Garden Grove Mayor Steve Jones said that "the COVID-19 shutdown has hit our city's budget hard."
"Over 20 percent of our city's general fund revenues are generated from transient occupancy tax from our city's hotels," he said, adding that the transient tax revenues have "dropped by 60 percent and put a serious dent in our sales tax revenues as well."
"This threatens our ability to fund essential city services and public safety that our citizens rely upon. Furthermore, our small businesses are struggling, and our people, our workers, are unable to pay their rents and put food on the tables for their families."
The mayors assured the audience that the theme parks could meet the guidelines set forth by Newsom's administration to reopen in a safe manner, but said nothing can be done until they are actually issued.
Sidhu said the county's cities need the guidelines to reopen as soon as possible, because Disneyland and similar businesses need at least six weeks to prepare for the public.
The mayors encouraged people to visit their new ReOpenOCNow website and to sign a letter urging the governor to allow Disneyland and other theme parks to reopen safely.
Newsom said on Sept. 16 that the state plans to make announcements "soon" relating to reopening guidelines for theme parks.
Orange County was upgraded from the purple to the red tier in the state's COVID-19 monitoring system on Sept. 8, allowing churches, movie theaters, shopping centers, museums, and other businesses to resume indoor operations with limited capacity.