Commentary
Chapman University is predicting a 10 to 15 percent drop in the median price of detached single-family homes in Orange County, California, by mid-2023.
Faculty from Chapman University's A. Gary Anderson Center for Economic Research presented on June 16 the institution's economic forecasts for the nation, state, and Orange County.
It expects rates on new 30-year mortgages to reach 4.7 percent by mid-2023—up 1.7 percentage points from the 3 percent levels of 2021, Professor Jim Doti said.
He also said that if homebuyers continue to spend 41 percent of their income on principal and interest payments, the median price for detached single-family homes in Orange County would fall from today's $1.03 million to $880,800, an average drop of more than $150,000.
The university's estimate of a 4.7 percent rate for a new 30-year mortgage in 2023 is in line with the Mortgage Bankers Association's (MBA) predictions. The MBA is forecasting a 4.9 percent rate on new 30-year mortgages by the end of 2023.
Chapman forecasters also predict that the median income in Orange County will rise during the next two years, from $101,000 in 2021 to $106,000 in 2023.
According to original, separate economic analysis conducted for The Epoch Times, if mortgage rates rise to the 4.9 percent level at the end of 2023, even if median incomes rise to $106,000 and homebuyers continue spending 41 percent on their principal and interest payments, home prices would fall by even more than 15 percent.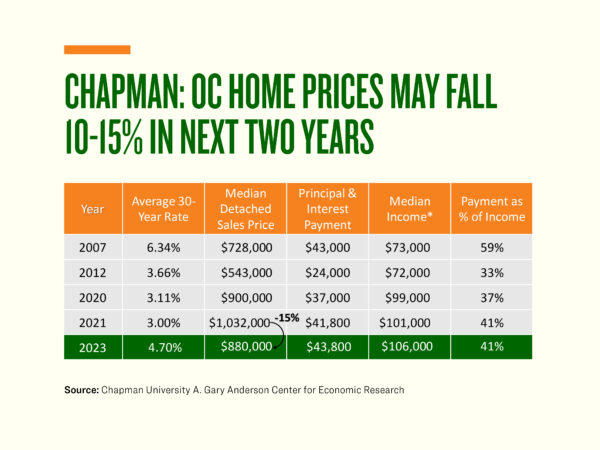 Under the assumption of 4.9 percent mortgage rates at the end of 2023, median-priced detached homes currently valued at $1.03 million would fall $177,000 down to $855,000. The plunge is about $25,000 higher than the decrease predicted using Chapman's forecast of 30-year mortgages rising to 4.7 percent.
The university's prediction for a 4.7 percent rate on 30-year mortgages is for second-quarter 2023, whereas the MBA's prediction for a 4.9 percent rate is for the end of 2023; so the two predictions could both be true.
All else equal, home prices and mortgage rates have an inverse relationship: as one falls, the other rises.
Just hours before Chapman presented its most recent findings, the U.S. Federal Reserve shared its updated economic forecasts.
The Fed is the nation's central bank. It both regulates many other banks and also sets monetary policy, which determines future inflation and how much money is in the economy. It said that it now expects to be setting overnight interest rates in 2023 at about 0.6 percent, up from the 0.1 percent currently, which it expects to hold through 2022.
This is significant because the Fed's previous expectation for where it was going to set overnight interest rates in 2023 was only 0.1 percent; however, the Fed's expectation for its own behavior as of June 16 now matches what the MBA was expecting in mid-May when it predicted the overnight interest rate set by the Fed in 2023 to be 0.625 percent.
As such, it seems that interest rates on 30-year mortgages may continue to increase even beyond Chapman's prediction. During its June 16 forecast, presenters were emphatic that while Orange County's housing prices could be in a "bubble," such bubbles can last a long time.
When Doti was presenting the university's Orange County housing price forecast for 2023, he said he expects 10 percent to be a minimum price drop from today's high levels.
If 30-year mortgage rates rise to 3.9 percent, the median price for detached homes in Orange County could fall 17 percent, according to the separate analysis done for this article for The Epoch Times.
All three sets of forecasts, the MBA, the Fed, and Chapman University, are predicting strong economic growth in 2021.
The MBA is predicting a seven percent increase in gross domestic product this year compared to 2020.
The Fed increased its prediction for economic growth June 16 to seven percent, now matching what the MBA said last month. Its previous prediction, released in March, was that economic growth would be 6.5 percent this year.
Chapman University predicts a 6.7 percent growth rate in the national economy this year.
Beyond 2021, the Fed is predicting a 3.3 percent economic growth rate in 2022, a 2.4 percent growth rate in 2023 and a 1.8 percent over the "longer run."
As of last month when it last published its economic projections, The MBA's forward predictions for economic growth are more conservative than the Fed's. The MBA expects U.S. economic growth to be 2.5 percent in 2022 and 1.7 percent in 2023.
Taken together, Chapman University's predictions of higher median incomes in Orange County and continued high spending on housing seem to align with the strong economic growth rates expected by the Fed and the MBA.
If that economic growth brings with it the normal rise in interest rates to induce more savers to save rather than spend and as companies compete for capital, then the university's prediction of 3.7 percent mortgage rates seems reasonable for mid-2023, as does the concomitant, inverse 10 to 15 percent drop in Orange County house prices.
Tim Shaler is a professional investor and economist based in Southern California. He is a regular columnist for The Epoch Times, where he exclusively provides some of his original economic analysis.
Views expressed in this article are the opinions of the author and do not necessarily reflect the views of The Epoch Times.