SANTA ANA, Calif.—The new Orange County Crime Victims Monument was unveiled during a dedication ceremony on Dec. 6, in commemoration of the county's deceased crime victims.
As the morning fog lingered and the bagpipes and drum rolls echoed, a crowd of crime survivors, families, religious leaders, and county officials gathered in a courtyard filled with photos of crime victims.
The monument, permanently placed in the courtyard between the offices of Orange County District Attorney and Sheriff's Department, was engraved with the words, "In honor of those we have lost and those who have survived. Their faces will never be forgotten, their voices will never be silenced, and the fight for justice will carry on for eternity."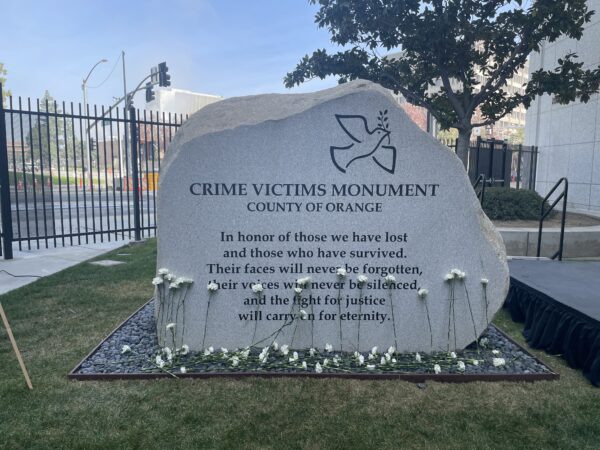 District Attorney Todd Spitzer joined alongside Sheriff Don Barnes, county supervisors, and crime victim-survivors to dedicate the memorial.
"This monument is not just a symbol of those who have passed, but it's also a magnificent symbol of those who have survived," Spitzer said.
Spitzer said the heavy boulder symbolized the immense burden and pain of loss carried by victims' families.
While applauding the efforts of law enforcement to keep residents safe, Spitzer acknowledged occasional short-falls.
"We sometimes fail you … We do the finest most incredible work of all law enforcement agencies in the world. I'm so proud of the work that we do, and sometimes we fail," he said.
Barnes said the monument also symbolizes Orange County's crime victim's strength and resilience.
"In addition to being a memorial for past victims, this will also, unfortunately, serve as a memorial for future victims of crime," Barnes said. "The responsibility of those of us in law enforcement is to do everything within our power to prevent people from being victimized."
Patricia Wenskunas, founder and CEO of Crime Survivors, an organization that assists people who experienced violent crimes, called on elected officials to constantly provide victims and survivors with the guidance and support they need.
"So that they can have a home, they can survive and thrive, and they can have a beautiful monument in place to come back during their triggers," Wenskunas said. "When we come together and collaborate, and we partner, we help these victims and the survivors in our community. We are better and stronger together."
Holding white carnations in hand, crime victim families and survivors emotionally stood in front of the monument as Amazing Grace echoed in the courtyard and doves were released into the distance during the closing ceremony.