Firefighters from Orange County Fire Authority's (OCFA) Engine 25 assisted an elderly diabetic lady back to her feet and made her breakfast after she fell while cooking breakfast on Aug. 29.
Firefighter paramedics Joe Park and Matthew Carlson went into the second-story apartment in a Westminster, California, senior living facility, while the other two members of Engine 25 were on standby with medical equipment.
"Our job is to do more than just fix the immediate emergency," Park told The Epoch Times.
"We try to do what would we want to do for our family members. What would we want if this was our grandmother or grandfather? We wouldn't want them to just pick her up off the floor and leave her alone without any help or any means of getting the nutrition she needed. We try to think about the whole picture and try to make sure that they're well taken care of."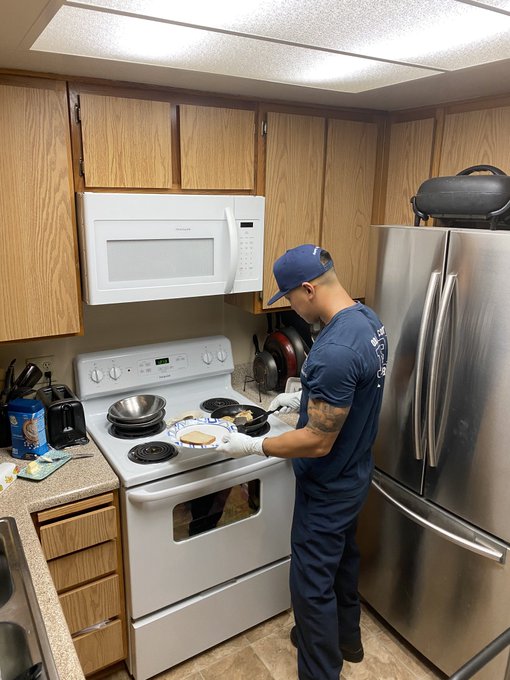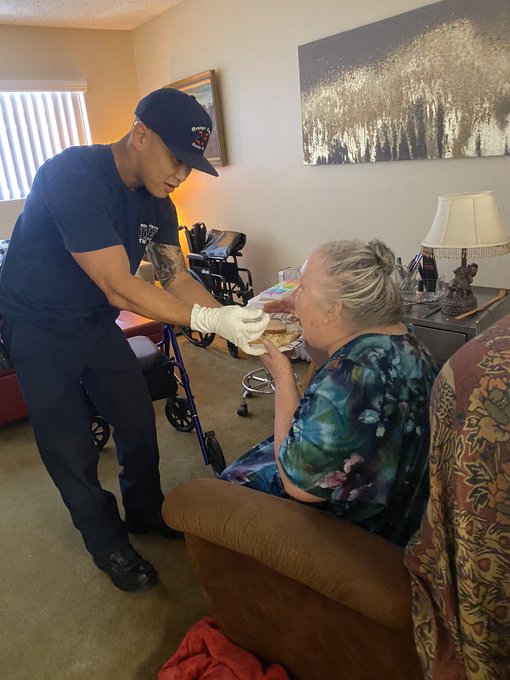 When they arrived, they helped the lady onto her couch and saw the stove was still hot, with eggs in the frying pan.
First they made sure the frying pan didn't catch fire. Then Park and Carlson saw to it that she ate more than just eggs.
Carlson gave her a meal replacement drink, while Park cooked some eggs just how she asked, "the yolk not to be too runny but not too firm," Park said.
Park cut up a slice of bread, buttered it with the eggs, and fed it to her.
"I said, 'How's that?' She goes, 'Oh, that's perfect,' and she had a big smile on her face," Park said.
They placed the lady's cellphone in her hand and left. She was in good shape—happy and grateful for their help, they said.
The lady declined a medical evaluation and a ride to the hospital.
"For us, when we respond to these types of calls, it's more than just picking somebody up off the ground. It's making sure that they're going to be okay for the rest of the day," Park said.
The service, posted on OCFA's social media page, received overflowing support from the community.
One person commented: "Thank you Mr. Park for caring for others and especially for our elders. Our older generations deserve our respect and care and it's beautiful to see this in action."
Another person commented: "Over the years with various elderly family members, I can't tell you how wonderful our local FDs have been about 'Lift Assist' calls! Brings me such a relief that they are helpful, gracious and WELCOMING about these calls."
Another said: "Our firefighters/ paramedics/ healthcare workers really go beyond their daily duties!! They have shown true compassion with a can do attitude… Love it."
Just a couple of weeks ago, a crew finished mowing a 92-year-old's lawn in Westminster after he collapsed in the middle of the task.
"We're public servants," OCFA spokesperson Cpt. Brett Buffington told The Epoch Times.
"Our crews want to go above and beyond to provide that top-level customer service and meet the needs of the community and doing something as simple as finishing making an egg or finish cutting grass takes a couple minutes of our day but it helps the public. That's what we're here for."