A brush fire in Yorba Linda, California, that has grown to encompass over 15,000 acres and damaged 10 homes remained zero percent contained as of noon on Oct. 27 as over 1,000 firefighters work to slow the blaze.
"Approximately 2,500 houses and 10,000 people now affected by the Yorba Linda evacuation orders," according to an Orange County Fire Authority (OCFA) tweet.
The OCFA also stated that 5,958 homes in Chino Hills have had to be evacuated.
Additionally, the City of Brea has reported that 276 homes there are under mandatory evacuation orders, while another 680 homes are under voluntary evacuation.
UPDATE: The Orange County Fire Authority has announced that air operations are making an impact in fighting the Blue Ridge Fire and will continue throughout the night, giving its ground team a chance to put out the flames.
More than 1,800 firefighters are engaged in operations against the Blue Ridge Fire and the nearby Silverado Fire in Irvine, according to the OFCA.
Yorba Linda still had around 2,500 homes under mandatory evacuation as of late afternoon. Nearby evacuation centers include the Tommy Lasorda Jr. Field House at 4701 Casa Loma Ave. in Yorba Linda, and the Brea Community Center at 695 Madison Way in Brea.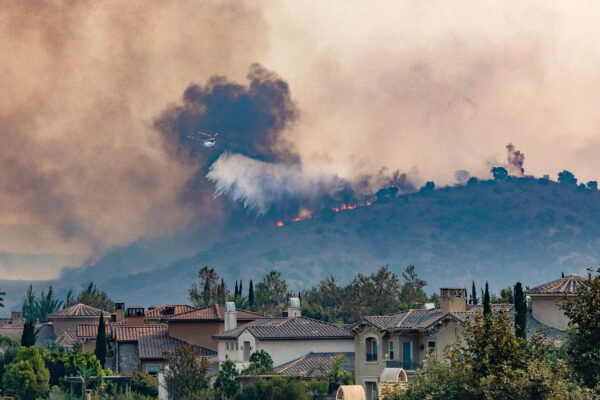 The Blue Ridge Fire began as two separate brush fires close in proximity, with one starting near the Green River Golf Club near Green River Road and the 91 Freeway, and a second located off of Blue Ridge and Kodiak Mountain drives.
The fire, first reported on Oct. 26 at around 1 p.m., has caused thousands of mandatory evacuations throughout Yorba Linda, Chino Hills, and Brea.
No homes in Chino Hills or Brea have been damaged so far.




A mandatory evacuation for Yorba Linda residents living east of San Antonio Road and North of Yorba Linda Boulevard remained in place as of noon on Oct. 27, according to the Orange County Sheriff's Department (OCSD).
The department also indicated that the areas of Bee Canyon, Box Canyon, and Lost Trough Canyon are under evacuation warning, which is voluntary.
Additionally, there is a mandatory evacuation for City of Brea residents, east of Brea Hills to the county line, with a voluntary evacuation for Olinda Village and Hollydale, according to a real-time evacuation map on the OCSD website.
Other mandatory evacuations impact Yorba Linda residents north of the 91 Freeway and east of Gypsum Canyon; the evacuation was first announced on Oct. 26. The area includes the Hidden Hills Community in Yorba Linda.
Some roads have been issued a hard close, meaning only emergency vehicles can use them. These include Carbon Canyon Road from Brea Hills to the county line, intersections of Yorba Linda Boulevard and San Antonio, La Palma and Yorba Linda Boulevard, Fairmont and San Antonio, Paseo De Toronto and Camino De Bryant, and Featherly Park and Gypsum Canyon.
Hard closures for freeways include the 241 Freeway between the 91 Freeway and Lake Forest Drive, and the northbound 241 between the 91 and Oso Pkwy.
As a result of the evacuations, schools in the Placentia-Yorba Linda School District declared an emergency non-instructional day, including schools using online learning.
Fire crews were forced on Oct. 26 to stop using aircraft to drop water over the fire due to high wind speeds, but the weather was expected to improve on Oct. 27 and aircraft are expected to be employed.
Residents who are evacuating are encouraged to view the map of evacuation centers to find the best option for them if they are required to leave their homes. Evacuation centers can be found on Orange County's Emergency Public Information Map.
Gov. Gavin Newsom announced on Oct. 26 that California had secured a Fire Management Assistance Grant (FMAG) from the Federal Emergency Management Agency (FEMA) to apply resources toward suppressing the Blue Ridge Fire. The grant allows local agencies responding to the emergency to apply for 75 percent reimbursements for their costs.
The Epoch Times will update this story throughout the day. Check back for additional details.