Thirty-four Orange County elementary schools are preparing to reopen for in-person learning after receiving waivers from the state of California.
County officials announced on Aug. 20 that the state had approved waivers for 10 public and 24 private K–6 schools, giving them the go-ahead to resume in-person instruction.
The Fairmont Schools were among the first group of schools to receive a waiver. Fairmont has 816 students spread across four campuses in Anaheim, Anaheim Hills, Tustin, and San Juan Capistrano.
Danyelle Knight, spokeswoman for Fairmont Schools, told The Epoch Times that the application process went smoothly. She said the school was "very happy to receive the waiver," but that it was expected because the school's administration was prepared.
"We expected that, because we had been working really hard all summer on meeting those rigorous guidelines," Knight said.
The private school plans to begin in-person education on Aug. 26 after starting off the 2020–2021 school year with virtual learning on Aug. 17.
Knight said students attending in-person instruction will be required to socially distance, with desks placed at least 6 feet apart. They will also be advised to wash and sanitize their hands frequently before entering the classroom.
Mask-wearing will be a requirement at all times for students indoors. Masks will only be permitted to be removed when students are socially distancing outdoors, participating in physical education, or eating lunch.
Fairmont Schools have installed touchless sinks and toilets in their bathrooms, improved air filtration systems, and placed plexiglass screens in their front desk regions.
Antibacterial floor mats will be placed at door entrances to clean shoes as students and staff walk into the school, and mandatory health checks will be conducted.
For recess, students will be split into cohort sections, allowing them only to play with other kids who are in their classroom, as part of an effort to improve contact tracing measures.
Not all students will be returning right away, however. Knight said the classroom will be split, with 70 percent of students attending in-person learning and 30 percent continuing the virtual learning model.
Knight said the schools are well-prepared to continue virtual instruction after getting a shot at it in the spring, allowing them to work out any kinks in the system.
"We feel like we've ironed out a lot of those things, since we've had the opportunity to do remote learning since March. We feel like there's not really going to be a lot of technical issues," she said.
To accommodate students proceeding with virtual learning, classrooms will be equipped with a robotic device called a "swivl." The swivl will follow the teacher, allowing students at home to see and hear their instructor at all times, Knight said.
The virtual learning students will also be projected on television monitors installed in each classroom, allowing the teacher to see if students are raising their hands with a question.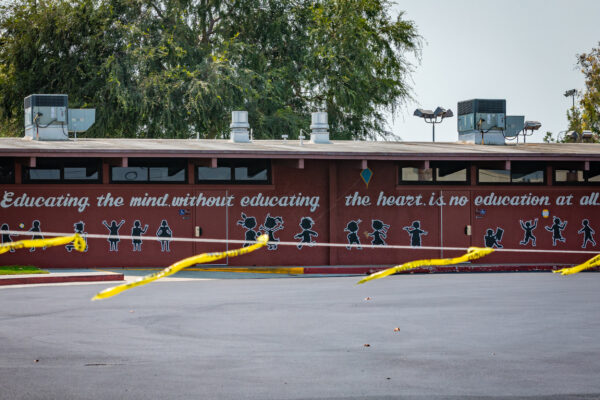 The Los Alamitos Unified School District was also approved as part of the second batch of county schools to receive waivers, according to an Orange County Health Care Agency tweet on Aug. 20.
Los Alamitos Unified plans to reopen six elementary schools in its jurisdiction to over 3,500 students. The district will begin the school year on Aug. 31 in a virtual learning environment and will convert to a hybrid learning setting beginning on Sept. 8, just after the Labor Day holiday.
Other private schools that had their waivers approved include: New Horizon School in Irvine; Red Hill Lutheran School in Tustin; Pathway School in Laguna Beach; Monarch Bay Montessori Academy in Dana Point; St. John's Lutheran in Orange; Veritas Academy in Fullerton; Covenant Christian Academy in Westminster; Calvary Christian School in Santa Ana; Grace Christian School in Lake Forest; Carden Hall in Newport Beach; TVT Community Day School in Irvine; Montessori of Ladera Ranch; Fountain Valley; Hebrew Academy in Huntington Beach; St. Paul's Lutheran School in Orange; Aliso Viejo Christian School; St. Mary's School in Aliso Viejo; Ivy Crest Montessori in Fullerton; VanDamme Academy in Aliso Viejo; Grace Lutheran School in Corona; E3 Academy; The Pegasus School in Huntington Beach; and St. Margaret's Episcopal in San Juan Capistrano.