Dr. Gregg DeNicola began orchestrating curbside COVID-19 testing in Laguna Beach, California, on March 10, making him one of the first doctors to do so in Orange County.
He was also one of the first to put together a multi-step treatment program for severe cases.
DeNicola is the chief medical officer for Caduceus Medical Group and has had a 35-year career in medicine. But this pandemic was something his years of experience didn't fully prepare him for, he said.
"At this point, there's really no experts in this, because before three [or] four weeks ago, no doctor ever treated it in America. So it's hard to have anybody be an expert in it," DeNicola said in an interview with The Epoch Times.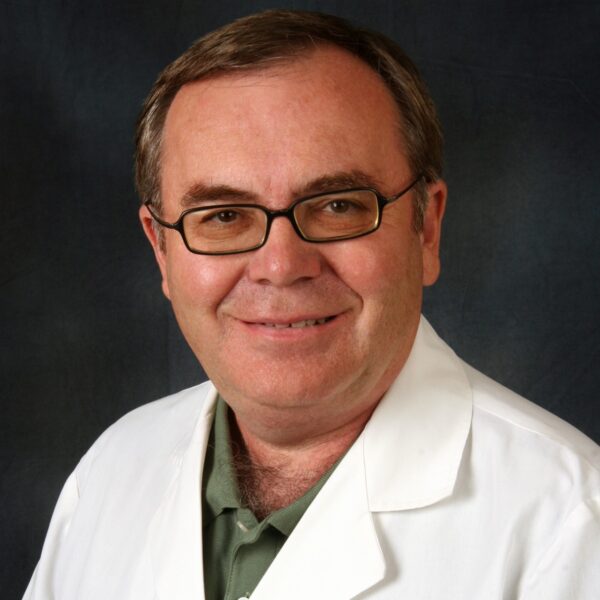 Finding the Right Treatments
He didn't know exactly what to do, but he knew he had to move quickly with lives on the line. When his team received more and more positive test results for COVID-19, he decided to learn what he could from the countries that were hit hardest.
"We started just reading everything we could of what was used in Italy, Spain, you know, the high-risk countries," he said.
The common denominator was the anti-malarial drug, hydroxychloroquine. It's also known by the brand name Plaquenil. He said he had read "some anecdotal reports that it might help, [so] we started using it."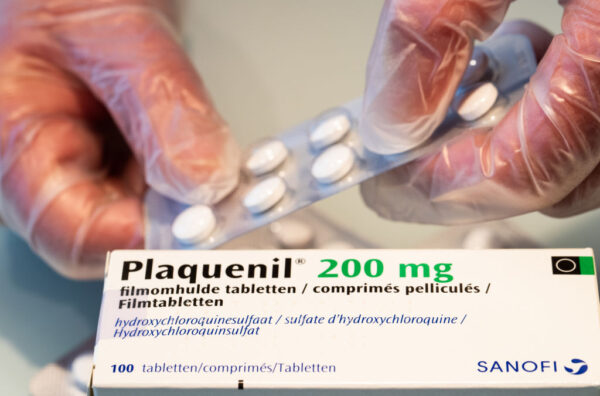 On March 28, the Food and Drug Administration (FDA) approved emergency use of the drug. DeNicola started treating severe cases with it right away.
He said 75 percent of his patients experienced "definite improvement." He currently has a queue of 60 severe cases being treated with the drug.
But the drug has been hard to find.
Supply Shortages
"I've heard reports there's millions of doses being released, but we have not found that—we have to call around," DeNicola said. "Sometimes it's being on the phone an hour trying to find a pharmacy that has them and most pharmacies require positive results faxed to them."
President Donald Trump has commented positively on hydroxychloroquine in recent press conferences. A subsequent surge in demand has made the drug even harder to obtain.
The Food and Drug Association issued an emergency sign-off on April 7 to allow more suppliers to manufacture it generically. The drug has traditionally been used for patients with malaria, lupus, and rheumatoid arthritis. The shortages have impacted these patients.
Some have criticized Trump's public support of the drug without more trial results. Some early studies have suggested it is effective, while others have suggested it isn't, according to a research summary by medicinal chemist Katherine Seley-Radtke in an article for The Conversation.
"We're not political in any way," DeNicola said. "We're just trying to pick any drug that works."
On April 9, the National Institute of Health (NIH) announced in a press release that a clinical trial of hydroxychloroquine will begin at the Vanderbilt University Medical Center in Nashville. Other trials are being done in labs around the world.
James P. Kiley, an NIH lung disease specialist, stated in the press release: "Hydroxychloroquine has showed promise in a lab setting against SARS-CoV-2, the virus that causes COVID-19, and preliminary reports suggest potential efficacy in small studies with patients.
"However, we really need clinical trial data to determine whether hydroxychloroquine is effective and safe in treating COVID-19."
DeNicola said he has heard the argument that patients who seemed to recover because of the drug might have recovered anyway without it. "And that's a good argument," he said.
"But when you interview [patients] and they say, 'We've been coughing in high fever and having trouble breathing for seven days now,' and 24 hours after Plaquenil, they feel 50 percent better—we think that's probably a positive sign that it worked.
"I think we have treated 55–56 people, and we've only had one go into the hospital," DeNicola said. "In our opinions, [Plaquenil] definitely kept the number of patients out of the hospital."
"We don't feel in any way [that] we are doing anything wrong by using it. We've got to use whatever we can right now."
DeNicola isn't relying on the drug alone. His treatment regimen for COVID-19 includes other measures. But, because of the rapid improvement he has observed directly after administering hydroxychloroquine, "it's no doubt, no question" that the drug is helping, he said.
Pulmonary Hygiene
Pulmonary hygiene is another part of DeNicola's treatment program, which means "laying on your side, coughing, turning, coughing, turning again, coughing," he said. The goal is to get the mucus from the bottom of the lungs up to the middle of the lungs.
DeNicola said the virus is a "lung-eater," and he and his team have "evolved from a testing mentality to a treatment mentality."
He began this treatment regimen on March 23. It was much more rigorous than treatments in some other areas at the time.
By comparison, a COVID-19 patient from Irvine, whom The Epoch Times interviewed in March, received an inhaler and nothing else when he experienced severe symptoms around the same time.
"The COVID-19, once it gets to the lungs it eats the lungs," said DeNicola. "It pours out fluid and causes severe pneumonia. So the whole goal [of the program] is to keep the fluid out of the lungs, that's the whole purpose."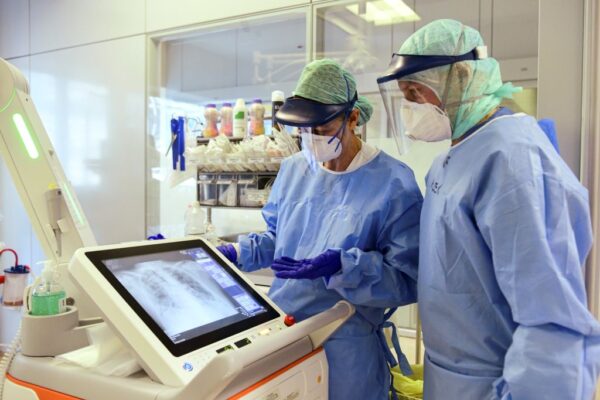 DeNicola also suggests to his patients what he calls the "double Zs"—zinc and Z-Pak. The latter is also known as Zithromax (azithromycin), and it is an antibiotic used for respiratory, skin, and other bacterial infections.
Then, the next step is "percussion and drainage," which requires a partner (who wears the proper personal protective equipment). The partner cups his or her hands and pounds on the patient's back firmly, which loosens all the mucus, causing the patient to cough it up.
The entire exercise takes 15 minutes and DeNicola recommends patients do it three times a day.
Curbside Testing
The curbside testing DeNicola's staff uses is the nasal swab test, or the PCR test, which is considered the gold standard for accurate results.
"It's by far the most accurate," he said. "We actually looked into buying some of those quick kits that you can do with either a throat swab or a fingerprint, but the false negative rate was just too high on all of them."
The patient never comes into the office, DeNicola explained. The pre-evaluations are all done through telemedicine calls. Then the testing is done at the curbside in front of the office. The city of Laguna Beach gave DeNicola's office five free parking spaces to conduct the testing.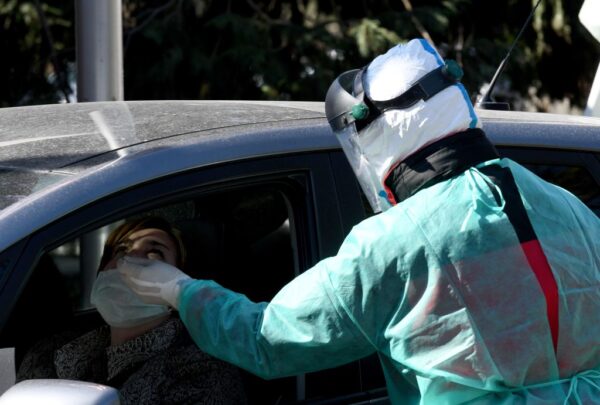 Caduceus Medical Group's other locations are also offering curbside testing, including one in Yorba Linda. The results are ready within three to five days.
Flattening the Curve
Self-isolation is working, in DeNicola's opinion, which is why the demand for testing has dropped off in recent weeks.
One of the remaining concerns he has is the uncertainty around how long patients who recover from the virus will still be contagious.
Patients are testing positive two to three times in a row after they no longer have symptoms, he said. "Which means they feel good, but could they still be a carrier? And the answer is, 'maybe.'"
The Centers for Disease Control guidelines for when recovering patients can discontinue self-isolation include the disappearance of symptoms, as well as two consecutive tests with negative results taken more than 24 hours apart.
Another discussion surfacing within the medical community is whether the virus is airborne or spread through droplets. DeNicola believes there's truth to both claims.
"The evidence appears to be right now through droplets," he said. "But that could be airborne because if you sneeze or cough hard enough, they travel airborne."
DeNicola thinks the six-feet social distancing rule isn't enough, because "some studies even showed it was living as far as 20 feet away after a bad cough."
"So the reason this is different from the flu—although people compare it to the flu—is [with] the flu, you got to be pretty close to the person and they get it," he explained. "You have to kiss them or be right next to them. But for this, this seems to be very easy to spread."
An unintended consequence of the lockdowns is that other kinds of infections aren't spreading from person to person. "We're not seeing any infectious disease at all right now [aside from COVID-19]—like I'm not getting any emails for strep throat or normal common colds, because nobody's going out to spread those," he said.
'We're going to see it again'
"There are other coronaviruses that have been around my whole career, and they recur every year," DeNicola said. So "there's no doubt we're going to see it again, I think."
The questions DeNicola poses are: "Will we have a vaccine which would mitigate a lot of its scare? And will we have herd immunity? In other words, will 90 percent of the population be immune to it?"
"[That] would make it much less serious," he said. "We wouldn't go through all this quarantining and shutting everything down."
Many people in and outside of the medical community are examining how the virus compares to the common flu, and whether the flu is deserving of an annual quarantine period, too.
"Even though the flu is a mutation every year, there is some herd immunity to the flu and there's a vaccine to the flu," said DeNicola. "So, yes, the flu has terrible numbers but the likelihood of you getting the flu in a normal flu season is probably 10–20 percent; the likelihood of you and I getting coronavirus if we hadn't done all this might have been 80 percent."
With treatments being worked on, DeNicola believes the virus will return, but will never do anything "at this level again."