With the March 9 special election approaching to fill Orange County's District 2 supervisor seat, four out of five candidates told The Epoch Times how they would help those negatively impacted by the COVID-19 pandemic.
Costa Mesa Mayor Katrina Foley could not be reached for comment.
Like many other cities in California, Newport Beach restaurants and small businesses were severely impacted by state-mandated COVID-19 restrictions, at times barring them from indoor and outdoor gatherings.
Newport Beach Councilman Kevin Muldoon worked to deliver more than $2 million in COVID-19 grants to the beach town's business community, he said.
"At the county level, I will continue to assist our businesses, including ensuring that the Orange County Health Care Agency works with businesses and relevant stakeholders to safely reopen our economy," Muldoon told The Epoch Times.
He formerly worked under President George W. Bush in the White House Office of Strategic Initiatives.
Former state senator John Moorlach, of the 37th district, told The Epoch Times his "number one priority will be responding to the COVID crisis by ensuring vaccines are available and distributed in a fair and fast process for all those who want and need them."
"I will also continue to fight to recover funding for the business community," Moorlach said. "As state senator, I helped provide $500 million from the state budget for COVID relief, and will continue to advocate for Orange County's fair share."
Moorlach previously termed out on the Board of Supervisors' District 2 seat, where he served from 2006 to 2015. He earlier worked as Orange County Treasurer-Tax Collector.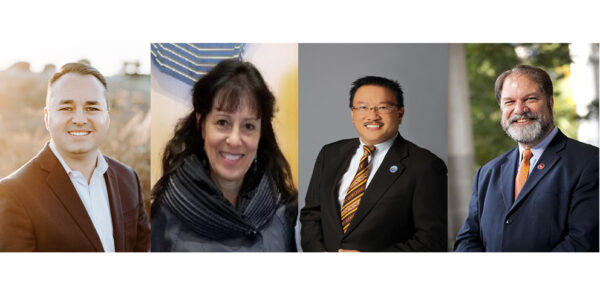 Michael Vo
Fountain Valley Mayor Michael Vo told The Epoch Times his "primary objectives will be to reopen our local economies and small businesses now—not tomorrow or when the state gives us permission—but now."
Vo formerly worked as the Fountain Valley Community Director. With roots in Vietnam, his website says he fled communist Vietnam with his family at age 17.
"I will also work with the County Board of Education to advocate for the immediate reopening of all Orange County schools," Vo said. "Our livelihoods and our children's education depends on our actions."
He said the best course of action is to reopen the economy.
"As one of the largest counties in America, we must do more to provide relief for struggling businesses and residents. I believe we have ample resources to do so in a financially conservative manner."
Janet Rappaport
For Navy veteran and Corona del Mar attorney Janet Rappaport, the biggest problem facing Orange County residents is the $544 million CARES Act funding, which she says is "not accounted for by the BOS [Board of Supervisors]."
"If I were elected, public disclosure of every disbursement of federal support funds, every contract would be made. Taxpayers have a right to know where their tax dollars are going," Rappaport told The Epoch Times.
"With transparency and visibility, communities that are not being served can reach out and communicate their needs so we can ensure that all of Orange County is taken care of with the funds we are allocated."
She said residents need to know if CARES Act funds are still available so that "further federal support payments go to the needs of the second district, for example to make payments to residents and landlords to prevent hardship to landlords and allow tenants to have a place to live rather than joining the homeless."
The victor of the special election will replace former Board of Supervisors chairwoman Michelle Steel to finish out her four-year term. Steel won the 48th Congressional race in 2020.
District 2 covers Buena Park, Costa Mesa, Cypress, Fountain Valley, Huntington Beach, La Palma, Los Alamitos, Newport Beach, Seal Beach, Stanton, Rossmoor and other unincorporated areas.