SANTA ANA, Calif.—Sparks were flying at the Old Orange County Courthouse as love birds said "I do" on Feb. 22.
The special date marks the second month of the 22nd day of the 22nd year of the century—a date known to bring luck, according to newlyweds.
"I knew it would be busier than Valentine's Day," Orange County Clerk Hugh Ngyuen told The Epoch Times. "That combination doesn't come very often."
Within the first hour of opening, 34 couples were married, Hugh said. Nearly 200 reservations had been secured for couples looking to tie the knot with more anticipated to account for walk-ins.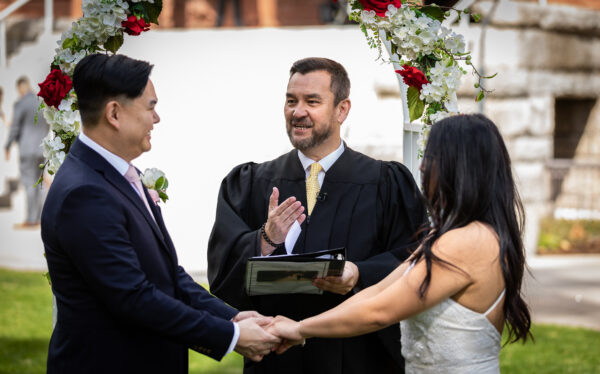 "The thought of her not in my life would bring me pain," John King said about his now-wife Brenda, who was standing by his side wearing a simple white midi dress with strappy heels to match.
The two stood at the bottom steps of the courthouse as the blue sky peaked between scattered clouds with lingering thunder clouds in the distance.
John and Brenda's story began nearly five years ago when they met at work—a moment they would never have anticipated leading up to the joining of their families.
The newlyweds said they would celebrate their evening at dinner along with their two kids. They anticipate a bigger celebration next year in Idaho where they will have a ceremony and reception with more of their loved ones.
As for why they chose the date, John claimed it was "easier to remember" while also having the stigma of good luck.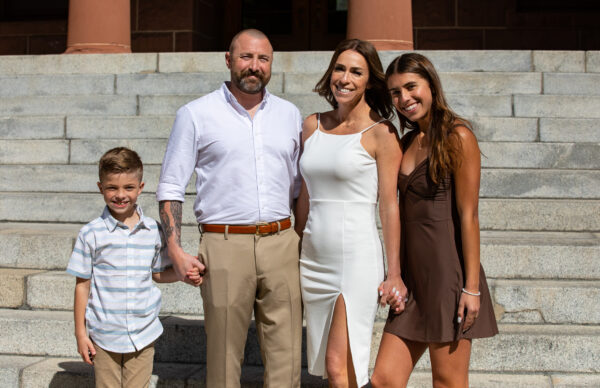 Also at the courthouse were Elizabeth and Charlie Burling, who knew almost instantly they found their soul mates when they went on their first date 14 months ago after meeting on a dating app.
"We were both scared from the first time we met because we both felt that we were the one for each other," Elizabeth said while standing next to her now-husband wearing a velvet green suit to complement her midi tulle sweetheart dress.
They both recalled their first date at the Living Desert Zoo and Gardens in Palm Desert as they joyfully waited for their turn to say, "I do."
Charlie planned a special trip to Colorado to pop the question at a lookout at Dinosaur Ridge at exactly 11:11 a.m.
"Lucky" numbers are special to the pair, they said, hoping the date and their love will bring them a prosperous future.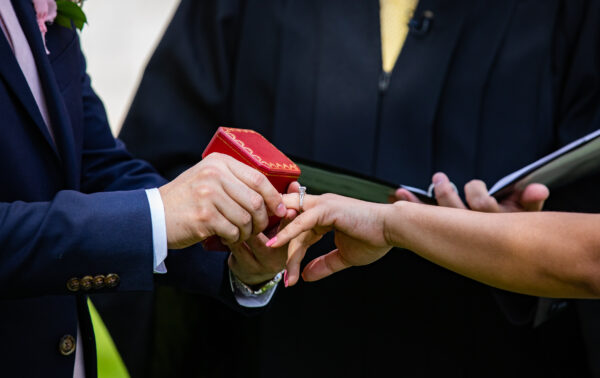 Kristy and Kem Nguyen decided to tie the knot on the "special number" day after dating for nearly 10 years.
Their journey began as a friendship, but it wasn't long until it "turned into love," Kristy said.
"I've known she was the one for a long time," Kem said while looking at his now-wife. "She's crazy so that's how I know."
Kristy responded jokingly, "He's not [crazy]. We balance each other out."
The two said they were heading to dinner with their family to celebrate in the evening, but hope to celebrate soon in the Maldives, Hawaii, or Europe.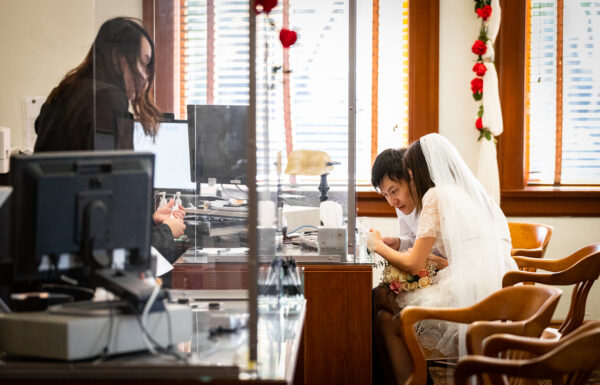 The Old Orange County Courthouse's hours of operation were extended by an hour and a half on Tuesday after reporting an influx of couples rushing to secure a reservation on the special date.
Special reserved candlelit ceremonies were scheduled inside the courtroom from 6 p.m. to 8 p.m.
About 34 couples were scheduled to join their loved ones in celebrating their marriages in the Old Orange County Courthouse—where films such as Catch Me If You Can and Legally Blonde were filmed.