ORANGE, Calif.—When organizers of the Orange County Classical Academy (OCCA) set out to open the doors of their own charter school in August 2020 in the city of Orange, they had no idea they'd be doing it in the middle of a pandemic. They simply wanted to offer children what they felt was a better education than they could receive in a regular public school.
Despite the restrictions, organizers say the school has been a resounding success. Many parents in California are seeking an alternative to the state's public school system and considering charter schools, which are public schools that operate under a different set of rules that offer them a choice in how and what their children learn.
"Having a child that recently graduated from the public school system, I think they need to go back to the basics," Jim Puro, who served on a charter school board, told The Epoch Times. "They don't teach what I learned when I was in school—the Constitution, civics, history. They're just teaching the wrong items, in my opinion, that get a kid properly prepared for the world."
The move toward charters is a nationwide trend. From 2000 to 2017, the percentage of all public school students who attended charter schools increased to 6 percent from 1 percent, according to the U.S. Department of Education, including approximately 10 percent in California. For the 2018–2019 school year, there were more than 1,300 charter schools in the state.
Not everyone agrees they're a good idea, however. Some say that charter schools take funds away from other public schools, inadequately serve special-needs students, have a disproportionately low number of minority students, and have a high turnover rate for teachers, due to long hours and less pay.
A Better Option: Report
Advocates say charter schools provide children with a better education than they can receive in other public schools—and a recent report released by the Pacific Research Institute agrees.
"Recent research from Harvard and others show that charter schools are doing a better job improving the achievement and meeting the needs of students compared to regular public schools," according to the January report.
The report—written by Lance Izumi, a senior director at the institute—noted that the success of charter schools took place despite efforts by state lawmakers and teachers unions to "handicap both the establishment of charters and their operation" by limiting funding and capping approvals.
Charter schools are held accountable for the quality of their education and are reviewed by local school districts every five years. Unlike regular public schools, if the district's school board deems a charter school inadequate, its charter can be revoked.
Izumi told The Epoch Times that such accountability provides "incentive for the charter school to do a good job to increase student achievement … whereas there's really none of that type of incentive for the regular public schools."
A September 2020 study by education researchers at Harvard University also found "a larger increase in student achievement for students at charter schools than for students at district schools"—about a "half-year's worth of learning." The analysis was compiled by tracking national student test scores from 2005 through 2017.
"I think they're getting a higher education," Puro said. "They're not being taught what somebody in the government wants them to learn. They're being taught what they need to learn. Like I said, no restrictions."
According to the American Civil Liberties Union (ACLU), however, around 20 percent of charter schools in Southern California in 2016 had policies that restricted enrollment and limited equal access.
The issues highlighted by the ACLU included: denying enrollment to students who don't have strong grades, test scores, or meet a level of English proficiency; expelling students who don't maintain strong grades or test scores; selecting students based on onerous pre-enrollment requirements such as student essays and/or parent interviews; discouraging or precluding immigrant students; and refusing to enroll students unless they donate money.
Curriculum
Dr. Jeff Barke is co-founder of the Orange County Classical Academy (OCCA), a charter school in the city of Orange that opened its doors last August. The school offers its own curriculum, rather than the standard nationwide "common core" learning initiative used by public schools throughout California.
"We've decided that common core is a very poor, terrible way to teach kids, and it has failed, in my opinion, mostly across the country," Barke told The Epoch Times. OCCA's goal is to educate "kids that think, that have a high level of responsibility, that are virtuous, and that are good American citizens," he said.
Like other charter schools, OCCA chooses its own programs, teachers, and methods—and demand is high. Barke said the school is currently filled to capacity, with a waiting list of more than 500 students.
Though they still must adhere to state guidelines, charter schools have flexibility in meeting them. They act independently of public school districts, aren't required to use the same curriculum, and can choose their own learning models.
There are currently 35 charter schools in Orange County. OCCA is the first in California to employ the Hillsdale College curriculum, a program of study used by more than 20 others around the country. Barke cited the three-stage classical education model—which teaches grammar, logic, and rhetoric—for its effectiveness.
Elementary school students learn at the grammar stage using memorization; middle school students learn to use logic to interrelate concepts; and high school students learn to teach others the implications of their knowledge through question-and-dialogue rhetoric.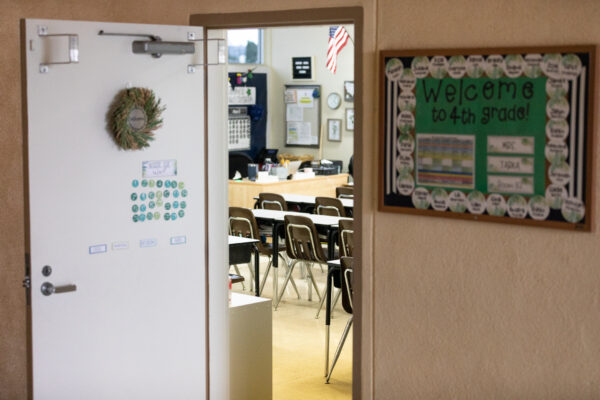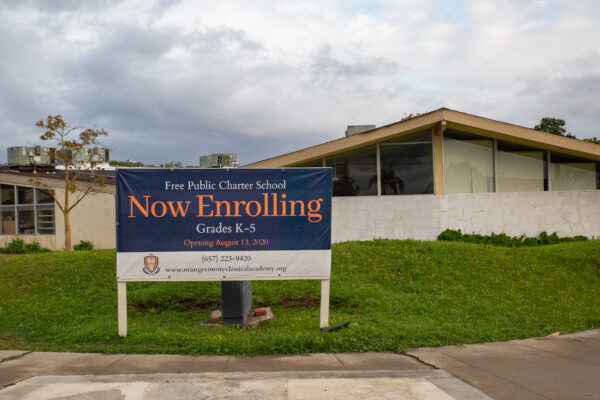 Any Location
Unlike regular public schools, students attending charter schools can enroll regardless of location. If parents want to enroll their child in a regular public school in a district outside of where they live, they need authorization.
Currently, OCCA teaches 360 students in grades K–5, but plans to expand one grade level every year until it reaches K–12. There are two classes for each grade, with roughly 30 students in each classroom.
On March 16, the school held a public lottery via Zoom to fill 65 open spots for later this year. More than 500 people participated. "We've got tremendous demand for very limited spots in the school," Barke said.
Charters receive state funding based on student enrollment. California provides schools about $10,000 per student for their education.
"We have seen a lot of a lot of kids come over from private school, religious schools, and others, because rather than pay $10,000 or $15,000 a year, they can come here for free," Barke said.
Accountability and Merit
According to Barke, one criticism leveled at charter schools is that they have a high turnover rate of teachers. He said that's because charter schools can "eliminate underperforming teachers."
"You can't do that at a traditional public school because of their contract, because of tenure," he said. "It takes on average about $250,000 and several years to get rid of a poorly performing [regular public school] teacher."
Since most charter schools aren't unionized, they have much greater flexibility in how they hire their teachers, he added.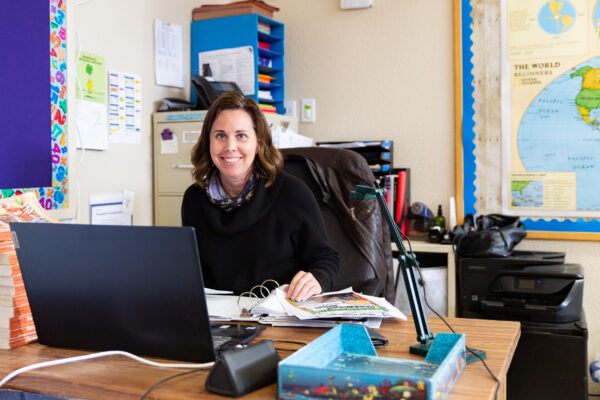 A Teacher's Perspective
Rebekah Conklin teaches third grade at OCCA. Previously, she taught at a private school for more than 14 years. She told The Epoch Times that teaching at OCCA allows her greater flexibility to educate students.
"We're given a lot of freedom to teach what's in the textbook in different ways," Conklin said. "We can do it using drama or music. We're allowed to teach it in a way we want to teach it."
Every day, her class—21 in-person students, and two more distance learners—begins with the Pledge of Allegiance. Then the students recite OCCA's Six Pillars of Character: a school pledge that emphasizes courage, honesty, citizenship, respect, courtesy, and responsibility.
"We're emphasizing them to be virtuous citizens," said Conklin, noting that the parents are kind and supportive.
Students in each class can earn virtue cards for doing something that represents one of these six pillars, she said. Every Friday, students can trade their virtue cards for fun items like rubber balls and stickers at a makeshift store.
Barke said he started the school because a successful future is dependent on students receiving a quality education.
"To the extent that the United States of America is going to be saved, it's going to be our children that do that. And the only path forward, as I see it, is through education," he said.
"Our traditional public education system is failing too many of our kids, and I can't fix the whole country, but I can fix one kid at a time."