ORANGE, Calif.—As business owners across California struggle to stay afloat, a number in Orange County have defied Gov. Gavin Newsom's stay-at-home mandate by reopening their establishments to keep from going under.
The early reopenings were necessary to save their businesses, the owners told The Epoch Times—but still might not be enough. And though many people approve of the reopenings, others remain firmly opposed.
"I've had threats of burning the building down, death threats on myself and my family," Jeff Gourley, owner of Nomads Canteen in San Clemente, told The Epoch Times. "I mean, it's insane."
The debate between whether to reopen quickly to help an ailing economy, or mind the stay-at-home order to stem the spread of COVID-19, has divided officials and residents throughout Orange County, the state, and the country.
"It's 50-50, and it's indicative of where the country is at right now," Gourley said.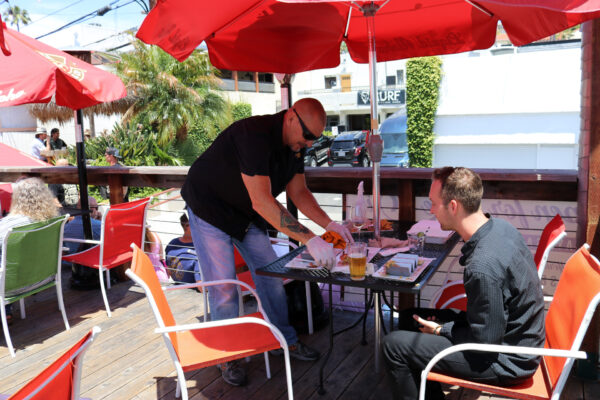 Nomads Canteen Takes a Bold First Step
Gourley reopened Nomads Canteen to full-scale table service for the weekend of May 1, in harmony with the "Reopen California" protests across the state.
He picked that date "early on," he explained, because he couldn't afford to stay closed beyond that point.
"I feel like I picked that date, essentially, determining in my head that if we're not back to business by then, we're just gonna be in such an economic slowdown or catastrophe, it'll be irrecoverable," Gourley said.
The response from the community has been so astounding that he had to close his doors again after reopening weekend—but this time, to restock.
Gourley said he took extra safety precautions when he reopened.
Tables on the sundeck have been placed 6 feet apart to maintain social-distancing guidelines, and extra sanitation measures are being taken. Waitresses must wear face coverings; frequent hand-washing and glove use are the new normal.
With only 25 of his 50 employees returning to work, Gourley has been busy bussing tables, running food orders, and buzzing between patrons to make sure they're enjoying their meals.
"We've set our interior tables up with about 30 percent of our normal capacity, and have signs marking social distancing," said Gourley.
The first few days were a learning curve, he explained. People tend to congregate when there's too much open space, so he's had to implement extra signage to direct people.
Gourley, 50, said the March 19 Newsom-mandated shutdown was "earth-shattering" for his business. To stay afloat, he received funds from the Paycheck Protection Program (PPP) two weeks after he applied, but he said it simply wasn't enough.
"Unfortunately, it's based on payroll only, and my payroll doesn't include my waitresses' tips," he said. "So, it's quite a low amount, which has already been gobbled up in the shutdown."
The funds were used to pay his employees while the restaurant was closed, and to help him clean the restaurant.
Nomads Canteen serves "surfer soul food," according to its website, including a mix of poke bowls and Mexican cuisine. The location also doubles as a hotel, catering to guests anxious to experience the nearby beaches' great waves.
The restaurant continues to open for business Thursdays through Sundays, from noon to 7 p.m.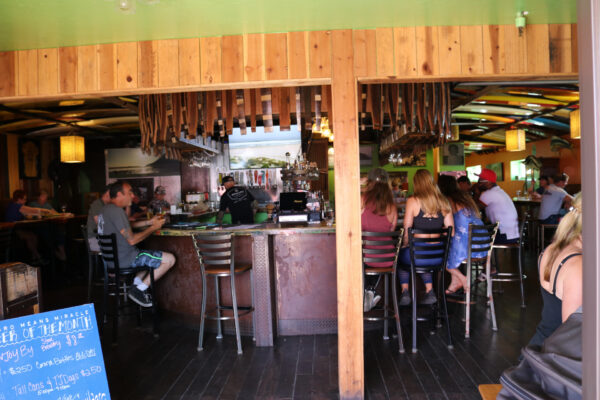 Some local officials support the decision to reopen.
"If you're not convinced that the business is safe, just don't go," Orange County Supervisor Don Wagner told The Epoch Times.
On May 4, Wagner, along with Orange County Supervisor Michelle Steel, released a statement in support of Nomads Canteen, following an attempt by the county's Health Care Agency (HCA) to seize Gourley's food service permit.
"We understand that HCA will be promptly rescinding all threats and will take no enforcement action against Nomads as long as it continues to comply with Orange County's Guidelines," the statement reads.
The statement also said the county would leave disciplining measures up to city law enforcement.
"The County of Orange seeks to have businesses comply voluntarily with the Governor's order," Molly Nichelson, public information manager for Orange County, wrote in an email to The Epoch Times.
Regarding Nomads Canteen, she added: "Our Environmental Health Inspector spoke with the owner last Sunday [May 3]. We will continue to monitor the situation."
Less than a week later, a long line of people was waiting to be seated at lunchtime, indicating Gouley's decision to reopen has been good for business.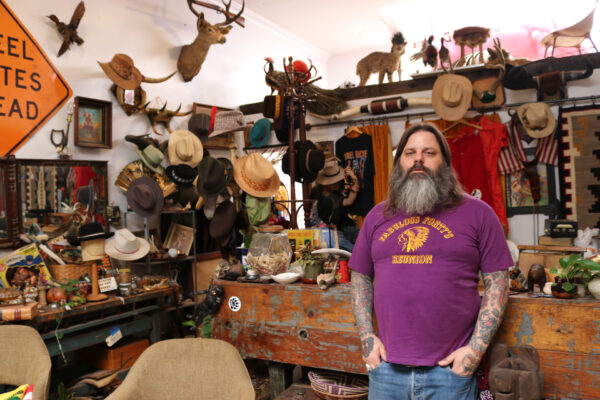 A Fearless Antiques Dealer
Matt De Vaul began collecting antique items from swap meets and auctions seven years ago. He opened MMD Antiques, in the heart of Orange, soon after.
Since then, he's seen nearly 300 customers every weekend, when they entered his shop looking for trinkets, vinyl records, vintage wallets, boots, used books, jewelry, potted plants, street signs, and other rustic finds.
De Vaul said he could "feel the strain" in town two weeks before the shutdown. Not as many people were out and about, and he'd "been through slow times before."
He knew the COVID-19 pandemic would be something that would hurt his business, he explained—but he wasn't afraid of catching the virus.
"I've only been scared of losing my business," De Vaul told The Epoch Times.
That fear worsened March 19, when Newsom issued his stay-at-home order. The measures soon became detrimental to his family's livelihood, forcing him to sell some of his items on eBay.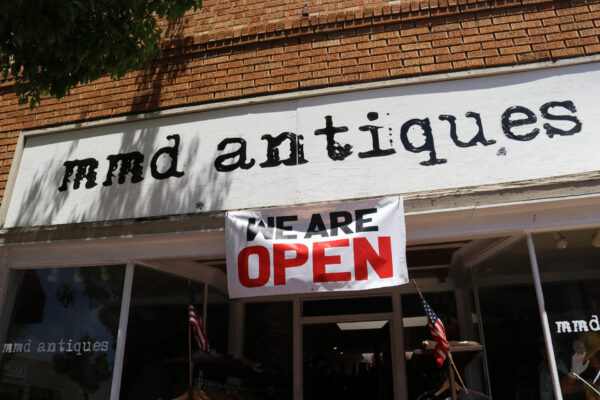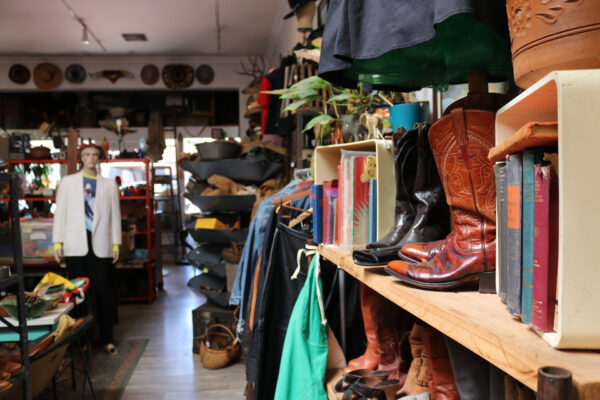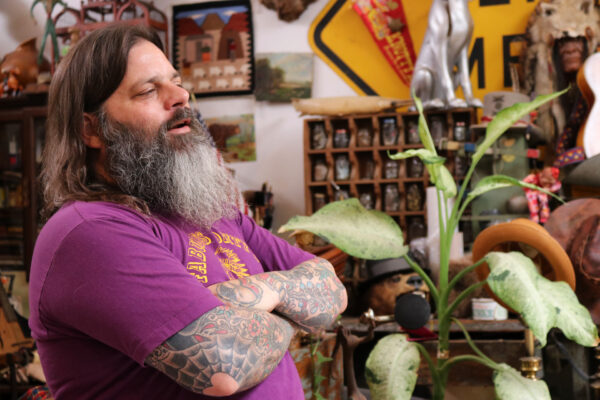 Then things got worse. Struggling to pay rent, he asked his landlords for help. Luckily, they deferred his payments until the end of the year.
"I'm in debt to that, and it's … tiring," De Vaul said. "It's high rent, so that's nerve-racking for me."
He added, "Like everyone else, I have a mortgage. I have the rent here. I have two car payments. I have kids in private schools. I have bills."
De Vaul—who works alone, with occasional register assistance from a friend—applied for a Small Business Administration (SBA) loan, PPP, and unemployment benefits, but said the response has been slow.
"Just two days ago—32 days later—I received an email that the SBA received my application, and that it will be handled in the order in which it was received," De Vaul said. "That's all I've received."
With bills mounting, debt climbing, and desperation growing, De Vaul reopened his shop on April 24, forsaking Newsom's mandate.
But since then, he said, the normal influx of weekend customers has dwindled, to no more than 20 people.
"Every day I'm not open, I'm going deeper and deeper in debt," said De Vaul.
"And the truth is, is that I don't even think I'm going to be able to recover from it. And I feel like the longer this takes to get back rolling, the worse it's going to be. You know, this is my train."
De Vaul said he has received support from the City Council, and law enforcement "waves at me every day when they drive by," he said with a laugh.
But if the police tried to shut him down, De Vaul said, he has faith that the City Council would stand behind him.
Local Officials Join Call to Reopen
Orange County officials have dueled with Newsom in recent weeks, after photos of a crowded Newport Beach went viral over the April 25-26 weekend and he temporarily closed all county beaches.
On April 28, Wagner, along with Chairwoman Michelle Steel, released guidelines for businesses and the public to follow as Orange County reopens.
Now, the beaches are all open for active use—but the sparring over reopening continues.
"What's clear about this disease is that most people are not at any significant risk," Wagner said.
"We know where the hotspots are," he added. "The hotspots are not out on the beaches. The hotspots are not in the restaurants. We can work to ensure safety there."
Other Orange County officials have also called for a streamlined approach to reopening, as an increasing number of businesses—including a barbershop in Laguna Hills, which opened on May 1—defy the order to remain closed.
Rancho Santa Margarita Mayor Bradley McGirr shared his April 28 letter to the Board of Supervisors with The Epoch Times.
"At the outset, the public was advised that these restrictions would be temporary in order to 'flatten the curve' and to ensure that our hospital system could adequately care for those afflicted by COVID-19. Two weeks of sheltering in place has turned into two months, with no real end in sight," the letter says.
"Meanwhile, the hospital and medical care system has been able to accommodate the spread of COVID-19 here in Orange County.
"We recognize that there are new cases reported every day as testing has increased, but hospitalizations and ICU cases remain relatively stable."
Laguna Niguel Mayor Laurie Davies, who also wrote a letter, told The Epoch Times in an email that she finds the potential mental health effect of the virus to be worrisome.
"As of now, our Governor has only taken into consideration the physical coronavirus cases when determining whether or not it is safe to reopen our state," she explained. "Why isn't the mental and economic health of our community just as important?"
Her April 28 letter to the Board of Supervisors warns, "Our critical small businesses may not survive if restrictions remain in place for much longer.
"Businesses will put in proper safety precautions to protect employees and customers," she said in her email. "I believe it is time to safely reopen so that those that feel safe can venture out and start gaining some sense of normalcy."
Wagner said he's worried about the long-term effects of "healthy people losing their jobs, their health insurance.
"Their standard of living decreases when people lose their jobs," he said. "We see increased calls to suicide hotlines."
He said the ripple effects are devastating economically, and "in terms of quality of life."
On May 8, Newsom implemented stage two of his four-stage roadmap for reopening. The plan, which allows lower-risk workplaces to reopen, includes guidelines and regulations businesses must meet, such as paperless payment, proper protective gear for employees, available hand sanitizer, and curbside pick-up.
But Laguna Beach Councilman Peter Blake said not very many businesses have opened in his town yet, because "most are confused how they can operate under the guidelines."
"This is another directive from the governor that lacks specific details, and hardly takes into consideration how a retail business can operate by bringing items to the curb," Blake told The Epoch Times.
"I am enthused nonetheless that we are attempting to return to some normalcy."