COSTA MESA, Calif.—An ongoing dispute among education officials regarding the Orange County Board of Education voting maps may be solved with the intervention of a judge.
The Orange County Board of Education filed a lawsuit on Jan. 21 against the County Committee on School District Organization—which recommends the board's district maps—after a month-long debate over where the board member's district boundaries should be drawn, according to Orange County Board of Education President Mari Barke.
The lawsuit states that the committee allegedly didn't meet the Dec. 15 deadline to properly adjust the voting map and refused to accept the map provided by the board.
Rather, the committee proceeded to redo the entire voting map, according to the lawsuit.
"We had established boundaries that were fully balanced," Barke told The Epoch Times. "All the committee should have done was reviewed our established map and verified that it was fully balanced."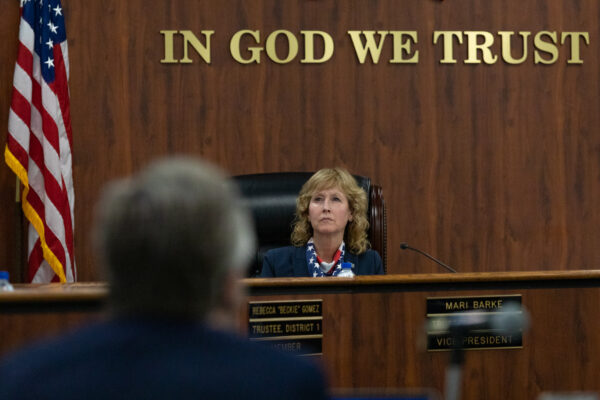 The committee is made up of 11 appointed members from 31 school and community college boards in Orange County.
The board of education approved a map of its own on Dec. 8 with the help of a demographer that utilized the 2020 U.S. Census to ensure the data depicts the correct population balance, Barke said.
The map kept all the board members in their current districts, allowing them to run for reelection in June.
The board expected the committee to give quick approval, Barke said.
Instead, the committee drew new district boundaries that would kick the board members out of their current districts and make them compete with one another during reelection periods, Barke said.
Barke speculates that the actions of the committee are a part of partisan efforts to prohibit conservative members from being able to run for reelection when their term ends.
"We knew people would be after us because we're a conservative board, and there's very few in the state," Barke said. "They don't like that we protect parental rights and educate our constituents about what's going on."
The Orange County Committee on School Districts and the Orange County Department of Education didn't respond to a request for comment by press time.
Barke, along with her colleagues Lisa Sparks, and Tim Shaw, have terms ending in 2022.
The lawsuit has the support of most of the board members aside from District 1 representative Becky Gomez.
The committee now has until Feb. 2 to submit a district map to the Orange County Registrar's Office.
The recent legal challenge is one of many filed by the board in recent years, including an ongoing lawsuit challenging the authority of California Gov. Gavin Newsom for allegedly abusing his emergency powers.
"We're not your typical board," Barke said. "We're not going to sit back for this."