The Orange County Board of Education has filed a second lawsuit demanding that California Gov. Gavin Newsom end California's COVID-19 state of emergency.
The petition was filed on Nov. 23, four months after a first lawsuit against the governor's continued state of emergency failed in August.
As the board enters this second round, the members said they are optimistic this one will be seen through.
"I think if the courts are listening to the will of the people that they'll hear the case, and I think it's really hard to document that we are in a state of emergency," school board president Mari Barke told The Epoch Times.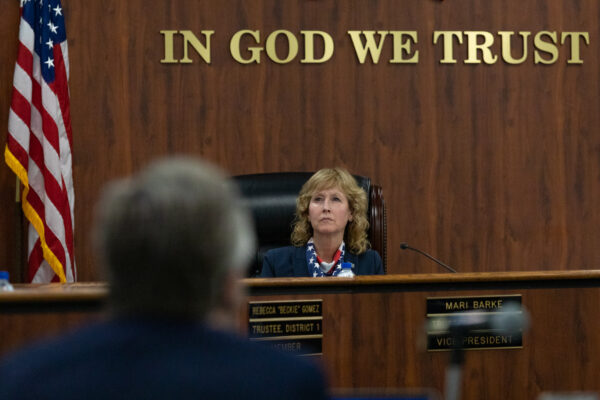 With the contentious debate of COVID-19 vaccine mandates in K–12 schools, the governor will no longer be able to enforce the mandate once the state of emergency is lifted and he loses his emergency powers, according to Barke.
Rather than allowing Newsom to decide on mandates for the state as a whole, Barke said she urges that the issue of mandates be left in the hands of local school districts and elected officials.
"That's not his authority to [make those decisions for local jurisdictions]," Barke said. "It's really about government overreach and restoring the rights of the people."
At the onset of the pandemic in the spring of 2020, Newsom declared a state of emergency, which forced the lengthy closure of public schools up and down the state.
Nearly two years later, the state of emergency remains in place despite California law requiring that the governor must terminate emergency status at the "earliest possible moment that conditions warrant."
The Supreme Court of California refused the hear the board's previous case, filed last summer.
Undeterred, the board advised Newsom, via letter, that it would file further legal action if he didn't lift the emergency order by mid-September.
"As children return to classrooms across California, it is becoming increasingly clear that COVID-19 cannot be eradicated," the letter states. "It is also clear that the state of emergency that existed last March no longer exists. And it cannot last forever."
Despite legal challenges, Newsom insists the declaration is imperative to support health care systems, the pushing of COVID-19 vaccines, and testing.
"As numerous courts have recognized, including a recent decision in San Diego County dismissing a lawsuit including virtually identical claims, state law authorizes the continued state of emergency, which remains necessary to combat COVID-19," a spokesperson for the governor's office told The Epoch Times. "Revisions that remain in effect under the emergency remains essential to support the ongoing efforts that keep Californians safe."