ORANGE, Calif.—Those who oppose a California ballot measure that would allow drivers for ride-share companies to be classified as independent contractors instead of employees rallied on Oct. 16 in the city of Orange.
Proposition 22, which is on the Nov. 3 ballot, would essentially override Assembly Bill 5 (AB 5) by classifying app-based transportation and delivery drivers as gig workers, and enacting wage and labor policies specific to the industry. Supporters of Prop 22 say it will create jobs by limiting the hiring restrictions imposed by AB 5.
The AB 5 law went into effect on Jan. 1, requiring companies to hire gig workers as employees—thus providing benefits and paying additional taxes—instead of classifying them as independent contractors, unless they meet certain conditions.
The event began shortly before 11 a.m. with a car rally, during which demonstrators drove around the area with signs taped to their vehicles calling for onlookers to "Join the fight" and "Vote No on Prop 22."
The parade was followed by a ceremony held in the parking lot of the International Brotherhood of Electrical Workers Local 411, where different speakers explained why they opposed the measure.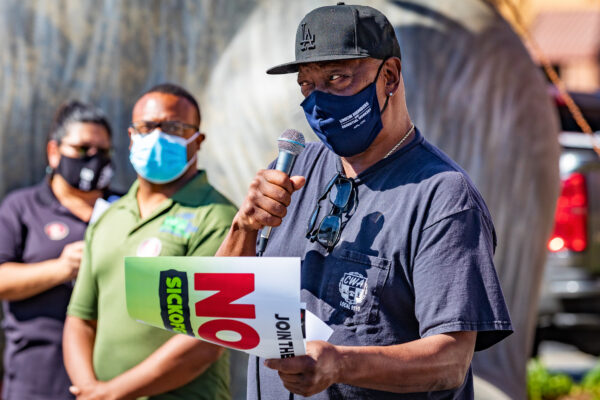 Gloria Alvarado, executive director of the Orange County Labor Federation, urged the audience to vote against the measure, saying ride-share drivers "are counting on us to support them to be recognized, to have benefits—to understand that they are workers, they report to work."
"If one of our brothers and sisters who is driving gets in an accident, they have no benefits if they are not working. They have no benefits of unemployment. … This is the harsh reality," Alvarado said.
She added that "everybody wants dignity and respect and a good paying job." Unfortunately, greed is "always putting money before workers, money before people, without thinking how they're hurting us."
Those in favor of Proposition 22—including supporters Uber, Lyft, and DoorDash—say the measure would actually provide more jobs by allowing drivers to return to independent contractor status. They say AB 5 has cost workers employment by forcing companies to spend more on costly benefits and taxes, thus limiting their ability to hire more people.
Assemblyman Kevin Kiley (R-Rocklin) told The Epoch Times that he supports Proposition 22 because it corrects some of the damage caused to gig workers by AB 5.
"AB 5 is one of the most destructive laws passed in the last decade, and has caused unprecedented harm to workers, consumers, and small businesses," said Kiley in an emailed statement.
"Prop. 22 is an important first step toward fully repealing AB 5 and restoring the livelihoods of hundreds of thousands of independent workers throughout the state."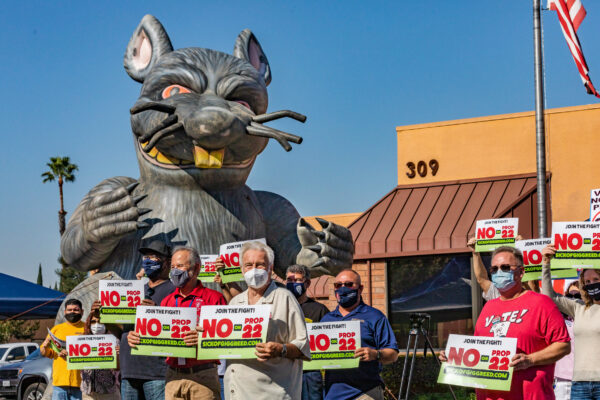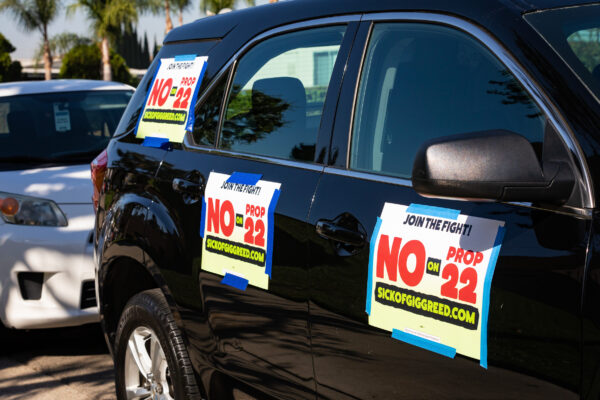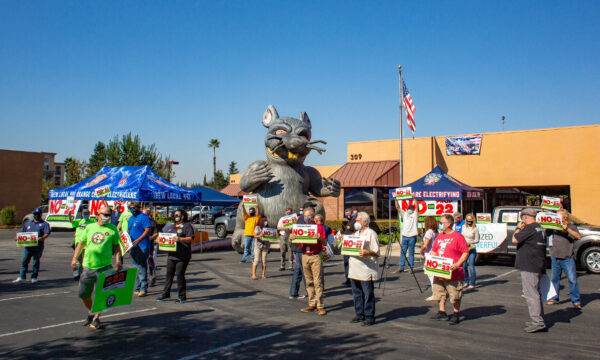 At the rally, Andrea Stander, president of United Good and Commercial Workers Local 324, explained to the crowd why she believed it was crucial that people vote against the measure.
"This is the fight of our lives," she said.
She said her union represents over 18,000 essential workers in grocery stores and drug stores, and over 3,000 workers at Disneyland.
"Every time contract negotiations come up, [our union workers] have fought, they have risked their jobs, in order to make sure that proper benefits and wages are paid to people who work hard, who provide for us, in times like this. They do this because it's the right thing to do," Stander said.
Ride-share driver Marie Harrison said: "When I started driving, I was earning $1.20 per mile. Today, it's 60 cents per mile, with added bogus charges built in … which means the rate has been reduced by 70 percent to the drivers.
"I now have 167,000 miles on my car, with not one penny reimbursement for maintenance, repairs, insurance, and registration. The fact is, it's the drivers who own the fleet used by Lyft and Uber. So we should be paid for the use of our vehicles.
"Rather than living the American dream, we are now in the American nightmare."
Josh Newman, a former state senator who is currently running to win back his seat in the 29th District, also spoke at the event.
"They would have you believe that somehow this work is different, because it's run through the internet. Work is work and workers deserve respect, and every worker deserves the fair wages and the benefits in California," Newman said.
Proposition 22 will appear on the Nov. 3 ballot throughout the state of California. Voters will either approve or deny the measure.