WASHINGTON—Right now, 8.7 million children in the United States have parents with a substance use disorder.
Child welfare systems are overloaded, staff burnout is extreme, and foster homes are becoming more scarce, even as the need rises.
"We know that in a community, a 10 percent increase in fatal overdoses is associated with between 4 and 5 percent increase in foster care entries," said Robin Ghertner, director of data and technical analysis with the Department of Health and Human Services, at an opioid roundtable in Washington on May 3.
"And research has shown consistently that opioids is a big part of that," he said. "So this is a really, really nasty problem."
Ghertner said more than 270,000 children entered the foster system in 2016, and one out of every three cases in which children were removed from home was due to parental substance use.  
"It's actually much higher than that. That's just what's reported through the data systems that we get at the federal level," he said. In the more dramatic cases, Ghertner said, caseworkers are forced to have children stay in their offices or a hotel while they search for a foster home for them.
And, once in the system, the child's chances of being reunited with his or her parents are worsening.
"There's an intense amount of pessimism in the child welfare system," Ghertner said. He said judges and caseworkers used to be optimistic that "a good portion" of the children that are removed from home are going to go back to their families.
"It's not that way anymore in a lot of communities," he said. "There are communities in New England and Appalachia where it's few and far between that a child will go back to the parent. So it's very depressing circumstances."
What we're trying to do right now is a much more humane approach to dealing with families who are struggling with a disease.
Since fiscal year 2013, the number of children whose parents' rights were terminated has increased—from 58,700 in 2013 to 65,300 in fiscal 2016, according to data from Health and Human Services.
Alongside the increase in foster numbers, there has been a big jump in the number of extended family members taking in children.
Around 2.6 million grandparents are raising children, according to 2015 census statistics.
Treatment
Ghertner said a dearth of family-friendly treatment options exacerbates the problem.
Medication-assisted treatment is the accepted treatment protocol for opioid addiction, but most addicts have a host of other issues going on at the same time.
The most commonly used version of medication-assisted treatment is suboxone, which is a combination of buprenorphine (an opioid) and naloxone (which blocks the effects of opioids).
Suboxone has been used for opioid addiction since 2002, and methadone, the other main medication-assisted treatment, has been around for decades.
Vivitrol, a relatively new drug, is an injection of naltrexone that blocks opioid receptors in the brain for one month at a time.
Gerthner said a lot more than medication-assisted treatment is needed, "particularly for people that are dealing with co-occurring problems."
"And those can be co-occurring psychological/mental problems, they could also be housing, they could be employment—there are many, many things that go into this," he said.
"And unfortunately … rural communities are particularly struck by the opioid crisis [and] typically do not have a lot of these services."
A Successful Model
Dr. William Bell, president and CEO of Casey Family Programs, said the use of drug treatment courts is a huge step toward keeping families together.
"The courts began to work in a conversation with parents to say, 'We know that you want your child back. We want you to have your child back. But we also know that you need to overcome this disease that you have. We will work with you to increase your capacity to see your child as long as you're working to achieve the sobriety that we know is necessary and you want to have,'" he said at a February Senate hearing.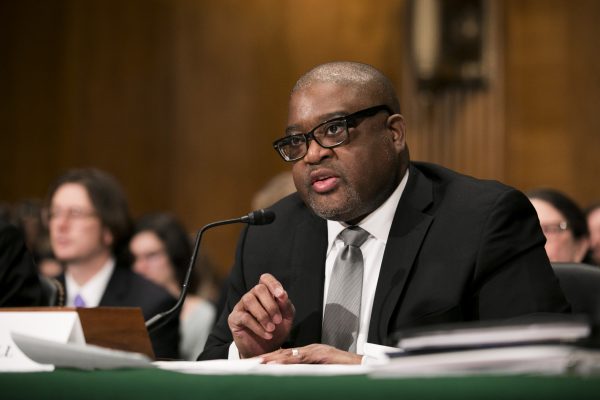 Casey Family Programs helped launch a pilot program in Ohio last year called START (Sobriety, Treatment, and Reducing Trauma). It aims to keep children at home or return them home as quickly as possible.
"Research has shown that when parents are able to get into treatment programs with their children in a timely manner, two-thirds of them complete the program compared with only one-fifth of parents who complete the program when their children are not allowed to stay in the treatment facility with them," said Bell.
Ohio Attorney General Mike DeWine, who helped launch START, said children with a parent or parents addicted to drugs tend to stay in foster care longer, and they enter foster care having experienced significant trauma.
"While mom and dad are high, these kids may go days without food or supervision. They may have witnessed a parent inject drugs, overdose, or even die," he said in a statement. "By creating this program, we hope to help these 14 counties give the silent victims of the opioid epidemic—the children—the best care possible, while also helping their parents recover from their addiction."
Referrals to the START program begin anytime, with the earliest being after an expecting mother tests positive for a substance in either the second or third trimester, said Bell. A positive drug test also triggers an immediate referral to child welfare. "At any stage, it has become a prima facie challenge of abuse and neglect to have a positively exposed child in utero," Bell said.
The START team steps in and goes to the family home to conduct an assessment. The team includes a peer mentor, who is someone in addiction recovery or who has lived in the child welfare system.
The family can then choose to participate in the START program, which will assist with treatment, recovery, transportation, and peer support.
Ohio START is modeled on a similar program in Kentucky that resulted in about half as many children returning to foster care due to parental addiction, according to DeWine. Parents involved in the Kentucky program were also found to have twice the sobriety rate.
Bell relates the current situation to his experience of being in New York City during the middle of the crack epidemic.
"I like to do the comparison between what happened when crack was the issue and what we're trying to do right now in the opioid crisis," he said. "What we're trying to do right now is a much more humane approach to dealing with families who are struggling with a disease.
"Under the crack epidemic, that woman would have been referred to child welfare, we would have done an investigation, and in all likelihood, we would have removed that child and placed that child in foster care.
"She would have been in the court system, maybe represented by a quality attorney, maybe not. Her child would have been languishing in foster care, and she would have had a long list of things that she had to complete in order to get her child back—including housing, including parenting skills, including overcoming substance abuse."
Recommended Video:
Father Who Lost Child Tells Trump: 'I remember the hug you gave me'