Commentary
In a
notable article
published on the Forbes, Paolo Gallo, who writes about leadership issues, has argued that "The time has come to change our model of heroism." Specifically, he argues that "being a hero is no longer a mythical classification reserved for ... a few legendary men and women, or worse still, peacocks who spend all their time strutting in front of the mirror or under the spotlight." For him, a person is a hero if he or she acts with dignity and compassion in their everyday lives.
Gallo's intriguing and novel view of "heroism" came to mind when the
discovery of HMS Endurance
, Sir Ernest Henry Shackleton's vessel, was announced last week.
The vessel sank approximately four miles from where it was lost in November 1915. It lies 3,000 metres (9,850 feet) below the water's surface in Antarctica's Weddell Sea.
The discovery was welcomed with incredulity by the international community. Discovering Endurance was long deemed to be an impossible task because of unwelcoming climatic conditions.
But the vessel's resting place has now been found following a search conducted by the Falklands Maritime Heritage Trust, using a South African icebreaker, Agulhas II, which was equipped with remotely operated submersibles. The pictures taken of the vessel are remarkably illuminating and show a well-preserved ship with boots and utensils visibly lying on the deck.
Shackleton attempted to cross Antarctica from sea to sea by land. He was an intrepid adventurer who achieved feats that most people could only imagine in their wildest dreams. Shackleton's vessel was prophetically named Endurance because the pursuit of his dream required endurance, skill, and courage.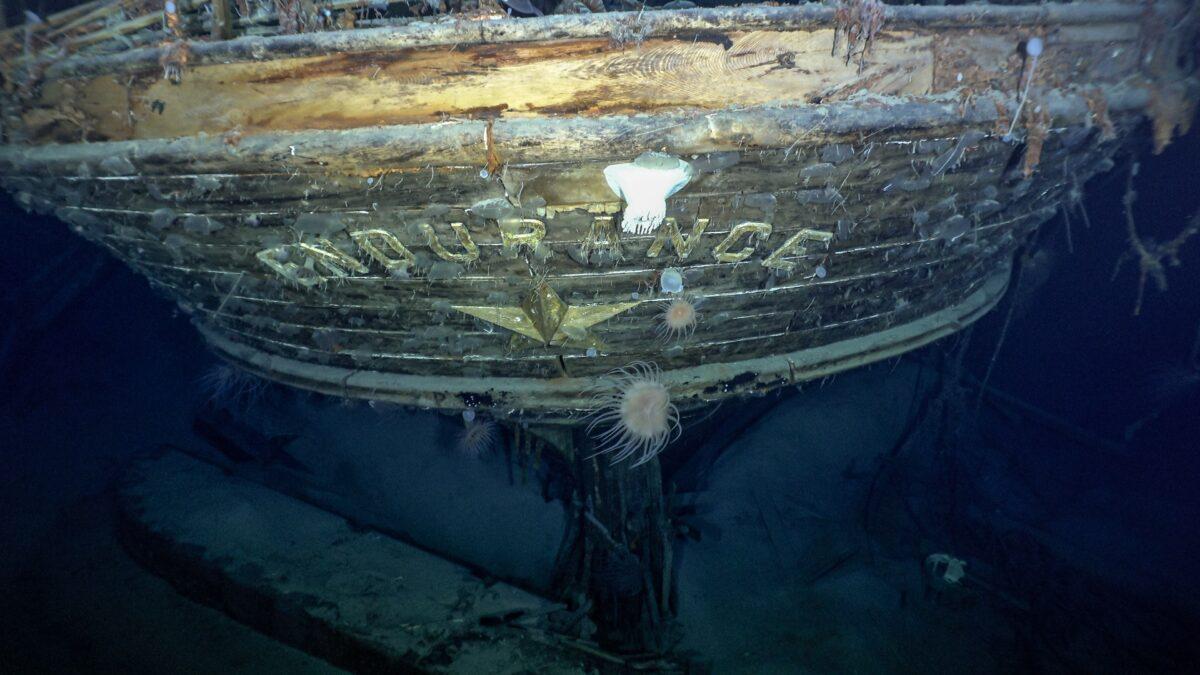 Interestingly, the Endurance was discovered on March 5, 2022, exactly 100 years after the funeral of Sir Shackleton, who died at age 47 of a heart attack. He is buried in Grytviken on the South Georgia Island, a British Overseas Territory located between the southeast coast of Argentina and Antarctica, close to his greatest achievement as a polar explorer and adventurer. He was a member of an era known as the "Heroic Age of Antarctic Exploration." He was preceded by Roald Amundsen, who was the first person to navigate the Northwest Passage in 1906.
Shackleton's name is often mentioned alongside famous adventurers like mountaineers Edmund Hillary and Steve Fossett, aviator Charles A. Lindbergh, astronaut Yuri Gagarin, and frontiersman Hugh Glass, who was attacked by a grizzly bear and survived his horrendous injuries. Leonardo DiCaprio in "The Revenant" portrays Glass's exploits.
However, while Shackleton's stupendous achievements as an adventurer are certainly impressive, it is his actions after failing to cross Antarctica by land that makes him into a real hero and an example of the new model of heroism promoted by Gallo.
The members of Shackleton's expedition vacated the Endurance because it had been trapped in pack ice that slowly crushed the vessel. The intrepid sailors then endured an extended period of hibernation on ice floes in challenging weather conditions. Eventually, after many months, when the ice disintegrated, Shackleton launched lifeboats and embarked on a perilous voyage to South Georgia Island, a voyage of more than 1300 kilometres (809 miles). During this voyage, Shackleton functioned as a real leader under most trying circumstances attempting to save the lives of his crew.
While Shackleton's project was unsuccessful—he was unable to cross Antarctica overland—his spirit of survival has captured the imagination of people, and his determination to survive and save the lives of the members of his expedition made his contributions to humanity memorable and meaningful.
Shackleton's extraordinary journey raises the question of whether the world is still a place where intrepid adventurers can discover new frontiers while potentially sacrificing their life if necessary to explore uncharted waters, outer space, imposing mountains, or dense jungles.
As modern societies have become complacent and materialistic, people may be fearful of the unknown and, hence, may tend to avoid thrill-seeking adventures.
Does heroism belong to a different era?
But as Shackleton has demonstrated, heroism does not necessarily involve the conquering of new frontiers.
Heroism lies in people's ability to respond appropriately, and in unexpected ways, to severe challenges that life throws up.
For example, this new model of heroism is exemplified by the iconic television pictures of the "Piano Man," who welcomes Ukrainian refugees at the Polish border and invites them to take part in his performances.
The Piano Man, Davide Martello, travelled from Germany to offer a little bit of joy to refugees to recreate a semblance of normality in abnormal times. Martello certainly fits this new model of heroism. This heroic act, playing the piano, restores people's faith and a belief in the indomitable spirit of humanity.
Sir Edmund Hillary, who conquered Mt. Everest, put it succinctly when commenting on his memorable and history-making climb of the world's highest mountain, he said that "It is not the mountain we conquer but ourselves."
Returning to the discovery of the final resting place of Shackleton's Endurance: the greatest challenge lies in respecting the resting place of the wreckage. That means that no attempt should be made to raise objects from the vessel.
The vessel is classified as a monument under the Antarctic Treaty, signed in Washington on Dec. 1, 1959, the preamble of which recognises that "it is in the interest of all mankind that Antarctica shall continue forever to be used exclusively for peaceful purposes and shall not become the scene or object of international discord."
In respecting the resting place of the Endurance, the international community might want to display the values of restraint and respect for history. These values demonstrate that the new model of heroism has a key role to play in international relations.
Views expressed in this article are opinions of the author and do not necessarily reflect the views of The Epoch Times.