News Analysis
New Oriental, a tutoring company that struggled for survival after the Chinese communist regime imposed an ever-harsher crackdown on the off-campus tutoring sector, is seeking a way out from bilingual livestream e-commerce.
"You can ask for medium-well," Yuhui Dong, New Oriental's former teacher and now livestream salesman, explained how to order in English as he sells original cut steak to his millions of viewers.
In a live streaming room of Douyin, Ticktok's sister in China, Dong held a small whiteboard to write down English words, just like in a classroom.
"I can speak English all the time, but please remember to buy something," he said.
Featured with teacher-style sales promotion, Dong and other New Oriental teachers are now among the most popular live sales hosts. When selling rice, they may talk about the relationship between grains and human origins; when selling encyclopedias, they may tell you that the amount of iron in the human body can make a 7-centimeter (2.8 inches) nail.
That value-added information in live sales attracts the public's attention. On June 15, a one-sentence post on Chinese social media Weibo, "I just bought a corn and you made me cry,"
ranked
 at the top of the search list, in the accompanying
video
, Dong holds a cob of corn and reminisces about the carefree time he spent as a child.
On June 16, Oriental Selection, New Oriental's live-streaming platform, surpassed 10 million followers. On June 13 it had more than 7.7 million viewers in a single session, with single sales exceeding 10 million yuan (about $1.5 million) consecutively from June 10 to 13, tenfold higher than a week prior, 
according
to Chinese news media.
Meanwhile, New Oriental's shares soared, with its Hong Kong stock price rising to HK$28.60 (about $3.64) on June 16, a six-fold increase from June 9. New Oriental Group (NYSE: EDU) surged to $21.57 per share at the close of trading on June 17.
It's hard to believe that New Oriental was nearly bankrupt on July 24, 2021, when China's Ministry of Education imposed 
new rules
, that banned tutoring institutions from using foreign teaching materials or providing educational programs devised abroad, and reduced their ability to raise capital from the stock market.
The crackdown nearly brought disaster to over 700,000 education and training institutions that employed 10 million people. Most of the companies were compelled to delist, go bankrupt, or transform into other business operations.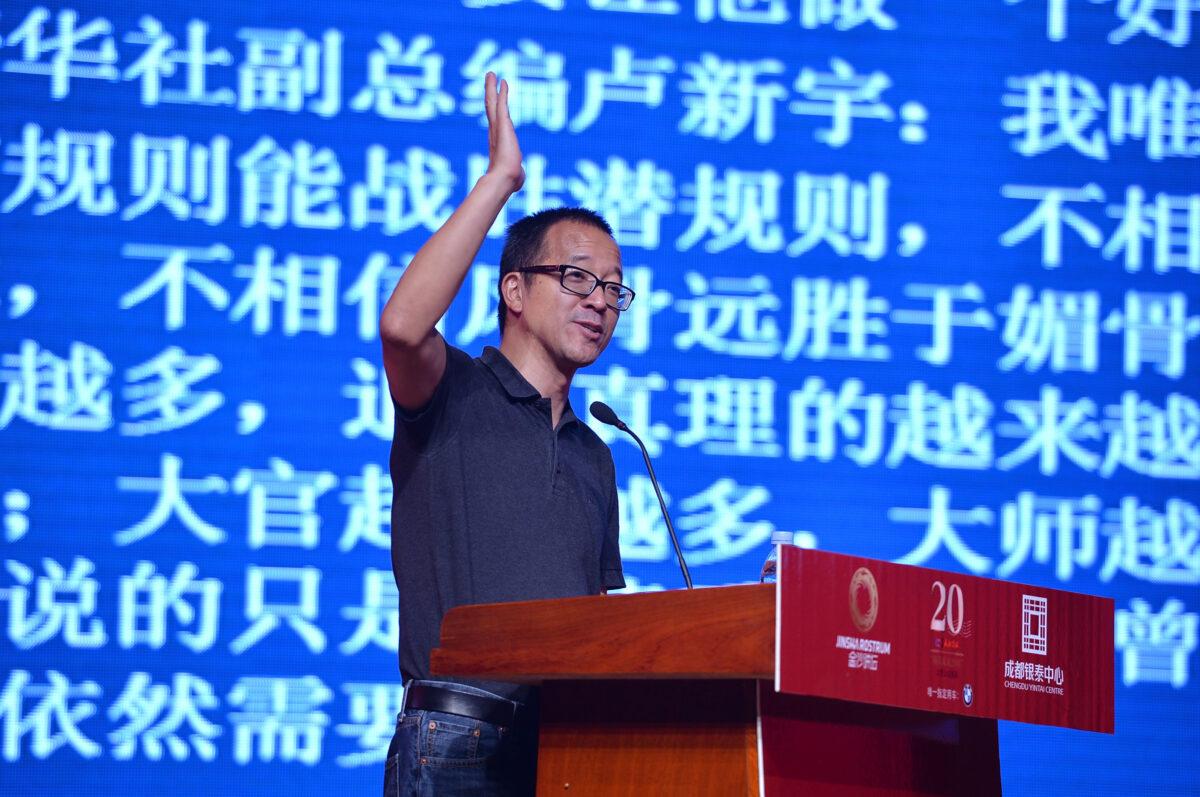 New Oriental was one of the targeted companies. Its Hong Kong shares plummeted by up to 97.5 percent from an all-time high of HK$39.85 (about $5.08) per share. New Oriental Group (NYSE: EDU) straightened down to $8.64 per share in mid-March, a drop of 95 percent from $195.87 last mid-February.
As of last November, New Oriental had shut down 1,500 teaching sites, dismissed 60,000 employees, and spent nearly 20 billion yuan (about $3 billion) on tuition and rent refunds according to multiple reports on Chinese news media.
However, Yu Minhong, the founder of New Oriental, didn't want to sit and wait for bankruptcy, and instead, searched for a chance to develop his company anew.
In early 2022, New Oriental Online created the Oriental Selection live selling system, transforming into an e-commerce platform with agricultural product screening and sales as its core.
After six months they reaped rewards, but "Oriental Selection is at most trying to find a way out," Yu
said
in a June 16 post on Weibo.
Japanese commentator Chao Jie told The Epoch Times that the main purpose of the CCP's initial crackdown on the education industry was to control ideas and facilitate brainwashing, fearing that people's minds would be inspired by Western liberalization.
However, the successful transformation of New Oriental and the bilingual live sale of goods shows that people still have a desire for knowledge and ideas in their hearts.
In particular, those in the teaching and training industry, instead of being rigidly indoctrinated, have brought the public closer in an enjoyable way, Chao said.
But New Oriental may be one of the few institutions that can survive after the CCP's crackdown through its transition, while most out-of-school education and training institutions are disappearing in China.
Ellen Wan contributed to this article.
Views expressed in this article are opinions of the author and do not necessarily reflect the views of The Epoch Times.