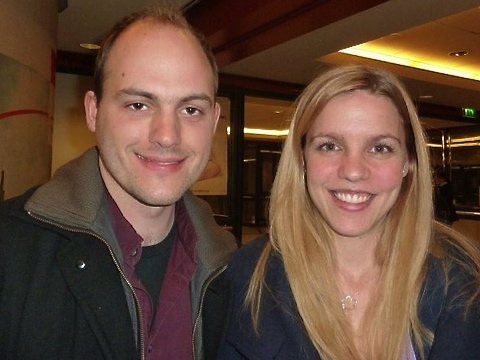 BERLIN—Shen Yun Performing Arts was welcomed in Berlin by beautiful weather and an enthusiastic audience for its debut performance at the Internationales Congress Centrum Berlin (ICC) on Friday evening, March 16.
Shen Yun, based in New York, intends to spark a renaissance of the authentic, divinely inspired Chinese culture, which has been long suppressed in mainland China.
Mr. Clauspeter Koscielny, producer and editor-in-chief of the opera magazine, Orpheus, was enthusiastic about his experience. "This is the first time I have seen a Shen Yun performance. I'm downright impressed with the magical environment," he said.
"I'm so taken by this show because it is something unique and not an imitation," he added.
Mr. Koscielny said he was impressed by the choreography, and the story-based dance, with its ability to take the audience on a journey through China's 5,000-year-old culture.
Classical Chinese dance is at the heart of every Shen Yun performance and is a system of dance that is nearly as old as China's civilization itself, the company says. It is a unique, comprehensive art form characterized by a multitude of intricate poses and movements that are integrated with a dancer's inner expression, along with a series of physical techniques that include very difficult moves such as jumps, flips, twists, spins, and tumbles.
"The choreography truly expresses what is being told on stage and gives the story voice. This is not a story that promotes sports, but something that harmonizes with the music," he said.
Mr. Koscielny had heard of the 5,000 years of classical Chinese culture, which was built on traditional esthetics.
"The imagery in this show represented for me a colorful and wonderful fairy tale book. I'm smitten by what I have seen tonight," he said.
Mr. Koscielny was also captivated by the interactive backdrops creating the scenery that reflect China's numerous landscapes from ancient times to present-day.
"To intersperse Chinese songs between the dance and other scenes was unique and totally captivating. This technique helped one to remain a part of the Chinese atmosphere and one was constantly attuned to that particular environment," he said.
Mr. Koscielny said watching Shen Yun gave him much pleasure and a lot to think about.
"Today was one of the best evenings I have experienced in a long time. I will tell everyone that this show is a must, and persuade everyone to go and take in this show," he said.
Reporting by Bernd Schneeweiss
Shen Yun Performing Arts, based in New York, tours the world on a mission to revive traditional Chinese culture. Shen Yun Performing Arts International Company will give two more performances in Berlin on March 17 and 18, and then perform in Zurich, Switzerland, from March 23-26.
For more information visit ShenYunPerformingArts.org