The 19-year-old suspected of opening fire on the synagogue in San Diego described president Trump as a "Zionist, Jew-loving" traitor in an online manifesto in his name, according to reports.
One hour before the shooting on April 27 that left one dead and three wounded, a 4,000-word anti-Semitic, racist "manifesto" was posted by a person going by the name of John Earnest on the online discussion forum 8chan.
Earnest was later arrested.
In the online letter, according to NBC, he claimed responsibility for the San Diego shooting and for the Oct. 27 attack on the Tree of Life synagogue in Pittsburgh, which left 11 dead, saying he was motivated by his hatred of Jews.
Among others, he said he was inspired by Brenton Tarrant, the gunman in the Christchurch mosque attacks, which left 50 people dead.
Like Tarrant, Earnest said he was no fan of President Trump.
Adopting the same Q&A format as Tarrant for his document, Earnest answers the question as to whether he is a Trump supporter.
"You mean that Zionist, Jew-loving, anti-White, traitorous [expletive]? Don't make me laugh," he wrote in the manifesto, according to Heavy.com and other media.
The shooter killed one woman killed and injured three others, including Rabbi Yisroel Goldstein, who lost his index finger as he instinctively raised his hands to protect himself.

The gunman was brought under control by an off-duty Border Patrol agent, according to the sheriff's office, who shot at, but did not hit the suspect.
The intervention of the border agent caught the attention of President Trump.
"Sincerest THANK YOU to our great Border Patrol Agent who stopped the shooter at the Synagogue in Poway, California," wrote Trump in a tweet. "He may have been off duty but his talents for Law Enforcement weren't!"
Police said the deadly shooting took place during Passover services at Chabad of Poway, about 20 miles north of San Diego, when a gunman entered the synagogue and opened fire "with an assault-type rifle."
Update #7 @SDSheriff Bill Gore confirms the name of the shooting suspect as 19-year-old John Earnest (DOB 6/8/99). We didn't find any prior law enforcement contact with Earnest. We're looking into digital evidence and checking the authenticity of an online manifesto.

— San Diego Sheriff (@SDSheriff) April 28, 2019
The suspect escaped in a vehicle. Earnest was arrested shortly after without incident.
"We didn't find any prior law enforcement contact with Earnest," Sheriff Gore wrote in a tweet. "We're looking into digital evidence and checking the authenticity of an online manifesto."
That online manifesto describes the shooter's hatred of Jewish people, according to Heavy.com, along with other racist language. Using derogatory terms for African Americans and Hispanics, he describes them as "useful puppets for the Jew in terms of replacing Whites."
A woman has died and three others were injured after a gunman walked into a crowded synagogue in San Diego, California, and opened fire

Posted by Sky News on Sunday, April 28, 2019
On the matter of being a conservative, he wrote: "I am not a useless, spineless coward so no—I am not a conservative. Conservative is a misnomer. They conserve nothing. They'll complain all they want but they won't take up arms and threaten their government with death (the only thing that works)."
The document is similar in tone and content to that allegedly set out by Christchurch shooter Tarrant, in which the author describes himself as an "eco-fascist" who identifies most closely with Oswald Mosley, a British politician who became the leader of the British Union of Fascists.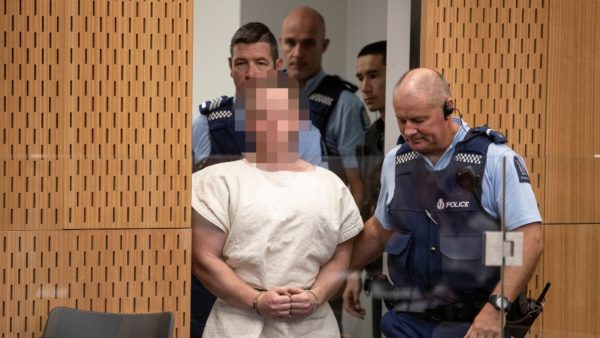 "The nation with the closest political and social values to my own is the People's Republic of China," read the manifesto purportedly written by suspect Brenton Tarrant.
The author also wrote that "China [is] set to be the world's most dominant nation in this century [sic]," adding that it's because the country is "lacking diversity."
Tarrant answered the question whether he was a supporter of President Trump like this: "As a symbol of renewed white identity and common purpose? Sure. As a policymaker and leader? Dear god no."