Open Letter From Persecuted Dissident's Wife to U.S. President Bush
January 21, 2008 12:00 am Last Updated: January 21, 2008 12:00 am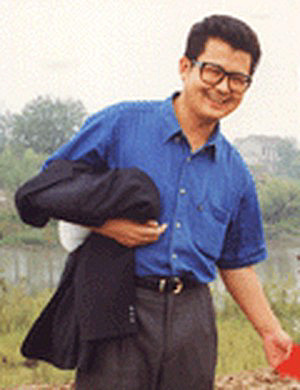 Note: Currently serving 5 years sentence in China, Guo Feixiong was awarded the 3rd annual "Wei Jingsheng Chinese Democracy Champion Prize" in 2006. We are calling for your attention to the torture he has suffered and persecution his family has received, as well as asking for your sympathy and help to him and his family.
Honorable Mr. President:
Greetings!
I am a Chinese citizen named Zhang Qing. I am writing this letter to you today with the hope that you can extend a helping hand to rescue my husband Guo Feixiong.
Guo Feixiong is a Chinese human rights activist with whom you were scheduled to meet with in May of 2006. At the end of April 2006, Guo Feixiong received an invitation to attend a conference in the United States titled "Freedom of Belief and Rule of Law". After the conference concluded on May 11, you met at the White House with three people who had come to the conference from China. Because of circumstances beyond my husband's control, he was unable to attend the meeting you held with these Chinese human rights activists. Although he did not attend this meeting, he appreciates the special significance of your gesture. He said, "This is the U.S. government recognizing and supporting the Chinese human rights movement."
As an active promoter of human rights, Guo Feixiaong has involved himself in many well-known rights defense incidents in China. Some examples are the Taishi village incident when the peasants dismissed the village head; he also initiated and organized the campaign to support and rescue rights defense attorney Gao Zhisheng. Because of these he has been repeatedly beaten and thrown in jail.
On September 14, 2006, Guo Feixiong was once again arrested and put in jail. The government cooked up charges accusing him of running an illicit business, saying that he published a magazine called the "Earthquake in Shenyang Political Circles". Actually, that magazine exposed corruption in Chinese political circles. As early as 2001, the government used this charge to fine Guo Feixiong 100,000 RMB (~13,800 USD). Now Chinese justice officials have pulled out this groundless charge again to arrest Guo Feixiong.
During Guo Feixiong's term of detention in Guangzhou, he was interrogated continuously for thirteen days and nights; he was not permitted to sleep; his feet and hands were tied together and he was chained to a bed in a bent over position for forty-two days; his feet were shackled for more than one hundred days.
The most brutal punishment occurred on January 20, 2007 when the Guangzhou judicial authorities transferred my husband to China's northeastern city of Shenyang. The Shenyang police locked Guo Feixiong up with death-row inmates and put him through torture even more brutal than those he endured at the Guangzhou detention center.
On February 12, 2007, the Shenyang police department case handlers put black cover on Guo Feixiong's head and brutally beat him in a secret location. At that location, they tied both hands behind his back and hung my husband by his hands for long periods of time; they used high voltage batons to shock his reproductive organs. On February 13, Guo Feixiong could not bear the extreme pain and humiliation of this torture so he used all his might to smash into some glass hoping to end his suffering with death. On March 19, they once again used the high voltage police batons to shock Guo Feixiong's reproductive organs for as long as five to six minutes.
With no material evidence to incriminate him, on November 14, 2007, the judicial authorities used the forced confession that was extracted through high voltage shock torture as evidence to declare Guo Feixiong guilty. They sentenced him to a fixed term of five years and fined him 40,000RMB (~5,500USD).
After enduring as long as fourteen months of illegal detainment and countless torture sessions, on December 13, 2007, Guo Feixiong was transferred from Guangzhou's third detention center to Guangdong province's Meizhou city prison to serve his sentence. The day that Guo Feixiong arrived at the prison, he was threatened by the warden, who said that he would be sent to a mental hospital. In addition, the warden decreed that he was not allowed to read newspapers and books, and that he would not be allowed to talk with other prisoners; and he was also forced to do physical labor for long hours. On the same day that he was transferred to Meizhou Prison, Guo Feixiong announced that he would go on a hunger strike for one hundred days to protest this inhumane treatment.
On December 18, the fifth day of Guo Feixiong's hunger strike, the warden secretly assigned one of the prisoners to beat Guo Feixiong savagely in front of more than 200 other prisoners. The assigned prisoner did not stop beating him until the surrounding 200 prisoners who were watching could take it no longer and spoke up to stop it.
What pains me even more is that last September, my son should have entered the first grade, but the school authorities refused to let him attend. Now my son is being deprived of an education and has already been at home for more than five months. My daughter who will soon be going into middle school, was also threatened that she would be forced to quit school. The government authorities concerned with this matter threatened Guo Feixiong saying, "We will not let your son attend first grade, and we will not allow your daughter to continue into middle school."
My children frequently ask me, "How come Papa still has not come home? Why can not I go to school?"
Mr. President, right now my husband is still in prison on hunger strike and he has already fasted for 34 days (prison authorities force liquid food down his throat, and it is about one quarter of a day's worth of food.) The danger he is in worries me greatly. I also wrote a letter to our nation's president, Mr. Hu Jintao, but I have had no reply. I have no choice but to seek help from you, to seek help from the U.S. government that upholds and advocates human rights. I hope that the U.S. government can speak up to help stop China's judicial authorities from this sort of persecution and severe infringement on human rights; please help my children avoid this injustice of discrimination and loss of opportunity for education, and please urge the Chinese authorities to release Guo Feixiong.
I am most grateful for your concern and help with human rights in China.
Sincerely yours,
Zhang Qing
January 15, 2008
Phone:020-38817085, 13660267758 e-mail:[email protected]
This open letter was translated into English by the Wei Jingsheng Foundation. The Epoch Times edited this letter for publication.