GATLINBURG, Tenn.—The charred city of Gatlinburg is still days away from reopening after devastating and deadly wildfires, but all around the city, communities in the foothills of the Great Smoky Mountains are welcoming back residents and visitors.
In Pigeon Forge, the Comedy House rented an electronic billboard message that said it was open. A hotel flyer urged guests to check out the scenic Cades Cove loop: "Take a drive and remember what you love about the Smokies!"
Dollywood, the amusement park named after country music legend and native Dolly Parton, will reopen Friday afternoon after it was spared any damage.
"Sevierville, Pigeon Forge and Sevier County is open for business," Sevier County Mayor Larry Waters said Thursday. "We want people to know that they can visit these areas … and we encourage them to do that."
The Associated Press was allowed exclusive access into the Great Smoky Mountains National Park on Thursday. Video from the visit showed a forest of bare trees standing amid a scorched landscape and fire crews sawing up a tree stump.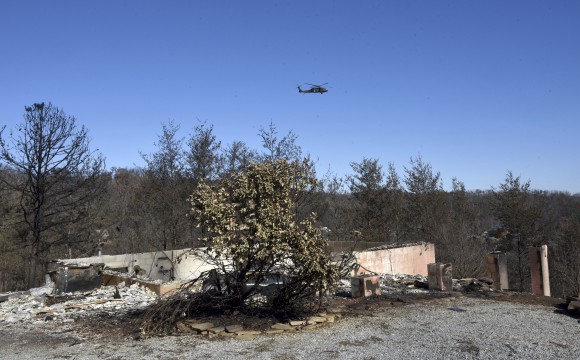 In Gatlinburg, the center of the devastation, residents and business owners get their first chance Friday to see whether their properties withstood the blaze that killed 11 people and damaged hundreds of homes and businesses. Officials there hope to open the city's main roads to the public by Wednesday.
Authorities said after following up on dozens of leads of missing people, most had been accounted for. They did not say whether they believe anyone else is still missing or may have died.
The mayor said the searches were winding down and should be completed Friday.
Nearly 24 hours of rain fell Wednesday and helped dampen the wildfires. But fire officials struck a cautious tone, saying people shouldn't have a false sense of security because months of drought have left the ground bone-dry and wildfires can rekindle.
The trouble began Monday when a wildfire, likely caused by a person, spread from the Great Smoky Mountains National Park into the Gatlinburg area as hurricane-force winds toppled trees and power lines, blowing embers in all directions.
"We had trees going down everywhere, power lines, all those power lines were just like lighting a match because of the extreme drought conditions. So we went from nothing to over 20-plus structure fires in a matter of minutes. And that grew and that grew and that grew," Gatlinburg Fire Chief Greg Miller said.
More than 14,000 residents and visitors in Gatlinburg were forced to evacuate, and the typically bustling tourist city has been shuttered ever since. At least 700 buildings in the county were damaged.
"Gatlinburg is the people, that's what Gatlinburg is. It's not the buildings, it's not the stuff in the buildings," Mayor Mike Werner said. "We're gonna be back better than ever. Just be patient."
Great Smoky Mountains National Park Superintendent Cassius Cash has said the fires were "likely to be human-caused" but he has refused to elaborate, saying only that the investigation continues. Agents from the Bureau of Alcohol, Tobacco, Firearms and Explosives are helping investigate the cause.
About 10,000 acres, or 15 square miles, burned inside the country's most visited national park. Another 6,000 acres were scorched outside of the park.
Authorities said they were still working to identify the dead and did not release any details about how they were killed.
Three brothers being treated at a Nashville hospital said they had not heard from their parents since they were separated while fleeing the fiery scene during their vacation.