Australian businesses wanting to keep their doors open to all individuals—vaccinated or not—are being encouraged to join a new consumer advocacy campaign launched on Sept. 14.
Participating businesses will be listed in a nationwide online directory and will receive a "Proudly Open For All" badge to display on their storefronts and website.
"We are hearing from hundreds of people who—vaccinated or not—disagree with the idea of a 'show your papers' policy and the two-tier society that will surely follow," an Open For All spokesperson told The Epoch Times.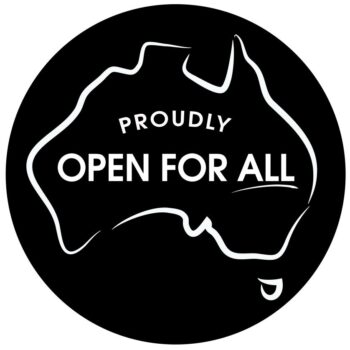 "By publicising the businesses choosing to respect medical freedom, we are giving consumers the opportunity to 'vote with their wallet' and support those committed to equality and inclusivity," he added.
"With thousands of business owners across Australia preparing to decide where they stand on this issue, we must act now to preserve a fair and equal marketplace for everyone."
The campaign is free, and is staffed by volunteers. The directory will be launched on Sept. 27.
It comes after the New South Wales government became the first Australian jurisdiction to set a roadmap, including vaccination targets, that will see the state progress away from relying on lockdowns to contain outbreaks of COVID-19.
"Freedoms" would be granted to fully vaccinated individuals once 70 percent of the state population was vaccinated, including businesses such as hair salons, gyms, restaurants, and churches.

More freedoms would be on offer once 80 percent of the state was vaccinated. However, the status of unvaccinated individuals has yet to be confirmed.
Deputy Premier John Barilaro last week issued a warning for businesses to comply with the health orders.
"There will be a poster on the front window to say the business is vaccinated," he said in comments obtained by The Daily Telegraph. "We will make sure it is very visible for the public."
"There will be significant fines for breaches," he said. "There's going to be a level of trust."
"But we accept that there's always going to be a component of people that do the wrong thing, and they don't always remain compliant," he added. "That is why the settings are quite strict and quite conservative."
Open For All said there were no public health orders or laws that made COVID-19 vaccine passports mandatory.
"Business owners are responsible for their own decisions regarding laws or mandates if they are implemented. But the threat made by Barilaro shouldn't intimidate business owners or prevent them speaking their minds on this issue," he said.
"We have just seen the UK government scrap its vaccine passport plans following widespread opposition from businesses, consumers, and MPs," he added. "Australians have the opportunity to achieve the same here if enough of us make our voices heard."
The Australian Human Rights Commission has warned businesses and governments there would be major implications introducing a passport-like system.
"Vaccine passports may have significant implications for privacy and autonomy, freedom of movement and association, equity and discrimination, particularly when it comes to accessing everyday services."
Sam Kennard, CEO of Kennards Storage, one of Australia's largest storage businesses, said his company would list on Open For All.
"There are a large percentage of people who will be pro-vaccine but prefer to resist vaccine passports. There will also be some people who prefer not to vaccinate. Being part of Open for All is push-back against the attempts of government control," he told The Epoch Times.
"Vaccine passports will put the population on a slippery slope of ever increasing government oversight, intrusion, and surveillance of our lives. Why not facial recognition check-ins? Geo-tracking? And eventually social credit scores?" he added.
"It is easy to imagine that such a platform would see controls being incrementally added and liberty gradually lost. All wrapped in the spin that its for our own best interests in terms of health advice and safety, of course."